A Conversation With Len Schlesinger, Babson College President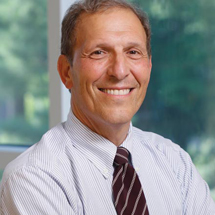 If you peek into the offices of most college presidents, you'd likely see framed diplomas and family photos, leather bound books, and maybe a plant or two perched on the windowsill. Len Schlesinger, president of Babson College, has all these things too, but he also has one thing those other presidents don't: a huge cartoon collection covering his walls. Schlesinger has brought his sense of humor to his many careers, ranging from his very brief stint as a law student, a corporate executive with several well-known companies, various positions in academia, and now as the president of Babson College.
In his current position, Schlesinger is working to bolster the entrepreneurial spirit among faculty and students at his school, which is home to a relatively large number of startup projects and innovative ideas in the fields of sustainability and design. ThinkLite LLC and IdeaPaint, for example, were both started in Babson College dormitories. Here, Schlesinger discusses why Steve Jobs and Apple belong in an entrepreneurship hall of fame; how the level of potential disruption in higher education is an unprecedented development; and, of course, the importance of humor.
What do you say when people ask you, "What do you do?"
I'm changing the world through entrepreneurship -- the most powerful force on the face of the planet for social and economic value creation. As president of Babson -- the number one school in the world for entrepreneurship -- I believe that an important part of our mission is to make the great things that take place on our campus available to as many people as possible. This is the first job where I wake up in the morning and can actually see a straight line between what I do and a better world.
What new idea or innovation is having the most significant impact on entrepreneurship education?
It is the explicit recognition of the power of action in an environment of extreme uncertainty and unknowability. We teach our students Entrepreneurial Thought in Action, which enables them to take action in the face of uncertainty. They can learn this alongside all of the powerful and deep analytic techniques that are important for a world that has more predictability in it. So we're enabling people to move beyond the natural limitations of prediction and learn how to take smart action.
What's something that most people just don't understand about entrepreneurship?
The entrepreneurial method is available to everyone. Unfortunately, people have built up myths based on the personalities of enormously successful entrepreneurs and, consequently, self-selected themselves out of entrepreneurial activity. While we're not all going to become entrepreneurs, we can all still think and act entrepreneurially.
What's an emerging trend that you think will shake up your field?
There is no question that the level of potential disruption in higher education is an unprecedented development. The evolving nature of technology and the ability of interactive live gaming are creating new and powerful group learning experiences. These are already having an impact and likely to have an even greater impact on post-graduate education.
What's a trend that you wish would go away?
Social policy experts that think the only innovations in entrepreneurial activity that are valuable are those that are scalable -- and their obsession with scalability -- keep lots of innovations from happening. A perfect example is the number of people who critique the failures of microfinance because of its supposed lack of a relationship to developing high-impact enterprise. Regardless of the fact that it doesn't scale to high-impact enterprise, microfinance does have an important and immediate effect on poverty.
What's an idea you became fascinated with but that ended up taking you off track?
I have a reasonably short attention span and lots of ideas -- and I live in an environment where many other people have lots of ideas. So, I actually get off track all the time. However, I have figured out through using the entrepreneurial method that I don't make large investments in these ideas on an a priori basis. Consequently, it is reasonably easy for me to disengage from any of them.
Who are three people or organizations that you would put in an entrepreneurship Hall of Fame?
There is no question that Muhammad Yunus, founder of the Grameen Bank in Bangladesh, would be a member of an Entrepreneurship Hall of Fame because he has an incredibly simple idea -- microfinance -- that has had an enormous impact on millions and millions of people. Steve Jobs and Apple -- the entrepreneur and the company -- would also go in that Hall of Fame because the two of them are inextricably intertwined. Here, the incredibly straightforward and simple idea is about being able to repurpose technology in ways which give people enormous power to control their lives. Whether or not we're there yet, it's certainly my aspiration to have Babson College join this group.
What other field or occupation did you consider going into?
I've been a factory manager, a fast food executive, an academic in three different disciplines, a large-scale retailer, and now a college president. I considered the law and abandoned it after one day of law school. I've been fortunate enough to engage in the things I really wanted to do. I think Tina Brown, editor-in-chief of The Daily Beast and Newsweek, was right about the gig economy years before she actually discovered it. She said that people don't have jobs anymore -- they have projects or different kinds of work that they piece together. I've been able to go from industry to industry, and enterprise to enterprise, to scratch itches and address curiosities. I wouldn't have traded that for the world. I've been incredibly lucky and had great opportunities.
What website or app most helps you do your job on a daily basis?
With all of the noise that comes into my Outlook file, I look forward to two or three blogs that use humor about the things I care about to get me to smile at some point during the day in the midst of all the chaos that I'm living through.
What song's been stuck in your head lately?
It's definitely "Everybody Wants to Rule the World," by the British group Tears for Fears. The first time I heard it I was teaching a case at the Harvard Business School about a new business that had started up called First Direct, the first organization in the U.K. that was into full-scale Internet banking. It was going to put power into the hands of the customer, recognizing that the bank's job was to simply assist people with what it was they wanted to do. This is one of the best songs of all time -- and, if you listen to the lyrics, it's about the most empowering song you can ask for. Now I won't be able to get it out of my head for a week.