A Conversation With Jesper Høiland, Leader in Diabetes Care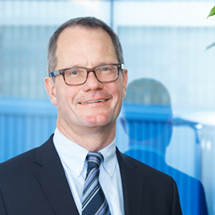 A senior vice president at Novo Nordisk, a leader in diabetes care, growth hormone therapy, hormone replacement therapy, and hemophilia care, Jesper Høiland is responsible for international operations in 150 countries. While Novo Nordisk is headquartered in Denmark, Høiland spends most of his time traveling around the world and visiting many of the emerging markets that make up a big part of his portfolio. He spends about 20 hours every week on an airplane, he says.
Here, Høiland discusses how more people today die from being overweight than from starvation, the time he wanted to be a footballer, and why it's important to step outside of the office and see things happening in person.
What do you say when people ask you, "What do you do?"
I like to think of myself as the hothouse of Novo Nordisk who determines where we'll expand the business and how. I find the plants, give them the seeds, the right water, the right sun, and see what comes out of it. I do this for all of our international operations in 150 countries in South America, Asia, the Middle East, and Africa.
An important component of my job is to draw the world's attention to the diabetes pandemic. Today, 366 million people worldwide have diabetes, and prevalence rates are growing fastest in developing countries and emerging markets. What is surprising is that the disease is not just a function of affluence and diet. More than 80 percent of people with diabetes live in low- and middle-income countries, but only 15 percent are diagnosed.
I will tell my grandchildren that I did not just sell insulin; I tried to make the world a better place and drove change in the parts of the world where people needed it most. Everybody wishes for good health and quality of life -- that is what we are basically trying to help people achieve.
What new idea or innovation is having the most significant impact on medicine?
I think the greatest innovation came in 1922 when Frederick Banting and Charles Best discovered insulin at the University of Toronto. This has changed life for so many people in the world. Before then, diabetes was really a death sentence.
Another great idea is our Base of the Pyramid project, in which Novo Nordisk is trying to change diabetes care for the roughly 1 billion people living on $3 to $10 a day. We recently committed to reach 2 million people with diabetes living at the Base of the Pyramid, which is not an easy task.
What's something that most people just don't understand about your area of expertise?
Why I spend more than 20 hours a week on a plane and what it is like to live out of a suitcase. My view is that you cannot sit in an ivory tower, office complex, or financial capital and know what is happening in the world. If you want to make business decisions, you have to be close to the market, live in that culture, and see it in person.
What's an emerging trend that you think will shake up the health world?
It's fascinating that the world's largest collection of mobile phones are in China, India, and Africa, where many people lack access to running water and hospital beds. I think there is huge potential in mobile health technology to bring lifesaving medicines to people in the emerging markets and remote parts of the world.
At Novo Nordisk, we've created mobile applications for doctors to access information about insulin dosing and bleeding disorders, which helps them to better treat patients. We have an ongoing mobile technology project we're running in Gabon and I'm interested in seeing how that turns out. It's certainly a space where we want to experiment and innovate.
What's a health trend that you wish would go away?
Obesity and malnutrition are really frightening trends. Both are drivers of diabetes, but obesity presents a far greater threat.
There's a powerful map that shows obesity trends in the U.S. dating back to 1980. Obesity started in the South, but now it is everywhere. Today 25 percent of the population is overweight. Kids age 6, 7, and 8 are getting Type 2 diabetes because they are obese. These people will have shorter lifespans -- half that of their parents.
It's strange to think that more people today die from being overweight than from starvation. Obesity is preventable to some extent and needs to be placed on the global agenda; if not, we will eat ourselves to death, which is quite terrifying.
What's an idea you became fascinated with but that ended up taking you off track?
I used to come out of the shower every morning with at least three ideas. I'd walk into the office and delegate my ideas of the day to my team. Many of these were completely stupid, of course. One of my most questionable was to organise our European business as one area, with a single head of sales, head of marketing, head of R&D, and on and on, like we have in the U.S. What I didn't consider at the time were all the cultural, political, and regulatory differences within Europe -- it's not one country. So I have to say that my idea ended as a flop.
Who are three people in the fields of medicine or public health that you'd put in a Hall of Fame?
Frederick Banting and Charles Best should be in the Hall of Fame. And I hope that Peter Kurtzhals, a brilliant scientist who heads up diabetes research at Novo Nordisk, ends up in the Hall of Fame. Peter is the man behind the newest insulin that we have just filed for approval in Europe and the U.S. He has been with the company for more than two decades and continues to challenge himself and do things differently.
What other field or occupation did you consider going into?
Every boy dreams of being a footballer, until he discovers his lack of talent. My mother thought I should be a chiropractor; I don't know why she had that idea. Somehow she convinced one of my schoolmates to become one, and he is very happy.
In college, I had to choose between becoming a lawyer, an engineer, or an economist. An economist was the most straightforward path -- it involved three years of education and a master's degree. I knew that the only thing I was really good at was going to school, so I stayed there and had fun with it.
What website or app most helps you do your job on a daily basis?
I get my adrenaline from CNN, BBC, The Economist, The Atlantic, and daily papers in the places I visit.
I have more than 3,000 people working for me, in around 150 countries, and my world can be completely changed by the early morning news. That is when I find out if a war is happening somewhere, if an earthquake has hit or if a country is going belly up.
That's also when I find out if I've lost my market, which means I need to identify the next opportunity for the business. Or in the case of the Arab Spring this past year, I learned that a market was about to open up.
To help prepare me for travel to new countries (I've been to 90 so far), I rely on The Economist's Book of Numbers. Each December I give my old copy -- from that year -- to one of my colleagues at Novo Nordisk. Then I challenge him to facts about various countries. I usually win.
What song's been stuck in your head lately?
I came across a duet on YouTube called "Welcome Home" by Poul Krebs, a Danish guy, who sings to Sissel Kirkeby, a Norwegian singer. It's fantastic and exactly what you feel like when you come back home. I also love the lyrics of John Denver's "Country Roads."