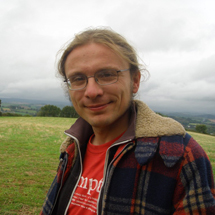 Whether you're looking to make your life just a little bit more green or to dive head-first into sustainable living, Dave Hamilton can serve as your guide. For several years now, Hamilton has been running Selfsufficientish, a website dedicated to providing advice and information on self-sufficiency. The site, which has also been turned into a book that Hamilton wrote with his brother, a gardening columnist, touches on a number of subjects, from urban homesteading to home-brewing to sheep-reading to natural remedies for ailments. "From those who want to just dip their toes into the deep waters of self-sufficiency, to those who want to have a full-on underwater dive, we've got it all," according to Selfsufficientish's about page.

Here, Hamilton discusses vertical farming, or the method of growing plants in a soil-free environment with just the required amount of nutrients and water; the trend of greenwashing, in which corporations fool consumers into believing that they're doing truly sustainable work; and why it is that he wants to spend more time doing comedy science fiction writing like that of one of his heroes, Douglas Adams.

What do you say when people ask you, "What do you do?"
It depends on what day of the week it is. I would like to just call myself a 'doer,' but to narrow it down I say I'm an author, gardening tutor, lecturer, website owner, wild food tutor, magazine journalist, scriptwriter, and soon-to-be-father.