A Conversation With Christopher Wharton, Professor of Nutrition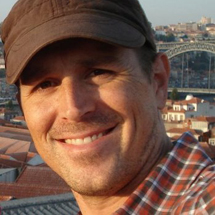 He still plays guitar, which he studied for two years as an undergraduate jazz performance major at Benedictine University before switching his major, but Christopher Wharton, sensing there was more job security in nutrition and research, was smart to shift his focus. Today, he works as a senior sustainability scientist and assistant professor in the nutrition program at Arizona State University's College of Nursing and Health Innovation. The
website
for the university he is affiliated with lists his "research interests" as "food-policy issues at the local, state, and national levels that might relate both to obesity and to the sustainability of the food supply." But these are more than just research interests for Wharton, who recently started
Chow Locally
, an online marketplace that hopes to connect consumers with the best local foods available. Here, Wharton discusses how the concept of food hubs has a chance to create an enduring market for local and regional foods; why, however important it might be, nutrition education is simply not enough to change our behaviors and help people manage their weight; and how Michael Pollan, because he has been a true catalyst for generating larger discussions about our food system, deserves to be in a sustainability Hall of Fame.
What do you say when people ask you, "What do you do?"
I am an assistant professor in the nutrition program at Arizona State University (also affiliated faculty of the School of Sustainability). I work in the area of local food systems and food security. Basically, I work with local foods programs like farmers' markets and food hubs to help connect local agricultural goods to people who can use it the most. For example, the grant work I've conducted focuses on improving infrastructure for regional food systems so that small- and mid-size farms can be sustainable, farmers' markets can be financially viable, and individuals who participate in food assistance programs like SNAP or WIC have greater access to healthy, whole, local foods.
What new idea or innovation is having the most significant impact on the sustainability world?
From a popular perspective, I would say the local foods movement is having the most impact right now. Although not all of its premises hold up scientifically (movements are always a mix of both unsupported and supported ideals), there are still a number of good reasons to support and promote local and regional food systems, both from the sustainability and hunger perspectives.
What's something that most people just don't understand about your area of expertise?
The biggest misconception about the local foods movement is that it is for the elite only. It's a sadly ironic situation, really, because the majority of those working to grow, aggregate, process, and deliver local foods are nowhere near well-off. Most small-time farmers struggle to get by and must diversify their businesses not only on the farm, but off the farm as well, to stay afloat. Those who run local foods programs, such as farmers' markets, are generally no better off. And businesses that are now cropping up to support regional food systems (generally called food hubs) are novel and innovative, but still trying to figure out how to be profitable. The elitist aspect of local foods comes from the high-end grocers and restaurants that use the concept to sell foods at higher prices, and they aren't really representative of the local foods movement happening on the ground.
What's an emerging trend that you think will shake up the sustainability world?
I think the food hubs concept is novel and has the chance to create an enduring market for local and regional foods (in a sense, balancing our nationally and internationally oriented food system). It might be the way that farmers who use sustainable agricultural practices (and thus remain small) can operate within an overall profitable system for distribution and sales. Although I have to admit, I recently founded a small business called Chow Locally that would be considered a regional food hub, so take what I write here with that in mind.
What's a sustainability trend that you wish would go away?
Greenwashing. I believe in the idea that profitable companies should work toward more sustainable practices, and that companies whose focus is sustainability should work towards consistent profitability. However, too often companies offer little more than a token nod toward sustainability without real action. Not all companies are this way, however. There are good examples of food companies whose missions incorporate both health and sustainability, such as Clif Bar or Organic Valley.
What's an idea you became fascinated with but that ended up taking you off track?
Focusing on obesity prevention through behavior change alone took me off track. During my Ph.D. program, I focused on the problem of obesity from an individual behavioral perspective. My coursework centered on health behavior change theories and designing interventions through which we could teach people how to change their own diets. If we've learned anything over the course of recent decades, we've at least learned that nutrition education, however important it might be, is simply not sufficient to change behavior and help people manage weight. Thankfully, I had the opportunity to do a post-doc at the Rudd Center for Food Policy and Obesity, where I learned much more about the impact of the food environment and food policy on food choice. I realized it was more important to change environmental defaults to impact food choice before we spend too much more time working on individuals' behaviors. Once I came to ASU three years ago, I shifted my focus even further upstream as I realized developing stronger local food systems could not only improve the food environment, it could also address issues of food system sustainability, animal welfare, and community connectedness.
Who are three people or organizations that you would put in a Hall of Fame for your field?
For better or worse, Michael Pollan has to be there as he has been a true catalyst for generating discussions about our food system and the policies behind it. I would also say Kelly Brownell of Yale University, whose focus is the food environment and the need to do more work in public health to prevent obesity rather than on individual behavior change. Finally, I would include James McWilliams of Texas State. He has done an excellent job trying to bring a more practical, science-based approach to local foods and food system sustainability.
What other field or occupation did you consider going into?
I actually focused on music for my first couple of years in college. I play the guitar and majored in jazz performance at Benedictine University before switching to a health focus in my junior year. Jazz guitar seemed to have a little less job security attached to it compared to nutrition and research. I still play, however, and toy around with computer recording and electronic music.
What website or app most helps you do your job on a daily basis?
PubMed offers the most resources to help me get my job done. I spend much of my time looking up and reading articles, whether for my own research, for grant preparation, or for teaching.
What song's been stuck in your head lately?
T.I.'s "Whatever You Like." No idea why.