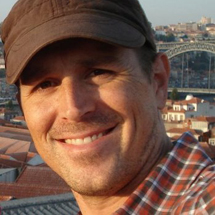 He still plays guitar, which he studied for two years as an undergraduate jazz performance major at Benedictine University before switching his major, but Christopher Wharton, sensing there was more job security in nutrition and research, was smart to shift his focus. Today, he works as a senior sustainability scientist and assistant professor in the nutrition program at Arizona State University's College of Nursing and Health Innovation. The website for the university he is affiliated with lists his "research interests" as "food-policy issues at the local, state, and national levels that might relate both to obesity and to the sustainability of the food supply." But these are more than just research interests for Wharton, who recently started Chow Locally, an online marketplace that hopes to connect consumers with the best local foods available. Here, Wharton discusses how the concept of food hubs has a chance to create an enduring market for local and regional foods; why, however important it might be, nutrition education is simply not enough to change our behaviors and help people manage their weight; and how Michael Pollan, because he has been a true catalyst for generating larger discussions about our food system, deserves to be in a sustainability Hall of Fame.

What do you say when people ask you, "What do you do?"
I am an assistant professor in the nutrition program at Arizona State University (also affiliated faculty of the School of Sustainability). I work in the area of local food systems and food security. Basically, I work with local foods programs like farmers' markets and food hubs to help connect local agricultural goods to people who can use it the most. For example, the grant work I've conducted focuses on improving infrastructure for regional food systems so that small- and mid-size farms can be sustainable, farmers' markets can be financially viable, and individuals who participate in food assistance programs like SNAP or WIC have greater access to healthy, whole, local foods.