A Conversation With Charles R. Wolfe, Environmental Lawyer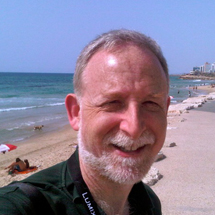 Chuck Wolfe is an
attorney
based in Seattle, where he focuses on environmental and land use law and permitting. But these subjects make up more than just a profession for Wolfe; they are his passion. In addition to working as an attorney, Wolfe teaches part-time in the College of Built Environments at the University of Washington and writes regularly on urban topics, including transit-oriented development, brownfield/sustainable development, and cluster development, for several websites, including
TheAtlantic.com
. Here, Wolfe discusses how he uses Twitter to stay on top of the news, his appreciation for the work being done by the Congress for New Urbanism, and why lawyers are more than just hired-gun advocates.
What do you say when people ask you, "What do you do?"
I respond that I have two, related realities. First, I am an active environmental and land use lawyer in Seattle who teaches part-time at the University of Washington and is very involved at the professional and community levels. Second, I am a writer for several publications on urbanism and related legal topics with the goal of exploring, reinterpreting, and bridging international and historical ideas in order to create better urban places (often using my own visual examples).
What new idea or innovation is having the most significant impact on the sustainability world?
The recent, populist movement to return to less auto-dependent and more walkable, compact urban areas, which are close to work, transit, and necessary services. This movement also dovetails with concepts of carbon neutrality based on reduced vehicle emissions, in order to offset climate change.
What's something that most people just don't understand about your area of expertise?
That lawyers are more than hired-gun advocates. In both client and community work, they can be creative strategists in eliminating barriers to sustainable development practices.
What's an emerging trend that you think will shake up the sustainability world?
The trend towards the sustainable city features many elements, some of which I have written about. For instance, I covered "fusion businesses" in a recent article, examined and participated in regulatory reform to facilitate more sensible approaches to land use regulation and asked what common land uses will be displaced by greater density.
What's a sustainability trend that you wish would go away?
The tendency of some urban sustainability advocates to draw lines between cities and suburbs. Certain suburbs provide great examples of the sought-after compact urban form.
What's an idea you became fascinated with but that ended up taking you off track?
Hoping that land use regulation could achieve what occurs naturally and organically in other cultures. I've learned that we have to be very mindful of the implementation context and recognize that some great ideas may not work everywhere because of topography, climate, or culture. For instance, I am not sure one can legislate the vitality of a European town square without the sociocultural backdrop to support it.
Who are three people or organizations that you would put in a Hall of Fame for your field?
Lewis Mumford, urbanist, humanist, and author of The City in History. Mumford's work provided unrivaled, interdisciplinary analysis of the whys and hows of cities, arguably more so than the oft-quoted Jane Jacobs.
Urban Land Institute, for an admirable focus on implementing sustainable practices in the development community.
Congress for New Urbanism, for revisiting the way land use is done in the United States. For the past 20 years, CNU has led the charge to reintegrate land uses and regulate based on the form and relationship of buildings and structures, rather than based on the separation of single family areas from necessary services.
What other field or occupation did you consider going into?
Urban planning, which is understandable given that my father was an urban design and planning academic -- I ended up on the legal side instead after getting a Master of Urban Planning degree first. Also, archaeology and journalism, given my interests in history and writing.
What website or app most helps you do your job on a daily basis?
Twitter, for rapid-fire summary of topical information on a daily basis, from case law to cities and more.
What song's been stuck in your head lately?
"Lights," by Journey. "When the lights go down in my city...." I have been working on night photography in Italy in urban environments, so the words are very topical.