Have we made security measures less ugly in some places over the last decade? Probably. Is my city more beautiful? I say no.
I almost always agree with Roger Lewis, the Washington Post's long-time columnist and urban savant. His Shaping the City columns, which have run twice monthly since the 1980s, served as an early model for this blog.
But, this time, I'm not so sure. On Saturday, Lewis wrote that the beauty of the nation's capital has been largely restored since the days of high paranoia and ugly security measures following the 2011 attacks, the bunker mentality that pervaded the city now largely a thing of the past. The print edition of Lewis's column went so far as to suggest that D.C. was "safer and more beautiful" than before the attacks, but I note that those suggestions have been dropped from the online edition. Hmmmm.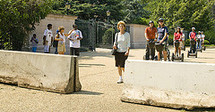 Lewis is right to a point, of course. The government hastily erected very crude Jersey barriers and other obstacles all over D.C.'s streets, sidewalks, and plazas in the days following the September 11 tragedy, around anything that could conceivably be a target. These defaced the city's streetscape and denigrated our public spaces. Some of those have, indeed, been replaced by more attractive obstacles that are better integrated into street and plaza design, as he writes:
Well anchored, appropriately spaced elements -- bollards, trees, planters, benches, trash receptacles, low retaining walls -- occupy spaces between street curbs, sidewalks, and buildings. A network of curving walkways edged by low retaining walls incised into the landscape makes it tough for vehicles to reach the Washington Monument....

At the U.S. Patent and Trademark Office complex in Alexandria, the General Services Administration and PTO ruled out basement parking garages required by the city, citing the potential risk of a bomb-laden vehicle exploding below one of the buildings. Instead, above-ground parking garages were erected. But a multi-story, 25-foot-deep liner of offices, designed to look like rowhouses, wraps and hides the garages from public view along surrounding streets.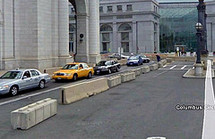 There's more, of a less structural sort: As I wrote in a post about cities and security measures two years ago, military helicopters now fly over my house with regularity, no doubt in part because of the proximity of DHS. That's a little creepy, too, and a lot noisy. Elsewhere in the city, large government buildings, which used to have multiple public entrances, creating at least a somewhat porous and welcoming pedestrian environment, no longer do; typically all but one or two heavily guarded entrances are now permanently closed, leaving a lifeless streetscape along sidewalks. As I noted in my previous post, if I go to visit EPA's sustainable communities office, as I do with some regularity, I have to walk all the way around their huge building to get to an entrance that visitors can use, identify myself, go through a metal detector, and wait for an escort to come down to the entrance and take me up to the office.