Local Newspapers Still Matter
When it comes to reporting on community issues, a new study finds that print publications are irreplaceable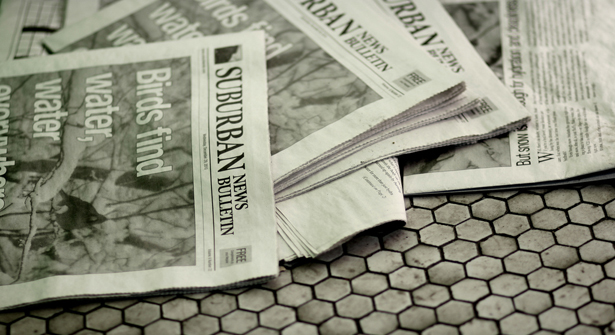 Ryan.Berry/Flickr
These are dark days for local newspapers. Declining readerships, declining revenues, and declining newsroom staffs fill the headlines of news about the news. Since 2007, 14 metropolitan papers have closed, and the ones that persist operate on tight budgets. But despite these hard times, at least one bright truth remains -- local papers provide a vital source of information.
According to a new study released by the Pew Research Center, local newspapers are still the most utilized sources of information for community matters. Although TV news is often cited as the most popular source for local information in general, Pew finds people are mostly watching for immediate concerns such as weather, breaking news, and traffic. Even when TV newscasts do cover civic occurrences, the medium doesn't allow for the same depth of reporting. The average TV news story hovers around 60 seconds, and newscasters speak around 150 words per minute, which would cover barely four or five inches in a newspaper column.
However, the problem with this audience is obvious: The sample of people who are actually interested in reading about city council meetings and the like represents only a fragment of the population. 
Pew finds:
Most Americans (69%) say that if their local newspaper no longer existed, it would not have a major impact on their ability to keep up with information and news about their community.

Yet the data show that newspapers play a much bigger role in people's lives than many may realize. Newspapers (both the print and online versions, though primarily print) rank first or tie for first as the source people rely on most for 11 of the 16 different kinds of local information asked about--more topics than any other media source. But most of these topics--many of which relate to civic affairs such as government--taxes, etc., are ones followed by fewer Americans on a regular basis.

In other words, local TV draws a mass audience largely around a few popular subjects; local newspapers attract a smaller cohort of citizens but for a wider range of civically oriented subjects.
Perhaps because of their increasingly specialized appeal, newspapers have yet to settle on a good business model for the information age. The
State of the Media
, Pew's yearly report on the vitality of the news industry, highlights the value of local news, calling it "a vast untapped territory" for ad revenue, but finds that no clear money-making model has emerged.

"The nature of local news content is also in many ways undefined," the report states. "While local has been the area of greatest ferment for nonprofit start-ups, no one has yet cracked the code for how to produce local news effectively at a sustainable level."

Hyperlocal sites such as AOL's Patch.com don't seem to be the answer. Their writers tend to be bloggers rather than seasoned journalists, and their articles rarely match the quality and authority of newspaper reports. The State of the Media reported that these massive networks of local news websites "proved ill-conceived, expensive and insufficiently supported by ads."

As it stands, local newspapers are the best resources we have for our immediate communities. The question that remains: How do we keep them afloat, and do enough people care?