From the Archives: An 1870 Snapshot of Jews in America
At a time when Jews in Rome were forbidden to practice medicine or sing in public, an Atlantic author urged Americans to embrace their "Israelitish bretheren"
At a time when Jews in Rome were forbidden to study medicine or sing in public, an Atlantic author urged Americans to embrace their "Israelitish bretheren"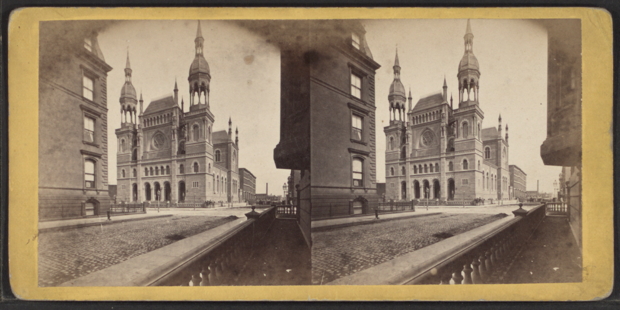 A stereoscopic view of Manhattan's Temple Emanu-El, constructed at Fifth Avenue and 43rd Street in 1868 (Robert N. Dennis Collection/Wikipedia Commons)
In October 1870, as American Jews were observing the High Holidays, The Atlantic published an article called "Our Israelitish Bretheren." At the time, it served as a sort of crash course about a tiny, mystifying minority. Today, it survives as something quite different: a snapshot of a transitional moment in Jewish history.
Here's what the world looked like in 1870: European countries had just, and only just, begun to emancipate their Jewish residents. "Within these few weeks," writes author James Parton in this article, "Sweden has swept from her law books every remaining statute which made a distinction between Jews and Christians and now, except in Russia and the Papal States, there is, I believe, no part of Europe where an Israelite has not the essential rights of a citizen."
Those exceptions were worth dwelling on, and Parton did. In Rome, for example, he pointed out that Jews were still forbidden to study art, practice law or medicine, or ("cruelest and absurdest of all") perform music in public. But his tone was hopeful. He singled out Germany, where, he said, "the Jews are masters of everything." He meant this as a compliment, not a conspiracy theory -- he hastened to add that the Rothschilds of Frankfurt were "bountifully liberal in charitable gifts."
Even more encouraging to Parton was the way Jews were thriving in the United States: "The grand example of the youngest of the nations in protecting all religions equally, while recognizing none," he exulted, "has had its effect in improving the condition of the Jews throughout the greater part of Christendom and beyond Christendom."
Parton's recurring theme was that Jews in America weren't all that different from their Christian neighbors -- and at the time, they weren't. Most American Jews, like many American Christians, were of Central European descent, and Parton estimated that two thirds were either agnostic or part of the new, modern Reform movement. He described a Reform service at Manhattan's Temple Immanuel, which opened on Fifth Avenue in 1868:
The interior, which is bright with gilding and many-hued fresco, is arranged so much like one of our churches, that no one would suspect its Oriental character. ... A stranger coming in by chance, and seeing the reader, the minister, and the English preacher dressed in ample gowns of black silk and wearing university caps, might suppose he had strayed into an Episcopal church where three professors from Oxford were conducting the service to a style recently introduced in England, but not yet known in America.
Although Parton also wrote admiringly of Orthodox observance ("The Sabbath to the Jews is wholly joyous!"), he saw the congregants at Temple Immanuel as beacons of a brighter future. "The recent movement among our Israelitish brethren toward Reform," he declared, "is merely the revolt of emancipated intelligence against the rites, usages, and doctrines which had become unsuitable and obstructive. It is a reassertion of the supreme authority of human reason."
Things didn't turn out exactly as Parton predicted. Reform temples in America are still thriving, but they've added more Hebrew to their prayer books and done away with the Oxford-style gowns. More dramatically, the 1881 assassination of Czar Alexander II sparked a series of Fiddler on the Roof-style pogroms that drew 2 million shtetl dwellers to Ellis Island. The religion they brought with them was far more exotic and insular than German-style Judaism practiced on Fifth Avenue. And Parton would never have dreamed that Germany -- that cradle of reasoned, liberal Jews and Judaism -- would fall into the grip of an Adolph Hitler.
Even so, his conclusion about American Jews is as true now as it was then. In a democracy where people from all nations were reimagining their futures, he wrote, "Jews and Christians should be allies; and allies are equals."