Falling SAT Scores, Widening Achievement Gap
The College Board says this year's low scores are due to increased participation, but that's not the whole story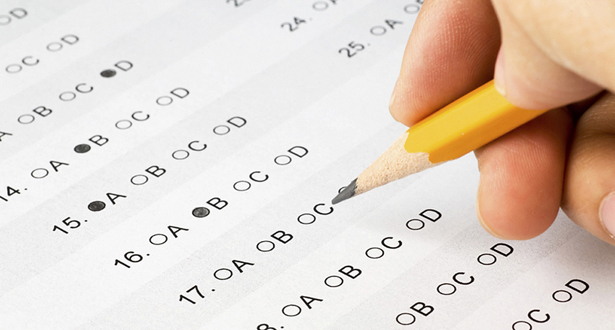 Flickr/Albertogp123
The class of 2011's SAT scores are in, and they're not good.
The College Board announced Wednesday that mean SAT reading scores have fallen to their lowest levels in nearly 40 years, dropping four points in the last four years to 497.  Furthermore, only 43 percent of test takers achieved a total score indicating they are likely to succeed in college.
In a press release, the testing company claims this decrease is due to greater participation by a more diverse group of students, and cushions the news with information that our top-achieving students are doing even better. (Apparently not doing better enough to bring up the national average.)
But increased participation is not the full answer to why scores are this year are so low.
"In 2002 and 2003, the number of test takers grew by a much higher percentage than it did last year, yet scores between 2002 and 2003 went up six points," Bob Schaeffer, Public Education Director for Fair Test, a non-profit advocacy group, tells me. "The demographic explanation does cover part of what's going on, but not the whole thing. It's a red herring by the College Board to make it sound like that's the sole reason. There's something else going on."
What else is going on is not good news. If you look at the demographic breakdown of scores, a disturbing trend becomes apparent: The achievement gap is as large as ever, or possibly growing.
Story continues after the chart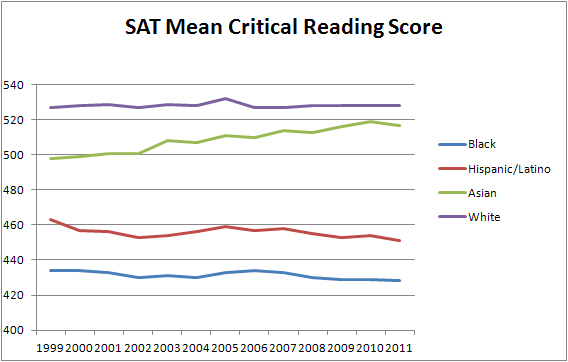 Fair Test reports that while white students' overall scores decreased by a mere three points since 2006, black students' scores decreased by 19 points, Puerto Ricans' decreased by 17 points, Mexican-Americans' decreased by nine points, and "other Hispanics' " decreased by 14 points. For Asians, the trend is reversed: from 2006 to 2011, Asians' scores increased by 40 points. The data is summarized here.
But it's not just the SAT that points to a widening or stagnant gap. Data from The National Assessment of Educational Progress (NAEP), a nationwide sample of academic achievement, shows that between 1998 and 2007 there was "no significant change" in the gap between black and white students' eight-grade reading ability.
"A very rapid gain in both academic proficiency and narrowing of the achievement gap has stagnated in this decade," Schaeffer says. In the 1980s, 17-year-old black students' reading scores on the NAEP 
jumped
 from 243 to 274 (out of 500). In the 90s, the scores dipped and have since remained around 260. Meanwhile, white 17-year-old students' reading scores have been more consistent, hovering around 295 in that time period.