Cleveland's Disappearing Warehouse District, Then and Now
Two images, of the district as it appeared in the '60s and as it looks today, came in over Rust Wire, a site about post-industrial cities
Cleveland's warehouse district in the 1960s: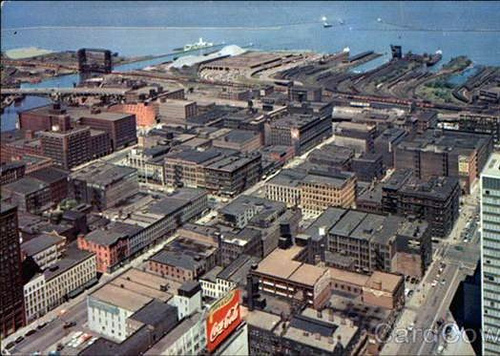 The same district, from almost exactly the same perspective, today: The two images come via Angie Schmitt & Kate Giammarise of Rust Wire, a website "intended to consolidate thoughtful, constructive stories about post-industrial cities across the Rust Belt." According to the site, it was developed by two former newspaper reporters with ties to five Rust Belt cities and is maintained with help from others.
I like it, and not just because they first published the photos a year ago in a post in which they were kind enough to cite one of mine. The images resurfaced yesterday, including in a Rust Wire post authored by Richey Piiparinen, also featuring a YouTube video of The Pretenders' classic "My City Was gone." Keep up the good work.
Images: Rust Wire.