Caught Off Guard, Vermont Fashions a Rapid Response to Irene
Last week's hurricane caused the worst flooding in more than 70 years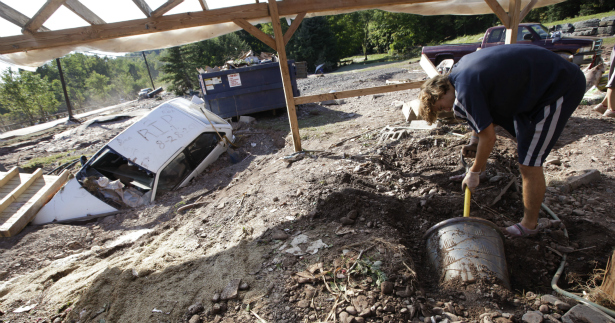 AP
TOWNSHEND, Vermont -- Vermonters are not used to disasters at home. The last war fought on Vermont soil was in 1777 and the two most recent natural disasters--the floods of 1927 and the hurricane of 1938--have largely receded from living memory.
Initially, Irene appeared to be something of a dud. The feared winds never materialized and, while my electricity went out early Sunday, I didn't comprehend the impending disaster until I set out to fetch the papers around 11 in the morning. Fair Brook, the normally placid stream below my home, was a raging torrent. But what was more remarkable was the sound--a low-pitched groaning accompanying the sound of rushing water. Boulders were banging against each other as the torrent pushed them downstream. Eventually, boulders blocked a 15-foot high culvert under the access road to the Townshend Dam, and within minutes the road washed away. I quickly retreated to my hilltop house, my access to the outside world severed.
In the valley below, disaster was unfolding. The Rock River in nearby Newfane jumped its banks, wiping out the East Dover Road between the villages of Williamsville and South Newfane. Several homes disappeared (one ending up in the middle of the shattered road 500 feet from its original location), and everyone's yard and basement filled with mud. Just north of my home, Ball Mountain Brook swept away a bridge in Jamaica cutting Route 30. On the other side of my hill, rising waters severed Route 100 on both sides of Wardsboro, isolating the town. Further south, the Deerfield River wiped out the commercial center of Wilmington at the heart of the Mt Snow ski country.
For Windham County, this was Katrina-like damage. But, the response of state, the federal government, and the affected communities was utterly unlike Katrina. The state of Vermont prepared for Irene. Local utilities had a full complement of crews on standby, and had brought in crews and equipment from as far away as Illinois. Although we were warned we might be without power for weeks, I had my electricity back in a little more than 48 hours, and by the end of the week, so had most of my constituents. FEMA, much maligned for its incompetent leadership under the Bush administration, had staff on the day after the storm. Four days later, President Obama had enough documentation to declare Vermont a major disaster area. This made us eligible for federal grants to repair roads and public infrastructure and for low interest loans to help homeowners and affected businesses.
Road crews from other states flew in to help. On Thursday, Governor Peter Shumlin asked me to meet him in flood-ravaged Wardsboro. Because Route 100 was closed, I told the highway crew I needed to get through to see the governor. In a distinctively un-Vermont drawl, the astonished foreman asked, "Is Rick Perry coming here?" I explained I was going to see our governor, not his.
But for the most part, Vermonters simply pitched in to do their part without waiting for government help. Neighbors helped neighbors clean up mud and debris. In Jamaica, the town road crew and local contractors teamed up to build a temporary road bypassing the downed bridge and, when I visited two days after the storm, they were hard at work moving gravel to restore the Ball Mountain Brook to its normal course. With the East Dover Road so washed out that in places there was no evidence a road had ever existed, the Newfane road crew reconnected South Newfane and Williamsville by bulldozing a temporary road through front lawns and back yards. As much as we love our beautiful villages, we treasure our communities more. Even home owners whose lawns were intact after the storm gave permission for the temporary road to run through their property.
Williamsville staged a nightly potluck supper for more than 100 residents, both those with homes and those without. Neighbors with power offered those without showers, Internet, and phone access. People brought photos found scattered in the woods to the Grange hall. Elsewhere in the county, volunteers cleaned up the flooded Weston Playhouse and the muck surrounding Brattleboro's New England Youth Theater. Both theaters put on their regularly scheduled performances Saturday night, just six days after the storm. Fittingly, the Youth Theater staged Noah's Flood.
Companies also helped. Like many small Vermont communities, Williamsville has no cell phone coverage. At a community meeting Monday night, residents knew it would take time to restore landline connections, but worried about neighbors with no road, phone, or electricity. I offered to contact AT&T to see if they could provide a temporary tower. The almost instant answer was yes, and 48 hours later, AT&T had a light truck with tower, generator and satellite uplink in place in a meadow above the village. Unasked, AT&T also contributed 70 cell phones each with $50 of credit.
Temporary roads won't last through our harsh winters, or even another heavy rainfall. Few Vermonters living outside designated flood plains realized that their all-risk home insurance in fact does not cover floods. Next year, I will offer legislation to require that homeowner's policies cover floods outside flood plains. But this will not help those whose homes were wiped out by Irene. While we have demonstrated an extraordinary sense of community, we also need federal help. Unfortunately, House Republican leader Eric Cantor now proposes to hold our disaster assistance hostage to cuts in other budgets--a stance no one believes he would take had the storm devastated his district.