At State Courts, Budgets Are Tight and Lives Are in Limbo
Slashed funding and judicial layoffs have left too many Americans waiting for their cases to be heard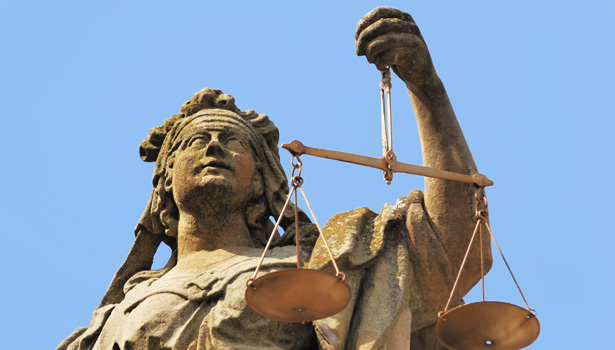 manfredxy/Shutterstock
Nothing bespeaks third-world justice more than barriers to the courthouse. Nothing suggests a breach of the rule of law more than a government's refusal or inability to resolve its citizens' disputes in an orderly way. And yet all over America, courtrooms are being closed to litigants, precluding people and corporations alike from having their rights and responsibilities efficently adjudicated by state court judges.
How would you like to be a plaintiff in New Hampshire, seeking to recover damages for the breach of a contract, only to be told that your case is automatically on hold for one year? How would you like to be the litigant seeking to get to a jury trial, only to be told that it will be years before the judge and her staff will have the time and the courtroom space to make it happen? How would you like to be the guy waiting in limbo to have his divorce decreed final?
The issue is not as sexy in Washington as the miserable failure of the Senate to confirm President Barack Obama's federal judicial nominees. And perhaps for that reason the plight of the nation's state courts hasn't reverberated within the Beltway as loudly as it should. But more people each year are impacted by state court cases than by federal cases -- the count isn't even close -- and it's time America turned its eye toward this serious problem.
To their credit, officials of the American Bar Association and the University of Kentucky College of Law are trying to push the issue toward the front burner. Down in the beautiful bluegrass country of Lexington, today and tomorrow (Friday and Saturday), they are hosting an important symposium to raise public awareness about a growing national problem that impacts the legal rights and responsibilities of hundreds of millions of Americans.
Here are some of the facts from ABA's website:
95 percent of all cases in this country are filed in state courts
Last year, 40 states slashed state court funding
In New York, a $178 million cut in the state court system almost immediately led to 500 people being laid off
New Hampshire suspended all civil cases for a year to deal with overwhelming backlogs exacerbated by inadequate funding
At least six states close their courts one day a week because of inadequate funding
What's happening all across America is that state lawmakers, seeking to reduce budget shortfalls, have deprioritized court budgets. The politicians are picking on the judicial branch because it's an easy target--- the "court system" lobby is surprisingly meek compared to the other lobbies that typically control state legislatures. And have you ever heard of a meaningful public protest by litigants who are demanding more access to the courts? Alas, I haven't.
For Republicans especially, the neutering of the state courts is considered a win-win. You get to reduce the size of "government" by laying off court personnel and you get to stick it to the trial lawyers by making plaintiffs wait to get their cases heard. Kentucky's own Republican senator, Senate Majority Leader Mitch McConnell, is scheduled to speak Friday afternoon at the ABA/UK gathering. I hope he's asked to put his money where his mouth is.