Afghans in New York Look Back on a Strange Decade
With regular visits from the FBI and a neighborhood boy turned al-Qaeda member, the city's largest Afghan community is still grappling with the fallout from the World Trade Center attacks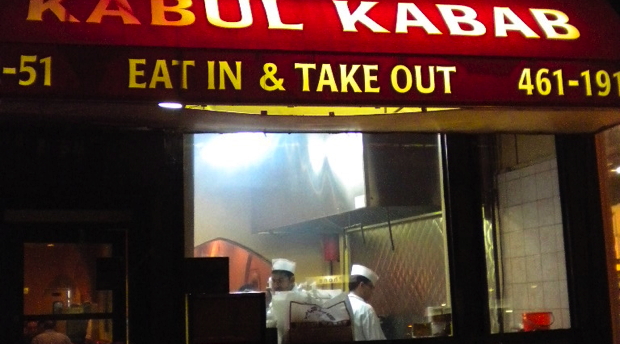 Ten years after 9/11, it's still easy to come upon stories of privacy breached and lives turned inside-out in Flushing, Queens, where the largest population of New York City's Afghan Americans live. Krim Afghanazada, the tall owner of the restaurant Choopan Kabab House, who has a henna-dyed beard the color of Indian clay, tells me he can recognize the FBI on sight, and they him. "Yeah we all know each other," he says, waving off the suggestion like cigarette smoke.
An older Afghan woman, grandmother to a doctoral candidate at the New School, can tell you about the time the FBI raided her home, riffling through her closets while ignoring her pleas that she had lived in the country for 25 years. When she asked an agent, "Do you know who called you guys?" he told her he couldn't reveal the answer -- but, she says, he then pointed a finger to the apartment below.
Many of the roughly 8,000 ethnic Afghans in the area immigrated during the Reagan administration, when asylum passports were made available to those claiming endangerment from the Soviet Union. Thirty years later, many Afghan-Americans find themselves walking multiple tightropes -- as poorly understood Afghans and Muslims, and as immigrants trying to reconcile tradition with mainstream U.S. culture. With the rise of their nation's cachet, many of their lives have grown complex beyond all expectations.
In the first few weeks after 9/11, the attention on Afghanstan worried, appalled, and excited many of Flushing's Afghans. "Turning on the radio with my dad, it was Afghanstan, Afghanstan, Bin Laden, Afghanstan, Afghanstan," said Harris Niazi, the former president of New York University's Afghan American student association, now a medical student in Washington, D.C. "My dad's eyes got teary as he looked up into the smoke from where we were driving in Queens."
Once the U.S. invasion became a certainty, some in the Flushing community were furious that more blame was being placed on Afghanstan than on Saudi Arabia, the country that had been home to most of the hijackers. Others threw parties and cheered the United States's entry to the country, seeing it as a sign that things back home would be improved. With the Taliban gone, they hoped the best qualities of their native land would reemerge and finally get the recognition they deserved.
Several events in the last two years have quieted that enthusiasm. One was the revelation that Najibullah Zazi, an Afghan immigrant who had lived in Flushing throughout most of the past decade, had gone to an al-Qaeda training camp in Pakistan and plotted to bomb New York City. A Flushing imam, Ahmad Wais Afzali, tipped Zazi off to the FBI's pursuit, putting the neighborhood even further on the defensive. When I asked one regular mosque attendee with clout in the neighborhood about the imam, he told me emphatically, "I can say for a fact Zazi was not influenced by the mosque."
Meanwhile, some of Flushing's Afghans worry that their chance at the American dream might be flouted by the U.S. government. A halal cart operator, who still seemed slightly shellshocked from carrying "shoulder-fired" missiles in Afghanstan in the 1980s, told me that he hoped his daughters would study hard and become doctors. He knows, however, that he might be under FBI surveillance. An Associated Press article reported last week that the Bureau, in collaboration with the NYPD, has been targeting halal cart operators in intelligence-gathering operations.
For younger Afghans, the constant sense of being watched from outside only adds to the tensions of living in a tight-knit immigrant neighborhood. The Flushing community is roughly the size of three large high schools, and everyone seems aware of everyone else's business. "It's personal gossip," explains Mashal Hamidi, a graduate of Adelphi University whose mother runs an organization called Afghan Women for Women. "'Did you hear what so-and-so's daughter did? She got engaged to him they were only together for so many months."
When the towers were hit, Hamidi, who was 13 years old, found herself struggling with her Afghan identity. After being taunted by peers, she stopped wearing a hijab on the way to and from school. When her father wanted her to start wearing conservative Afghan dress, known as "kuchi" -- a gown traditionally worn by nomadic Afghans -- Hamidi wasn't sure what to do. Her friends wore tube tops. She eventually agreed to wear the clothes on special occasions: at fashion shows, at weddings, or at Afghan forums.
Now that a decade has passed since 9/11, Afghan Americans say the frequent cat-calls of "terrorist" have become far more rare. But within neighborhoods like Flushing, Afghans remain divided about their own loyalties and expectations. Speaking of her older relatives, one Afghan American woman says, "There are moments where they say Afghans are inherently wild, savage, uncivilized, barbaric people." But the next moment, she says, they insist that the Afghan people are the greatest on earth. Within the diaspora community of Flushing, one hears as much optimism as despair about Afghanistan -- and about the future of Afghans in America.