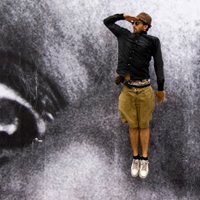 French street artist JR claims to own the world's biggest art gallery. A semi-anonymous photographer who won this year's TED Prize, he posts giant portraits of human faces where people least expect it, from the facades of favelas in Brazil to broken bridges in Kenya's capital city.

The photographer, who goes by his initials because his work often involves criminal trespass, uses public art to tell stories of the voiceless. Since finding his first camera on the Paris metro, JR has plastered portraits of thugs in rich French neighborhoods; mounted side-by-side images of Palestinians and Israelis on the West Bank separation barrier; and displayed photos of dignified women in areas of conflict around the globe.
Hoping to spread his movement farther, JR created the INSIDE OUT project so other people can make a statement with their own enlarged photographs. Here, the artist discusses the blurred line between art and its audience, the danger of brand sponsorship, and why people should see their cities as a canvas.
What do you say when people ask you, 'What do you do?'
I am an all-surface wallpaper man that retired to become a printer.
What new idea or innovation is having the most significant impact on how people think about art?