A Conversation With Jena Moreno, Journalist and Filmmaker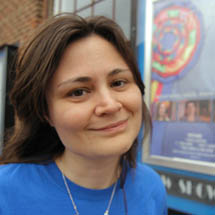 There are more than 21 million quilters in the United States, so you probably know at least one. If you don't, then perhaps you can relate to the art because of a moving AIDS memorial quilt or patchwork in recognition of those suffering from Alzheimer's that you've encountered.
Recognizing the power of a few simple squares to bring people together, Jena Moreno, by day an award-winning international business reporter for the Houston Chronicle, set out to make Stitched, her first documentary. In her spare time, Moreno followed three quilters as they prepared entries for the largest quilting show in the nation, a competition that brings both fame and fortune.
Here, the reporter discusses the power of film organizations, the need for aggressive self-promotion, and how new technology is making the filmmaking much more affordable.
What do you say when people ask you, 'What do you do?'
I'm a full-time newspaper reporter and a part-time filmmaker. My husband and I, along with friends and relatives, made a film about art quilters. Stitched was released in April. We're now working on a DVD about stretching for quilters because one of the featured quilters in Stitched is an exercise aficionado and he teaches stretching to quilters. We hope to start another documentary next year.
What new idea or innovation is having the most significant impact on the filmmaking world?
Newer digital cameras have such high image quality and they're affordable. They're so small. You can carry them in a backpack and be unobtrusive when you are out shooting footage. With today's airline bag fees, it helps that cameras are so small. We're using DSLR cameras.
What's something that most people just don't understand about your area of expertise?
People really like the film and think that it will soon be broadcast on television, screened at theaters in their towns, and streamed online. But when everyone involved in the film has a full-time job and no real filmmaking experience, things move a little slowly.
What's an emerging trend that you think will shake up the filmmaking world?
Self-distribution. I think more and more filmmakers will sell their films on their own websites instead of hoping to ink a deal with a distributor and then share the profits with that company. We're selling Stitched DVDs on our website and at screenings across the country. If you are going to go this route, you have to be aggressive and hard working.
In April, we drove a DVD-stuffed car from Houston to quilt shows in Cincinnati, Ohio, and Paducah, Kentucky. Museums and quilt shops are hungry for content to provide to their customers and I'm amazed how easy it is to book screenings. All you have to do is produce an entertaining, quality film, contact venues, and get publicity. We've had to think of venues such as libraries, quilt stores, and empty shops since we can't afford to rent a theater. To help spread the word out about the film, I email press releases to quilt guilds and journalists. Many quilting websites and magazines ask me to write essays about the film and the filmmaking process because they need content.
What's a filmmaking trend that you wish would go away?
I wish that film festivals, indie theaters, and film organizations could provide a little more support to truly independent films. Many festivals want to have the world premiere of your film, but a filmmaker is faced with the decision of sitting on a film for a year or two or see if they get into film festival or start selling it. Since we knew there was a market of 21 million quilters, we chose to start selling Stitched DVDs instead of waiting. Theaters tend to charge you to screen the film and I wish more would agree to screen the film at no charge but take some of the ticket sales.
What's an idea you became fascinated with but that ended up taking you off track?
We shot too much footage of things that didn't really fit into the storyline. We had more than 250 hours of footage and I should have done a better job telling people that certain interviews or scenes didn't fit. But when you are making your first documentary, you doubt your news judgment and think others know the subject better.
Who are some people that you'd put in a Hall of Fame for your field?
The Houston Film Commission, the Houston Cinema Arts Society, and the Aurora Picture Show have all helped us promote our film and have helped so many local filmmakers. That's the beauty of being a filmmaker in Houston as opposed to a city with a larger film community. There aren't that many filmmakers here and the organizations are extremely supportive.
What other field or occupation did you consider going into?
I wanted to be an anthropologist and study primates in East Africa. I also wanted to write magazine stories about wildlife but my first job was as a business reporter for a small newspaper and I continued to write business stories at three more papers where I worked. I always figured anthropology and journalism were similar.
What website or app most helps you do your job on a daily basis?
The app for Square, a mobile-based payment system. We use this app along with a Square device to swipe credit cards at screenings. There are several such apps available on the market and they are making it possible to operate mobile businesses like ours. Of course, Facebook also helped us market our film.
What song's been stuck in your head lately?
"Grandma's Patchwork Quilt." My current and former co-workers are in a bluegrass band called The Blenders and they wrote the perfect song for Stitched without even seeing the film. I've seen the film so many times in the editing process and at screenings that I have the song memorized. It's in the film twice, first as an instrumental version and another time with lyrics.