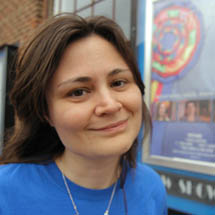 There are more than 21 million quilters in the United States, so you probably know at least one. If you don't, then perhaps you can relate to the art because of a moving AIDS memorial quilt or patchwork in recognition of those suffering from Alzheimer's that you've encountered.
Recognizing the power of a few simple squares to bring people together, Jena Moreno, by day an award-winning international business reporter for the Houston Chronicle, set out to make Stitched, her first documentary. In her spare time, Moreno followed three quilters as they prepared entries for the largest quilting show in the nation, a competition that brings both fame and fortune.
Here, the reporter discusses the power of film organizations, the need for aggressive self-promotion, and how new technology is making the filmmaking much more affordable.
What do you say when people ask you, 'What do you do?'
I'm a full-time newspaper reporter and a part-time filmmaker. My husband and I, along with friends and relatives, made a film about art quilters. Stitched was released in April. We're now working on a DVD about stretching for quilters because one of the featured quilters in Stitched is an exercise aficionado and he teaches stretching to quilters. We hope to start another documentary next year.