A Conversation With Fred Kent, Leader in Revitalizing City Spaces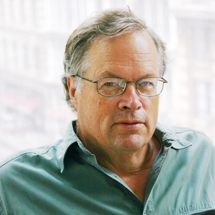 For someone who makes a living revitalizing city spaces, Fred Kent has an interesting take on professional urban designers: he thinks they're overrated. The real urban design experts, he says, are the ordinary people who actually live and work within a community. And with his nonprofit organization, Project for Public Spaces (PPS), Kent is doing his best to empower them.
Founded in 1975, Project for Public Spaces helps community members design, plan, and manage public spaces by considering their own needs and values. Kent calls this process Placemaking, and he has used it to transform popular landmarks around the world, including Detroit's historic Eastern Market, Houston's Discovery Green park, and New York City's Times Square. Here, he discusses the difference between Placemaking and traditional design, how public spaces can foster stronger communities, and why ordinary people make the best urban planners.
What do you say when people ask you, "What do you do?"
We use a different approach to designing and planning cities -- not a top-down approach, but a community-led approach that focuses on places. We see it as a sacred duty to help people create good places for themselves. To achieve that, we talk to the people who live, work, and play in a particular space. We ask them questions. We listen to them. We find out what they need and what they aspire to. Then we take that information and create a vision, which can evolve quickly into a strategy for implementing change. The transformation of a place can begin with small-scale, doable improvements that bring immediate benefits to public spaces and the people who use them.
In over 35 years we have worked with 3,000 communities in 42 countries, allowing people to define and create places that become the soul of their neighborhoods, cities, towns, regions, and even their countries. Our process delivers results that increasingly reflect concerns such as sustainability, health, and economic development.
What new idea or innovation is having the most significant impact on the urban design?
We call what we do 'Placemaking.' I'm going to stay with that because I think that's what's missing from urban design, which is a discipline that can get pulled in different directions. Sometimes urban design is about community, but all too often it is just about design with the word 'urban' attached for credibility.
Placemaking, on the other hand, requires the community members to be at the center of planning. The outcome has to be theirs. Urban designers who respect community wisdom can be enormous assets is they are willing to leave behind their egos and help communities achieve their goals.
Design is a small but significant part of Placemaking. Managing and programming the space is the most critical. Great places are about what people do in them, and how they feel, use, and 'own' those places.
What's something that most people just don't understand about your field?
Placemaking is profoundly different from the normal design process. We say, 'When you focus on place, you do everything differently.' We bring attention to the particular place and its dynamic within the existing community. Then we focus the community's ideas to build on that dynamic. The result? A plan emerges that is theirs, and which they can improve as it evolves.
What's an emerging trend that you think will shake up the urban design world?
One example is our Placemaking tool called "Lighter, Quicker, Cheaper," which aims to transform places for the better starting right away -- and without huge sums of money. People in the community go together to visit a place they want to improve. They spend time there, studying and discussing. Three hours after completing an evaluation, they create a vision and an implementation plan to turn the derelict space into a healthy, functioning part of their community. Then, often within a few days, the community can begin to change their place. If all the many aspects of Placemaking are fully applied, it takes longer to redo an entire community (maybe two years) or a medium-size city (five years).
Take the example of Buffalo, New York, where a community was recently able to transform a desolate section of waterfront into a destination by adding 100 painted Adirondack chairs, inviting food vendors, and scheduling hundreds of events, including an Elvis Costello concert, a children's puppet show, and Zumba classes.
The obsolete are everywhere, though. Someone said to us after a meeting in Buffalo, "You have to turn everything upside down to get it right-side up." A few years ago that idea would have been too hard to accept, but today people know what they want and they know what it will take to transform their communities into livable, healthy, sustainable engines for economic change -- defined and driven by their special talents. People may not be trained in design, but intuitively they know what they like and what they don't; where they will spend time and where they won't. And increasingly they know how to get what they want.
What's a design trend that you wish would go away?
I'll give you two: iconic architecture and landscape urbanism. These two very small subsets of important design disciplines deliver a narrow agenda, or brand, rather than focusing first on positive community outcomes. They represent a limited set of skills and solutions that greatly narrow the potential functions of public spaces or civic institutions. They also tend to be extremely expensive, often tapping into limited private funds and leading to a kind of privatization and exclusion. These projects say 'Look at me, appreciate me,' but they give little back to the surrounding streetscape.
Take Frank Gehry's Guggenheim Museum Bilbao, which succeeds spectacularly as an iconic structure, but fails miserably as a public space. Contrast that to Balboa Park in San Diego, which gets 10 million visitors per year without any trendy buildings or fancy design gimmicks. It's just a great park that offers people the activities and amenities they actually want.
Our view is that if people believe they need to bring in experts or starchitects to transform their communities, they will never discover their own abilities or identities. They'll lose respect for themselves and their own instincts. It's the same as bringing in a shopping-mall developer: The local hardware store owner is the one who really knows what people need, just as we think people know what they need for their public destinations. And we have never been disappointed. To us, the community is the expert, so long as they are asked for their input.
What's an idea you became fascinated with but that ended up taking you off track?
I always thought the most effective way to promote Placemaking was through the environmental movement. Because of my environmental background, I saw environmentalism as a very holistic field that could embrace the human part of our world as it did the natural part. I was wrong. I have felt so disenchanted for people 30 years about how distant environmentalism has become to pressing issues around cities.
Who are three people that you would put in an urban design Hall of Fame?
William "Holly" Whyte was our main mentor. He was exceptionally wise in a time when massive change was happening, the 1960s and '70s. After writing a book called The Organization Man, he got involved in studying the sprawl that was consuming gross amounts of very productive farmland. Then he focused on cities, researching and writing The Social Life of Small Urban Space. I started working with him in 1970s. His work observing the way that people actually use public spaces is a guiding light for us at PPS.
Then there's Jane Jacobs, who worked with Whyte as Fortune magazine. That's where she got the inspiration to write her great book, The Death and Life of Great American Cities. Jacobs and Whyte, along with cultural anthropologist Margaret Mead were seminal thinkers who espoused a very commonsense approach to the future of cities.
But rather than nominating a third person, I would choose instead a powerful group of people who have the power to transform urban design today. We call them 'zealous nuts,' a name that is our highest compliment for the community leaders on the ground who make Placemaking happen. These are the real urban designers, because they aren't defined by any particular discipline. They know what will make their communities work. And the more they succeed, the more they realize the power and wisdom of their intuition. A community cannot become great without these amazing people, who are everywhere. Some people are zealous nuts without even realizing it. It is really fun finding them.
What other field or occupation did you consider going into?
I was seriously thinking of going into development economics. In 1968, I helped start a street academy in upper Manhattan called ABLE (Academy for Black and Latin Education). Then I was the coordinator for the first Earth Day in New York City. I was 27 years old then, and the world was open to me.
I went to graduate school at Columbia University and studied geography, which has a soft (human) side and a hard (scientific) side. Because the field was so all encompassing, I was able to study anthropology with Margaret Mead, development economics with Lady Jackson (Barbara Ward), and soil science and oceanography. I was also able to work part-time with Holly Whyte and the Street Life Project.
It was through all these mentors and my work in the real world that I became passionate about the role of public spaces in community life. I remember taking an environmental law class and the professor asked each student what we would be doing in 25 years. I had a vision that working on the public realm of cities could change communities everywhere. It has been, and continues to be, an amazing journey.
What website or app most helps you do your job on a daily basis?
We've been doing some exciting digital work at PPS, developing apps to crowdsource the evaluations and envisioning of public spaces around the country. This is new technology, but it is very much an organic evolution of the work we've always done. It's a way to hear more voices, and get more ideas from the real experts -- the people who live in the places where we work. We've launched these apps in Baltimore; Tupelo, Mississippi; New York; San Antonio, Texas; and now Denver, Colorado.
And, of course, I'm a big fan of our own website. It's packed with information about the world's best squares, waterfronts, parks, markets, and civic districts. We've got profiles of people who have made real change in their communities, and articles about projects that have transformed towns and cities around the globe. We like to think of the website as a town square for Placemaking -- a venue where people can gather, exchange ideas, and be inspired by seeing what is possible.
What song's been stuck in your head lately?
"Cecilia" by Simon & Garfunkel. There's a story there. We've just started a collaboration with UN HABITAT. The director of their New York office, Cecilia Martinez, was at our home in Brooklyn for dinner. As we started to prepare the meal, I turned on my iPod -- which has almost seven days' worth of music on it -- and the first song that came up was "Cecilia." Sometimes things happen because they were meant to.