Why Irene Is a Remarkable Storm
Its path, its timing, and its sheer size make this hurricane a highly unusual event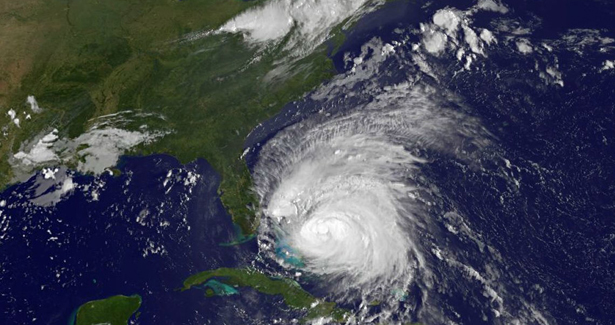 Reuters
In contrast with the stormy Gulf and Southeastern states, the Northeast usually manages to steer clear of hurricanes. Since 1851, only five hurricane-strength storms have passed within 75 miles of New York City. With Irene, it looks like a sixth will soon be added to the list. The storm, currently churning off the coast of Georgia, is predicted to make landfall in North Carolina on Saturday, and then barrel its way alongside the coast, hitting the center of Long Island and continuing on toward Connecticut.
But a storm with Irene's northerly track is not what is truly strange, says Rick Schwartz, author of Hurricanes and the Middle Atlantic States. Rather, it's odd that we haven't seen more of them. Schwartz says the mid-Atlantic region is currently in an active hurricane cycle -- a three-decade period of increased tropical storms. The cycle started in 1995, and 16 years into it we have not had one major mid-Atlantic hurricane. (Schwartz defines major as inflicting more than $1 billion in damages.)
The past two active cycles (1930 to 1960 and 1870 to 1900) each saw six or seven major mid-Atlantic events. "If we are going to match the previous two cycles we've got some painful catching up to do," Schwartz says. "The fact that we haven't had one to this point is remarkable."
This weekend, we may be catching up in a big way. Irene could be the most powerful storm to threaten the area since a category 3 tempest that hit Long Island in 1938. The storm, called the
Great Hurricane or Yankee Clipper
(this was before
modern storm-naming conventions
), killed several hundred people and damaged more than 50,000 homes. Since then, direct hits to New Jersey, New York, and New England have been relatively infrequent (Hurricane Gloria in 1985, Hurricane Bob in 1991, and Hurricane Floyd in 1999).
In addition to its track, Schwartz says the storm is uncommon for its early-season timing. "In the mid-Atlantic, the big ones are almost always in September or October, " he says. Continental weather systems usually push hurricanes out to sea after they graze by the Carolinas, but because of
a pressure trough
along the seaboard, Irene is heading almost due north. 
This track puts the storm in line with one of most densely populated areas of the country. The threat of costly damage is real. One of the dangers of storms on the East Coast is that they can cause significant damage to communities on barrier islands. Low-lying, thin stretches of beach are especially susceptible to destruction. In the past, powerful storms have actually changed the shape of coastlines. For instance, the 1938 Yankee Clipper
forced wind and seawater
through Long Island's barrier beaches, forming new islands. Irene's surge could be especially destructive because it will hit parts of Virgina and New Jersey during high tide. (There will also be a new moon, which usually marks the highest tides of the month.)
Also, the geography of New York Harbor can intensify storm surges as hurricanes push wind and water into the narrowing channel of the harbor. According to Felix Garcia, a meteorologist with the National Weather Center, winds of 75 miles per hour (a category 1 hurricane or a strong tropical storm) could create a storm surge of five to seven feet in New York. 
"It doesn't sound like much but it could definitely make a significant impact," Garcia says, especially because New York City's flood walls aren't much higher than a few feet above sea level. According to Nate Silver in a recent
New York Times column
, a weak category 1 hurricane directly hitting New York City would cost approximately $3.5 billion in damages. And this figure increases exponentially with wind speed. A category 2 storm would cost the city $35 billion.
Irene has one other quality that makes it peculiar -- it's enormous. With a diameter of 510 miles, it's
one third of the size
of the entire East Coast. "This is quite big," Garcia says. "It's going to take some time for it to release that energy and to be downgraded."
Have a look at this video from NASA showing Irene churning its way toward the East Coast: