What America Looks Like: The Streets of Portland NE
The United States as seen by its residents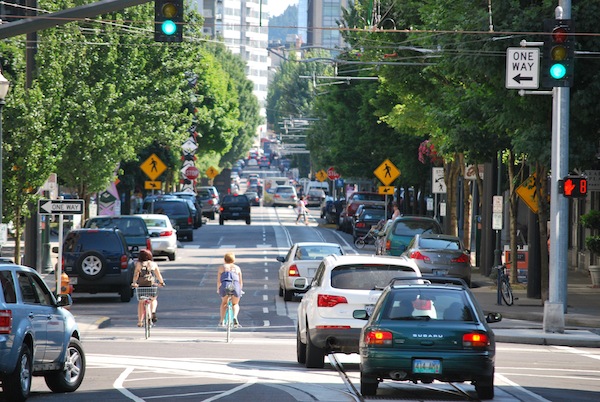 Welcome to
Portland, Oregon
, where Subaru drivers share the streets with electric streetcars and bicyclists. Acclimate yourself to the laid back vibe. We're visiting in early August, when this town is a sunny urbantopia. And we're about to make a trip across the river to its northeast quadrant.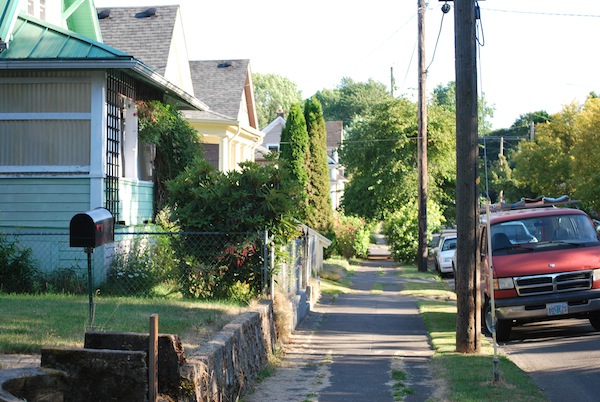 The August air here contains the warmth of the sun and the coolness of a summer breeze all at once. And everything is bright, for houses on each street are painted in yellows and reds to help folks through the gray months of rain.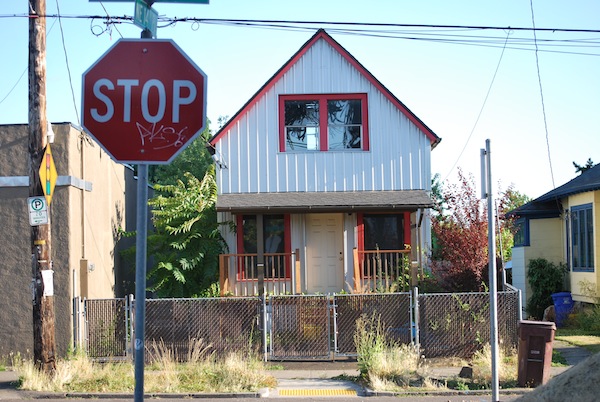 This whole area has a charming overgrown quality, as if the landscapers got caught up in the grunge aesthetic of the 1990s. Is weed as plentiful in any American city?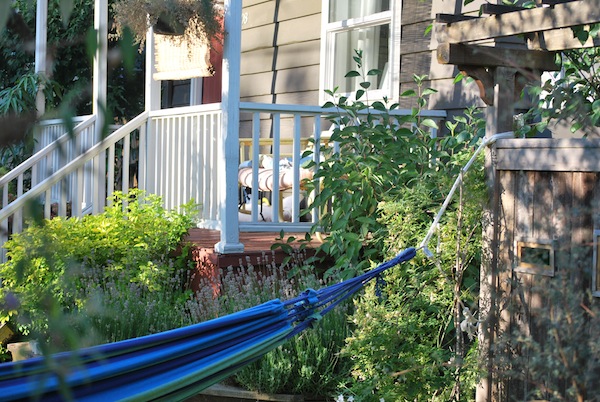 In every yard there are signs that vitamin D absorption is a priority.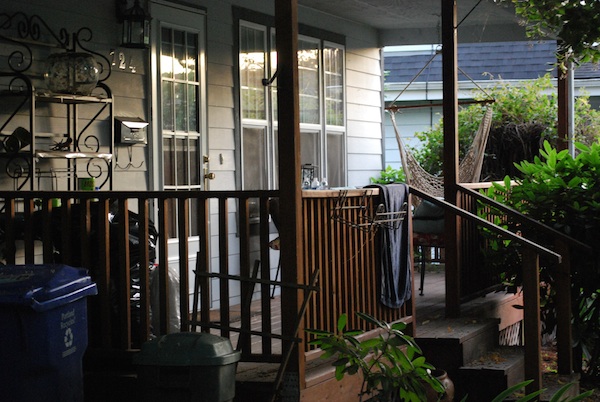 It is rare to find a porch without some sort of seating option.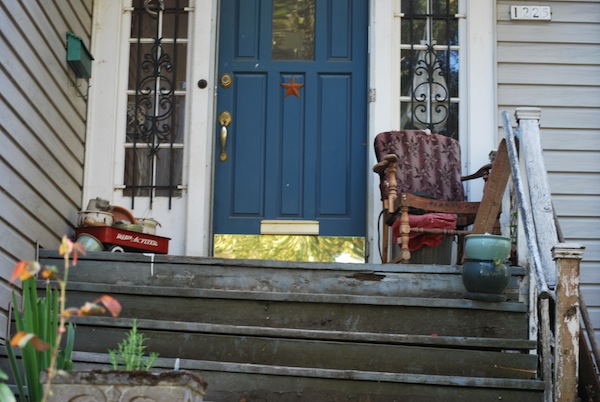 The chairs have the look of heavy use -- it is to the credit of this town that brand new, unused outdoor furniture is nowhere to be found.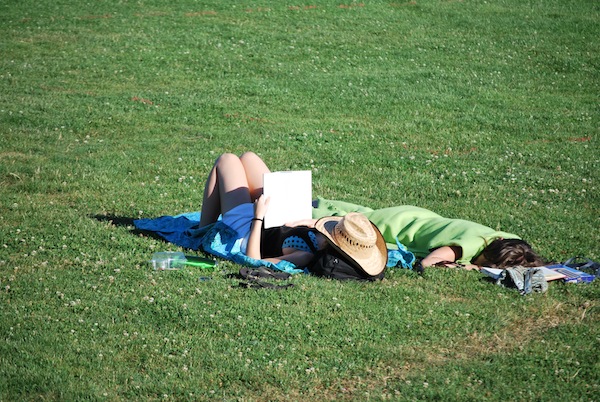 The chairs on the porch of this pair are empty only because, like so many Portlanders, they've decided to spend Sunday afternoon catching some rays in a park.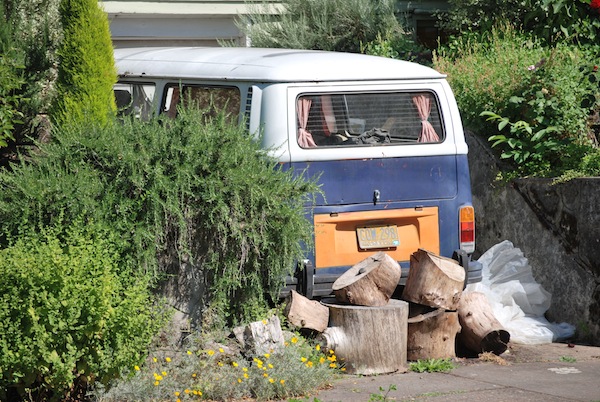 Should the resident or visitor require wood, there is a surfeit.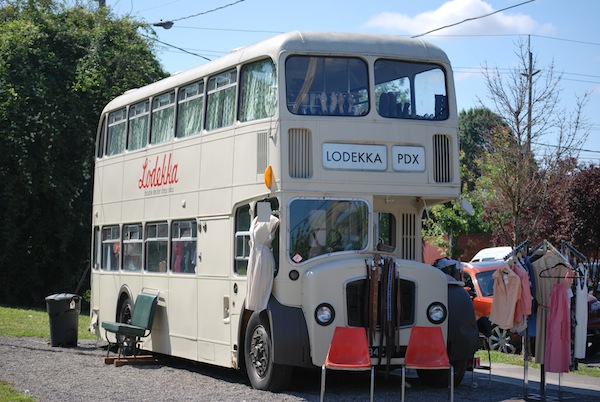 There are quite a few re-purposed buses too. This one is a dress shop. A few blocks away there's a burrito bus.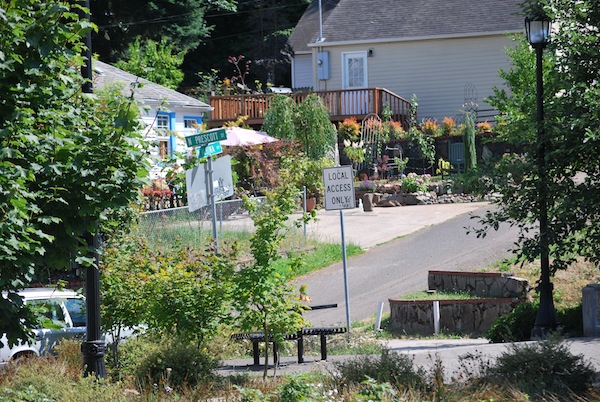 This spot is easy walking distance to multiple tattoo parlors and more coffee shops and bars with free wifi than I could count.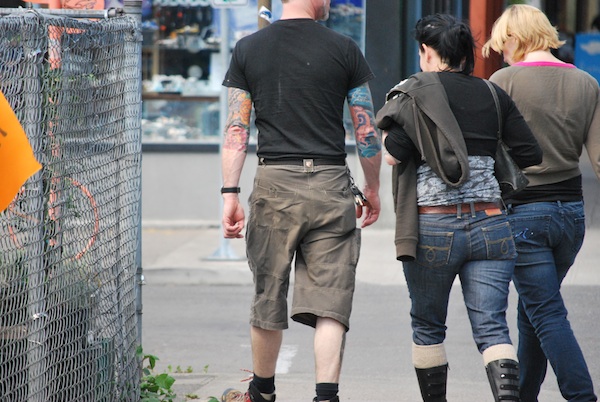 Give this group a bicycle and a dog and they'd be the prototypical locals.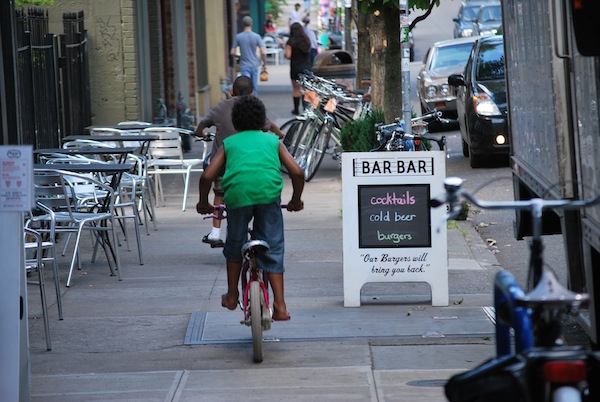 This is a main strip of restaurants, bars, and shops on Mississippi Avenue.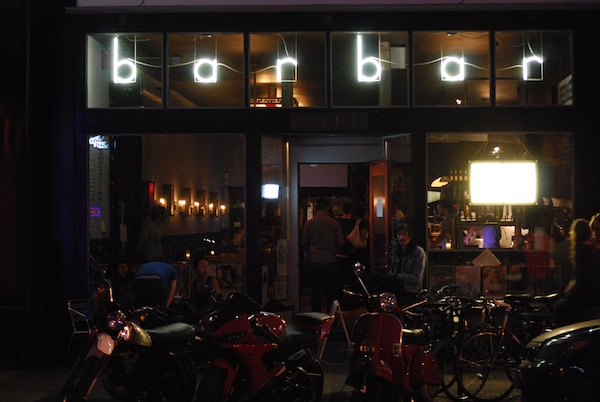 The same location after dark.
Previously in this series:
Venice Beach
, California.
Western Georgia
.
Cincinnati
, Ohio. 
Birmingham
, Alabama.
Clarksdale
, Mississippi.
New York
, New York. The
border
between Arizona and Nevada.
Detroit
, Michigan.
Key West
, Florida.
Portland
, Oregon.
Boston
, Massachusetts.
Austin
, Texas.
Nashville
, Tennessee.
Santa Fe
, New Mexico.
Seattle
, Washington.
Portland
, Maine.
Yokena
, Mississippi.
Smyrna
, Georgia.
Vicksburg
, Mississippi.
Pittsburgh
, Pennsylvania.
Hoboken
, New Jersey.
Los Angeles
, California.
Kittery
, Maine.
Hamden
, Connecticut.
Westwood
, New Jersey.
Weehawken
, New Jersey.
Reno
, Nevada.
Luna
, New Mexico.
Athens County
, Ohio, living on a bus.
On the Ohio River
, addicted to pills.
At Ohio University
, Chinese exchange students.
Inner City Oakland
, California, on a bicycle.
Variations
on the swimming pool.
Yellowstone National Park
.
Independence
, Iowa.
Different sides
of the barber shop.
West Liberty
, Iowa. The
American flag
and its uses.
The 405 Freeway in Los Angeles
.
The Balboa Peninsula
.
Boston
, Massachusetts.
Philadelphia
, Pennsylvania.
Synchronized swimming
while old.
In Manassas, Virginia,
a Civil War reenactment.
Ground Zero
, a decade later.
Airport security
.
Peaks Island
, Maine.
Submission guidelines:
We're seeking photographs that capture the look and feel of the United States as seen by those who live here, rather than the stock images of postcards and TV backdrops. Email photos to whatamericalookslike@gmail.com - doing so affirms that you hold all rights to the submission, and grants us permission to publish your photo at TheAtlantic.com and in any future collection of What America Looks Like photographs.
Include the city and state where the image is taken, and as detailed a description as you're willing to offer. Also let us know if you've got a photo Web site or a link where a print of your photo is available for purchase.
Image credit: All photos by Conor Friedersdorf