What America Looks Like: Border Patrol Mustangs
The United States as seen by its residents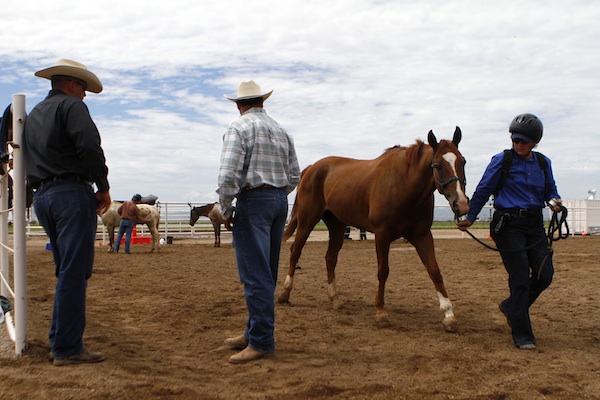 In
Wilcox, Arizona
, "a U.S. Border Patrol Agent participates in a basic rider class to become a horse patrol agent. Sturdy, highly strung mustangs from wild herds in the Rockies are playing a growing role as the U.S. Border Patrol takes its hunt for smugglers into the most rugged terrain on the Arizona-Mexico border. The Tucson sector horse patrol took possession of six mustangs from Colorado this week, and is harnessing their sharp hearing, keen eyesight and stamina to track drug smugglers and illegal immigrants trekking through areas so remote even all-terrain vehicles cannot reach them."
Previously in this series:
Venice Beach
, California.
Western Georgia
.
Cincinnati
, Ohio. 
Birmingham
, Alabama.
Clarksdale
, Mississippi.
New York
, New York. The
border
between Arizona and Nevada.
Detroit
, Michigan.
Key West
, Florida.
Portland
, Oregon.
Boston
, Massachusetts.
Austin
, Texas.
Nashville
, Tennessee.
Santa Fe
, New Mexico.
Seattle
, Washington.
Portland
, Maine.
Yokena
, Mississippi.
Smyrna
, Georgia.
Vicksburg
, Mississippi.
Pittsburgh
, Pennsylvania.
Hoboken
, New Jersey.
Los Angeles
, California.
Kittery
, Maine.
Hamden
, Connecticut.
Westwood
, New Jersey.
Weehawken
, New Jersey.
Reno
, Nevada.
Luna
, New Mexico.
Athens County
, Ohio, living on a bus.
On the Ohio River
, addicted to pills.
At Ohio University
, Chinese exchange students.
Inner City Oakland
, California, on a bicycle.
Variations
on the swimming pool.
Yellowstone National Park
.
Independence
, Iowa.
Different sides
of the barber shop.
West Liberty
, Iowa. The
American flag
and its uses.
The 405 Freeway in Los Angeles
.
The Balboa Peninsula
.
Boston
, Massachusetts.
Philadelphia
, Pennsylvania.
Synchronized swimming
while old.
In Manassas, Virginia,
a Civil War reenactment.
Ground Zero
, a decade later.
Airport security
.
Peaks Island
, Maine. The streets of
northeast Portland
, Oregon.
Aboard
a Coast Guard cutter.
The Crystal Cathedral
.
Joplin
, Missouri.
The Martin Luther King, Jr. monument
in Washington D.C.
Submission guidelines:
We're seeking photographs that capture the look and feel of the United States as seen by those who live here, rather than the stock images of postcards and TV backdrops. Email photos to whatamericalookslike@gmail.com - doing so affirms that you hold all rights to the submission, and grants us permission to publish your photo at TheAtlantic.com and in any future collection of What America Looks Like photographs.
Include the city and state where the image is taken, and as detailed a description as you're willing to offer. Also let us know if you've got a photo Web site or a link where a print of your photo is available for purchase.
Image Credit: Reuters