New York's Low-Tech, Low-Cost, High-Style DeKalb Market
In Brooklyn, a new market and upscale food court is a model of "tactical urbanism" built from recycled shipping containers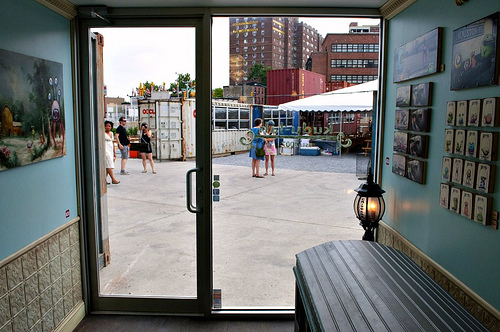 Talk about an innovative public space. The borough of Brooklyn has a new outdoor market where local vendors sell their wares from recycled shipping containers.
Gwen Webber writes in The Architect's Newspaper: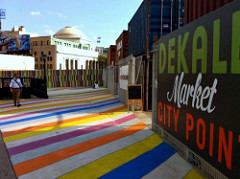 Low-price, low-rise, low-impact, the new DeKalb Market in Brooklyn is far from low-key. The modular market opened on July 23 and sits on the site of the planned second phase of the CityPoint development in Downtown Brooklyn. The market is made up of a lego-like fortress of shipping containers re-appropriated by 22 local companies as cafes, restaurants, retail outlets, and even an internet radio station. The repurposing of both the site and rectangular storage units is the brainchild of UK-based Urban Space developed with Young Woo & Associates. Urban Space has been championing container constructions for 30 years and is behind successful public spaces and temporary markets including the famous Camden Lock in North London and Union Square Holiday Market in Manhattan, as well as retail, leisure and residential developments.
The vendors each leased their containers for a year and were allowed to customize the interiors.
Some of the colorfully named tenants include Cheeky's New Orleans-style sandos, YakBlak's retro shades, Sour Puss Pickles, Joe the Art of Coffee, and a vegetable garden planted by community organizations. On weekends the 22 vendors that operate out of the containers are joined by more vendors operating from temporary stalls. For opening weekend, there was even a beer garden.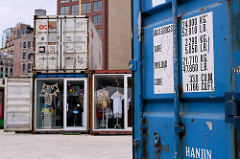 Writing in Inhabitat, Leonel Ponce elaborates:
Emerging from the Jay Street stop of the R train, visitors encounter a wall of orange, red and white containers behind white fencing that holds up a banner to welcome visitors. Passing through an alley between two double stacks of containers, one enters the picnic area and food vendor section of the market. A simple tent covering a series of simple custom made picnic tables, the utilitarian food court typifies the language of the development. Surrounding the court are containers housing local restaurants and cafes. Baristas at the Joe's Coffee container said that while the morning sun does beat down upon their metal clad cafe, minimal air conditioning and adequate insulation make it a surprisingly pleasant environment.

Surrounding the covered picnic tables are a series of shipping containers arranged closely end-to-end. Each container is home to a different restaurant...

Relaxing to jazzy beats from BBOX Radio, which provides on-site entertainment and is soon to launch online, the hot stroll through various local vendors gains a rhythm as one emerges from the picnic area to a row of diagonally arranged shipping containers... A series of aluminum storefronts is revealed, each enclosing interiors finished out in drywall. A proper amount of insulation is placed between the metal and drywall layers; together with air conditioning a  controlled environment is created within each capsule.
This may be a decent example of what Mike Lydon and Aurash Khawarzad call "tactical urbanism": low-cost, low-tech, often temporary and informal urban innovations. (The public plaza transformation in front of Dallas City Hall, which I profiled here, was another.) Lydon explains:
[Tactical urbanism] is a pattern that features the following five characteristics:

A deliberate, phased approach to instigating change;
The offering of local solutions for local planning challenges;
Short-term commitment and realistic expectations;
Low-risks, with a possibly a high reward; and
The development of social capital between citizens and the building of organizational capacity between public-private institutions, non-profits, and their constituents.

In short, tactical urbanism interventions create a laboratory for experimentation. Case studies from across North America reveal the benefit of taking an incremental approach to the process of city building.
Will the DeKalb Market be renewed when the current one-year leases are up? If the site is used for construction (as is apparently contemplated at some point), will the market be reconstituted somewhere else? Will other cities follow, or perhaps improve the model? Maybe so, and in the meantime it seems like fun.
If I have a problem with some tactical urbanism, it's that the design and aesthetics can leave something to be desired. That comes with the territory, probably, when by its nature the concept employs found space and found materials, assembled quickly without much alteration (though in this case there was a master plan of sorts and some signage). Nonetheless, if the market illustrates the potential for something more permanent-looking and warranting more investment, and the possibilities are taken seriously, it will have been a success.
---
This post also appears on NRDC's Switchboard.
Images: Leonel Ponce, Christina Crowl, Urban Space and Young Woo & Associates, Dekalb Market