An intro to the LEED-ND standards for neighborhood revitalization—and how communities are reinventing themselves
When revitalization of our distressed neighborhoods is done well, it is almost unrivaled in its ability to advance simultaneously the "triple bottom line" of sustainability: improving the environment, the economy, and social equity.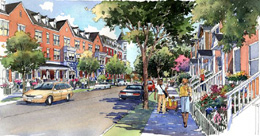 Revitalization is good for the environment for the reasons I discussed in yesterday's post; it strengthens cities and allows them to absorb population and economic growth in a nonsprawling fashion that is inherently more efficient, less consumptive, and less polluting than when development spreads out. It is good economically because it requires the building and maintenance of far less new infrastructure, and allows commerce to proceed with less travel time and distance to sap productivity; it also can increase tax revenues.
Revitalization is not always good for social equity, unfortunately, since without proper attention to the issue residents may not be able to afford to stay in a neighborhood that becomes more expensive. But when done thoughtfully revitalization can be very beneficial to distressed populations, as the inspiring stories of Melrose Commons in the South Bronx, Dudley Street in Boston, and Old North Saint Louis amply demonstrate.