Green Living: The Case for Garage and Basement Apartments
More and more cities are helping both people and the environment by promoting less typical housing units
One of the best ways to accommodate growth (as we must) without either exacerbating sprawl or disturbing the character of existing communities is by using so-called "accessory units" - secondary dwellings attached to a main home, such as garage and basement apartments. Sometimes these are called "granny flats" or "in-law suites" because of their usefulness to house extended family members while giving them the privacy that comes with having their own, separate entrances and homes.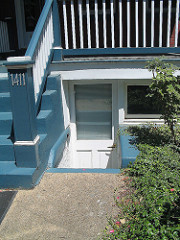 For the primary homeowner, it can also be an excellent source of income to help pay for the mortgage or other needs. For the neighborhood, it brings in a mixture of housing types and price points, adding variety and affordability while preserving architectural character. It also helps people "age in place" as their housing needs shrink without having to leave their neighborhoods.
Municipal planners are taking note: Vancouver, for example, promotes "laneway housing" facing alleys as part of its "EcoDensity" program; Seattle encourages "backyard cottages." Writing in USA Today, Wendy Koch reports an "accelerating trend" toward adding these smaller homes:
These tidy units -- known as in-law suites, granny flats, sidekicks, backyard cottages or, in Australia, "kangaroo apartments" -- serve multiple purposes at a time retiring Baby Boomers are trying to stay in their homes despite shrinking stock portfolios, adult children can't find jobs and aging parents need help...

Cities see them as a way to expand affordable housing options while promoting smart growth. More are passing rules to make it easier to build second units, also called accessory dwelling units or ADUs.
In addition to Seattle, Koch cites Santa Cruz, California, and Arlington and Fairfax Counties in Virginia as getting on the bandwagon. The Santa Cruz ordinance, she writes, was advocated by the AARP and has become a model for cities elsewhere.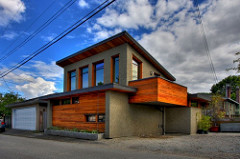 There is also a new book, In-Laws, Outlaws and Granny Flats, by author and home renovator Michael Litchfield. He told Koch that the growing awareness of smart growth and the environmental benefits of density are among the reasons underlying the trend, which in some places remains illegal because of outmoded zoning laws. (Litchfield has an interesting blog covering smaller homes, called CozyDigz.)
Koch's story includes interviews from several happy owners and residents of accessory units, along with commentary from real estate analyst extraordinaire Chris Nelson and a representative of the American Institute of Architects.
Read it in full here.
---
This post also appears on NRDC's Switchboard.
Images: Perry Rose, Ellen Kabellen, Payton Chung, and Joe Wolf