A Conversation With Candy Chang, Public Installation Artist and Designer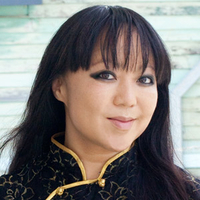 Good urban design doesn't just help people engage with their cities; according to artist and designer Candy Chang, it also helps people engage with each other. As co-founder of a civic design studio called
Civic Center
, Chang creates public spaces that spark conversation and reflect a sense of community identity—often using little more than chalk, stickers, and some creativity.
In New Orleans, for example, Chang transformed an abandoned house into a giant chalkboard where pedestrians could share their life goals (such as traveling abroad, finishing school or telling a parent, "I love you"). For another project, she posted fill-in-the-blank stickers on vacant storefronts so people could suggest future uses for the space, like turning it into a community garden. Here, Chang discusses the importance of details, how public seating can improve neighborhood safety, and why "it only takes a few thoughtful blocks to live a great life."
What do you say when people ask you, "What do you do?"
I like to make cities more comfortable for people. I like to explore ways we can use public space to improve our neighborhoods and our personal well-being.
What new idea or innovation is having the most significant impact on how people think about urban art and design?
I think we've only just begun to recognize the power of sharing information in public space to make our places more ours. If you look at many street corners you'll see what people are trying to do. Flyers are spread throughout the interstitial spaces of our cities. A lot of them are really useful, and yet they're often illegal and discouraged.
Communication tools are just as important an infrastructure system as roads, electricity, and sewer drains. If our public spaces were designed differently, we might have more to say to each other than, "Have you seen my cat?"
What's something that most people just don't understand about your field?
I think we're still discovering how much the design of our public spaces can affect our quality of life. Thoughtful public spaces make you feel comfortable, which leads to a chain of other benefits in life, love, and civic engagement. It's all about the details, like stoops, tree canopies, and painted storefront shutters. These things make the streets more inviting, more comfortable, and ultimately safer.
What's an emerging trend that you think will shake up the world of urban art or design?
Cities are trying harder to maintain, improve, or create a unique identity that distinguishes them from other cities. Urban art and design will play a big role in that.
What's an art or design trend that you wish would go away?
I'm not a fan of defensive architecture like ledges with spikes. They leave empty wastelands in their wake. It's kind of incredible how far we'll go to discourage people from sitting in public space and how many benefits we could gain from encouraging it. Public seating allows people to pause and enjoy the city for free, and it also means more eyes on the streets. Other people are one of our greatest defenses against crime.
What's an idea you became fascinated with but that ended up taking you off track?
For awhile I only wanted to live in the biggest cities in the world. It took me some time to realize that whether I'm living in a big city like New York or smaller cities like Helsinki and New Orleans, I spend most of my time within a five-block radius. I started to realize that a great place to live is one where I can live, work, and play all within a few blocks. I can walk or bike to buy my groceries, go to the dentist, mail a package, eat, drink, dance, or sniff a flower. And I can do this comfortably, which means thoughtful attention has been given to things like sidewalks, bike lanes, tree shade, street lighting, and air quality. It only takes a few thoughtful blocks to live a great life.
Who are three people or organizations that you'd put in the urban art and design Hall of Fame?
The architectural group Archigram, for its experimental visions of what cities could be. Charles and Ray Eames, for trying out so many ideas in the form of houses, films, furniture, and beyond. William H. Whyte, for recording people in plazas like a scientist on safari to understand why some public spaces work better than others. Whyte's film, The Social Life of Small Urban Spaces, is one of my favorites, and he shows how we can make our cities better through careful observation.
What other field or occupation did you consider going into?
Psychiatry. I liked the psychiatry stand in the Charlie Brown comics when I was little. But I'm exploring it in my own way. I think it's easy to get caught up in the day-to-day and forget what really matters to you. Public art has the power to confront you on your daily path and disrupt your routine. I wish there were a spiritual space in my life without ties to any specific religion. I think this will be one of my next projects.
What website or app most helps you do your job on a daily basis?
I have a short attention span and a short-term memory, so I use Evernote to jot down to-do lists, ideas, and notes on various projects. I'm not sure if this is helping or encouraging my short-term memory.
What song's been stuck in your head lately?
"Voila" by Françoise Hardy. I'm a sucker for poignant, heartbreaking music from yesteryear.
Image: Courtesy of Candy Chang