A Conversation With Ann Cooper, Renegade Lunch Lady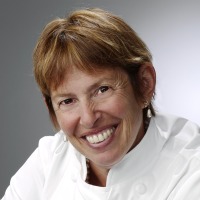 Between greasy mystery meat and vending machine candy, most school cafeterias don't have a reputation for wholesome food. But if chef Ann Cooper has her way, that's going to change. A leading advocate for school food reform, Cooper is known as the "Renegade Lunch Lady," and she's helping schools nationwide ditch the French fries in favor of farm-fresh meals.
Cooper, who began her career in fancy white-table restaurants, has worked to reform school lunch programs in New York, California, and Colorado for more than a decade. With her nonprofit organization, the Food, Family, Farming Foundation, she teaches schools across the country how to transition any meal program from processed foods to nutritious local ingredients. Here, Cooper discusses "fake" foods, the importance of cooking from scratch, and why seafood boycotts are a bad idea.
What do you say when people ask you, "What do you do?"
I'm a chef who has three day jobs. I am the director of nutrition services for Boulder Valley School District, the founder of the Food, Family, Farming Foundation, and a partner in the consulting firm Lunch Lessons LLC.
What new idea or innovation is having the most significant impact on school lunch programs?
I'm not sure this is truly a new idea, but there are advocates all over the country working toward healthier school food. We're cooking from scratch, sourcing locally, training school food staff, and removing chemicals and dyes from our kids' food.
What's something that most people just don't understand about your job?
We have approximately one dollar per lunch for the food to feed a child.
What's an emerging trend that you think will shake up the world of school food?
The trend of cooking from scratch, if seen on a national basis, will change the entire school food system. If 100,000 schools are serving scratch-cooked fresh food, then all of the processed food in the system will go away.
What's a school food trend that you wish would disappear?
Serving our kids more and more "fake" and processed foods. Our children don't even know where real food comes from or in many cases what it even is.
What's a food or health idea you became fascinated with but that ended up taking you off track?
Seafood boycotts (like those against cod and swordfish) and the balance with sustainable fisheries and line-caught fish. I think it was a complicated issue at the time. As chefs, many of us signed on to the boycott of swordfish—but then it ended up only being East Coast swordfish, and there were sustainable line-caught fishermen who were negatively impacted. A good lesson in unintended consequences.
Who are three people who you'd put in the nutrition Hall of Fame?
How about the "real food" Hall of Fame? Michael Pollan, Marion Nestle, and Alice Waters.
What other field or occupation did you consider going into?
Ski bum
What website or app most helps you do your job on a daily basis?
www.thelunchbox.org and www.saladbars2schools.org
What song's been stuck in your head lately?
"Hallelujah," by K.D. Lang (I saw her at Chautauqua Auditorium in Boulder, Colorado, this week).
Image: Courtesy of Ann Cooper