A Closer Look at Confirmed Federal Judges
Judicial confirmations are marred by either "unanimous consent" or unnecessary scrutiny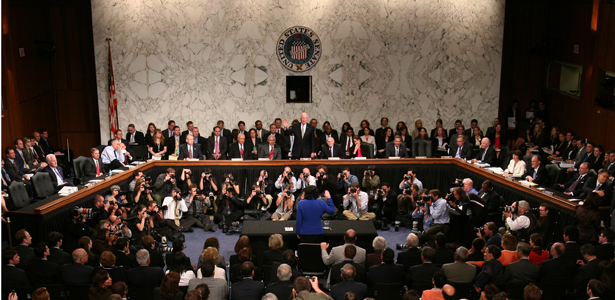 Rueters

Earlier this week, I cited with disgust the Senate's failure to confirm 20 judicial nominees whose candidacies already have been endorsed by the Senate Judiciary Committee. Here we have some of the best and brightest legal minds in the country, ready to serve the people in a vital job that is woefully understaffed, and they cannot do so because of political pique. Imagine how America would feel (and react) if those judges were instead soldiers, ready to serve their country on the front lines, and the Senate was holding them back for no good reason at all.
Now I'd like to take a closer look at those judges who have been confirmed so far under the Obama Administration. These confirmations have come at a much slower pace than we saw either with the Clinton Administration or during the era of George W. Bush. It's fair to say that different readers will come to different conclusions about what these figures mean. But I think it's worthwhile to throw the stats (and a few stories) out for discussion before Congress comes back from its undeserved summer vacation and begins to think again about our federal courts.
Since January 10, 2009, the date of the last inauguration, 89 federal appellate and trial judges have been confirmed by the Senate (which has been in Democratic control the whole while). Of these 89 judges, 24 have been confirmed by the Senate by "unanimous consent." This means the senators didn't even bother to conduct a roll call vote on the matter. Ten more judges were approved by a "voice vote," which means, again, that no formal roll call vote was taken. And 41 of our nation's newest federal judges were unanimously approved by the Senate. No one voted "no."
One judge, Nancy D. Freudenthal of Wyoming, was confirmed with just one "no" vote. Another, Gerald E. Lynch, was confirmed to the 2nd U.S. Circuit Court of Appeals with only three "no" votes. This means that 77 of 89 federal judges confirmed so far during the Obama Administration came onto the bench without any meaningful opposition on the floor of the Senate. That's 87 percent! -- and it suggests that many of the current 20 judicial nominees now out of committee will similarly roll through their confirmation. Why that couldn't have happened in late July or early August, while the Senate was waiting to do the debt deal, is beyond me.
Now let's look briefly at the handful of Obama judicial nominees who have generated some opposition on the Senate floor. I identified seven such candidates, who each received more than 25 "no" votes, and offered some comment about some of the reported reasons for the opposition they found.
2nd U.S. Circuit Court of Appeals Judge Susan Carney (Votes 71-28). Republicans didn't like her lack of litigation experience, the fact that she is married to a member of The New York Times editorial board, or the fact that she received a less than stellar review by the American Bar Association. She received a "qualified" rating and it was not unanimous.
7th U.S. Circuit Court of Appeals Judge David Hamilton (Votes 59-39). Even though his local Federalist Society endorsed this nephew of former Congressional leader Lee Hamilton, Senate Republicans mostly didn't because, as a trial judge, Hamilton had issued this 2005 ruling which had infuriated the religious right. Citing Supreme Court precedent, Judge Hamilton had ruled that Indiana's legislative prayer before each session could no longer be "sectarian" and regularly invoke the name of Jesus Christ.
Northern District of Ohio Judge Benita Y. Pearson (Votes 56-39). The first black female federal jurist in Ohio almost didn't get the gig. The precise reasons why are unclear. The People for the American Way suggested that she was a member of an animal rights group and thus earned the wrath of those in the cattle industries -- although 39 "no" votes is quite a lot of beef to have against a pioneering jurist.
District of Colorado Judge William J. Martinez (Votes 58-37). By contrast, it is not hard to understand why this Mexico-born nominee roused so much Republican opposition on the floor of the Senate. Before he was nominated, Martinez advised the Americans with Civil Liberties Union and was a lawyer for the Equal Employment Opportunity Commission (just like Clarence Thomas before him, only Justice Thomas' EEOC experience evidently was a boon for his nomination). Of nominee Martinez, Sen. Jeff Sessions (R-Ala.) said: "It seems that if you've got the ACLU DNA you've got a pretty good leg up to being nominated by this president."
District of Rhode Island Judge John J. McConnell (Votes 50-44). It's also fairly clear why Judge McConnell almost didn't make it onto the bench. Senate Republicans didn't like him because the U.S. Chamber of Commerce didn't like him because, as a lawyer, McConnell had successfully sued Big Tobacco and fought for those harmed by lead paint. Evidently that's five Republican votes more serious in the Senate than ticking off Big Beef.
Northern District of California Judge Edward M. Chen (Votes 56-42). Like Judge Martinez, Edward Chen evidently was touched with the "ACLU gene," which rendered him objectionable to Senate Republicans. Sen. Charles Grassley (R-Iowa), whose state's Asian population is nearly three times lower than the American average, voted against Chen because he thought the well-respected former magistrate judge employed the "empathy standard" of judging.
District of Oregon Judge Michael H. Simon (Votes 64-35). Harvard educated? Check. Prior government experience with the Justice Department? Check. So why 35 "no" votes? Because Simon had worked for the ACLU. The seat he took on the federal bench, reported the Oregonian, had been vacant for 664 days, two months short of two years. How would you like to have been a litigant in Oregon during that time?
Let me add another name to the list. Caroline Fredrickson, the executive director of the American Constitution Society, which watches all of these nominations, focuses on yet another female judge to make a point about Senate obstructionism. Although I left 6th U.S. Circuit Court of Appeals Judge Jane Branstetter Stranch off my list (because she received only 21 "no" votes) Fredrickson evidently thinks her case, too, is instructive in understanding the means and method of Republican delay.
A Nashville attorney with no evident "ACLU gene" or discernible beef with Big Beef or Big Tobacco or Big Banking or Big Ranching or Big Pharma, Judge Stranch nevertheless waited for more than one year from the time of her recommendation out of the Judiciary Committee until the Senate deigned to vote on her candidacy. The ABA Journal reports that her wait for a vote set a new Senate record. And all the while a federal circuit court tried to do its business, understaffed, to the detriments of the parties before it, including the United States of America.
It's hard to know what to make of the statistics. These numbers, and the stories of the eight confirmed judges, don't prove (to me, anyway) that Senate Republicans necessarily have their long knives out for minority and women nominees to the federal bench. But they don't have to. Even when the obstructionists know a nominee is going to pass through Senate approval with a wide margin, they can accomplish their mission -- "as mindless as it is dangerous,' says PFAW's Marge Baker -- without ever having to wield any weapon other than the weapon of delay. It's the same Congressional self-destructiveness we just saw in the debt and deficit debate except, as always, it's the people who pay. All those hearings unheard. All those decisions unrendered. All that justice undone.
I understand that political opposition to judicial candidates manifests itself these days at the point of filibuster and not at the point of confirmation on the merits. Apart from being ass-backward, however, this practice is also cowardly. As a senator, you get your shots in on the nominee, and do the damage you intend to do, and then pretend to the world that all is well and the Senate is in one big unanimous consent. And why wouldn't you vote "yes" for a judicial nominee whose nomination you had stalled for a year? You get to play the villain and the hero all in the same play!
If anything, the high percentage of jurists who ultimately are confirmed with little or no opposition, 77 out of 89 as we have seen, make the Senate look worse, not better. There should be a special place reserved in political hell for any senator, of any party, who votes for a judicial nominee after voting procedurally against that candidate's ability to get a vote on the merits of her nomination. Such antics are a waste of time, a waste of money, and a waste of the use of precious human resources (the nominees themselves). Right now, the Senate has confirmed 50 fewer Obama appointees than it had for the same period of the presidency of George W. Bush.
Come September, the Senate will be back in business. No doubt some (but not all) of the 20 pending, out-of-committee nominees will be squeezed through confirmation and allowed to take their place serving the American people. And no doubt most of those confirmed jurists will have on their record that they were approved by "unanimous consent," or by a "voice vote" or by a unanimous roll call vote. The history books and courthouse walls will perhaps reflect in many of these instances that the Senate came together as one to recognize the service and sacrifice these people are willing to give to their country. But we know differently.