2 New Studies on Walkable Neighborhoods and Cities
The top 10 most walkable U.S. cities and a related finding: No matter where you live, perceived walkability influences how much you walk
People walk more when they live in neighborhoods perceived as walkable, says a new report from the organization/coalition America Walks. That may come close to being a tautology, but it isn't, quite. A recent survey of 7,000 "avid walkers" found a variation: Within each level of population density (low, medium, high), the proportion of frequent walkers increases as the perceived walkability of the neighborhood goes from low to high.
The study was conducted by professors William Milczarski and Peter Tuckel of Hunter College, in New York City. According to a press release from America Walks, additional key findings include the following:
Infrequent walkers said they would be much more likely to walk if their physical environments were more conducive for walking.
More school children walk to school if their parents are frequent walkers.
The biggest problems confronted by walkers (in order of importance) are: distracted drivers, speeding motor vehicles, unsmooth sidewalks, not enough sidewalks, and poorly-lit streets.
Unfortunately, neither the survey nor the press release, which I received via email, have been posted on the organization's website as of this writing. Presumably that will change very soon, so do check the site.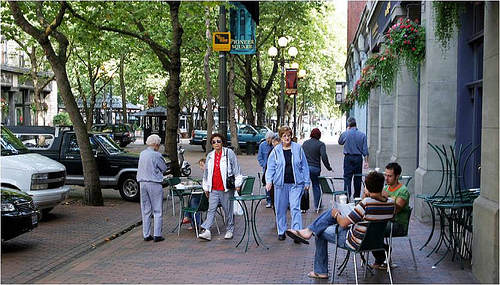 Meanwhile, Walk Score has issued its new rankings of the top 10 "most walkable" cities in the country:
New York
San Francisco
Boston
Chicago
Philadelphia
Seattle
Washington, D.C.
Miami
Minneapolis
Oakland
Walk Score actually measured and ranked 2,500 cities in all. Among them all, Rio Rico, Arizona—population 18,893—finished dead last. Among cities of 500,000 or more, Jacksonville finished last.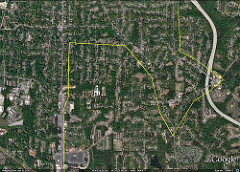 But, looking at the bottom dwellers among bigger cities, I noticed that some, including Jacksonville, are consolidated city/county municipalities. By definition such entities include outlying areas and naturally suffer by comparison to, say, San Francisco, whose city limits tightly contain the dense core. In those cases, we're comparing a central city with tight boundaries to a central city plus its suburbs. Big difference.
Once again, a survey that measures within city limits rather than across metro regions may be producing misleading results. City boundaries were often drawn a century or more ago and at this point have political relevance but little economic meaning or relevance to the lives of people who live on one side or other of the political boundary. (See city boundary of Atlanta, above. This is a pet peeve of mine, as I explain at some length here.)
That said, the methodology followed by Walk Score is sophisticated: Within each city, the organization sampled the Walk Score results (as always, the greater the number of nearby amenities, the higher the score) for locations on a grid of points spaced roughly 500 feet apart (about the length of an average city block). It then weighted the score of each location by population density and used a complex mathematical procedure to arrive at a score for the city as a whole.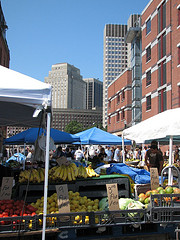 Somewhat more interesting to me are the rankings of neighborhoods, over 10,000 of which were scored by the Walk Score organization. One almost has to take uber-dense New York City out of the analysis, though, since only Boston's Haymarket district kept NYC neighborhoods from taking all of the top 15 spots. In fact, of the top 20, New York neighborhoods claim 17 spots. (Besides Haymarket, the other two are San Francisco's Chinatown and Chicago's Printer's Row.)
Other than neighborhoods in the obvious, very high-density cities, some interesting places that did particularly well are Charlottesville's downtown (scoring 98 out of 100, good enough for 27th place), Dupont Circle in DC (98, 33rd), Federal Hill in Baltimore (97, 47th), and Horton Plaza in San Diego.
---
This post also appears on NRDC's Switchboard.
Images: star5112/flickr, Ped/Bike Information Center via Walk-Friendly Cities, and Katherine Hala