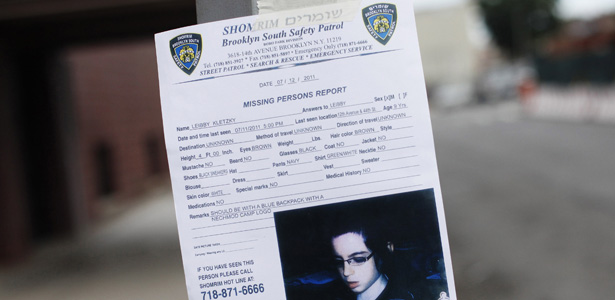 In Brooklyn, two parents allowed their eight year old son to walk home, and
their worst nightmare came true
:
Every day, parents put their faith in those rules and send their children, with a silent prayer, off into the world, trying to push away the knowledge that something bad could happen, as if thinking it would make it come true. 




On Wednesday, it did come true for one Brooklyn family, as the body of 8-year-old Leiby Kletzky was found dismembered two days after he disappeared on a short walk between his day camp and where he was supposed to meet his parents. The boy, who had implored his parents for permission to walk home from school alone, had gotten lost and ran into a stranger who, the police said, kidnapped and killed him. 




For parents across New York City, the tragedy set off a wave of fear, self-doubt and sometimes fatalism, not seen perhaps for 32 years, since Etan Patz, who was 6, vanished after begging to be allowed to walk alone to the bus stop, just two blocks from his home in SoHo. The rules of parenting suddenly seemed flimsy, and the world became a scarier place, despite the relatively low crime rate.
I think the boy's parents will spend much of their lives questioning themselves. I am so sorry about that, mostly because I don't think they did a single thing wrong. I was walking home by age seven, and on mass transit by age nine. I suspect a lot of you have similar stories. Moreover, there is no 100 percent protection for children. This is, by far, the hardest reality for a parent to reckon with.
Having a child is like watching your arm split off from you, grow its own brain and then do whatever it feels like. On some level, it's still yours, but you can't control it, you can't save it, and you can only, within reason, really protect it.
My heart goes out to the Kletzky family. Truly, I am so very sorry for their loss.
P.S.: Please don't be stupid in comments. An immediate ban will come down on you, if you can't be civilized about this.

Image: Shannon Stapleton/Reuters