Frank Lloyd Wright's Forgotten Gas Station of the Future
A small Minnesota town is home to the only actual example of the building the great architect cared about so much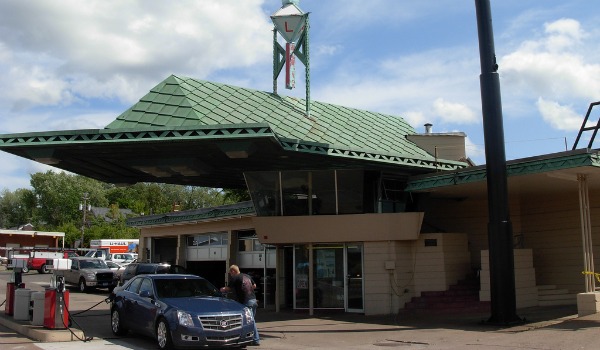 Cloquet, Minnesota, population approximately 11,000, is not known for much more than the great Cloquet Fire of 1918 and the town's status as the home of one of the largest cooperative retail stores of the 20th century. But this small community on the St. Louis River is also home to the R.W. Lindholm Service Station, a gas station designed by Frank Lloyd Wright that played a leading role in Wright's vision of the city of the future.
As Harvard professor and Wright scholar Neil Levine has noted, Wright, who spent decades imagining gas station prototypes before helping build the Cloquet station in 1959, viewed gas stations as a "catalyst" that would help transform American communities into something resembling Broadacre City, his vision of a decentralized urban landscape that many have interpreted as a sort of super-suburbia. The service station, in Wright's words, would be "the future city in embryo," which would "naturally grow into a neighborhood distribution center, meeting-place, restaurant ... or whatever else is needed."
Unfortunately, his gas station design didn't catch on. Certain elements, such as gas pumps hanging from an overhead canopy—intended to boost efficiency and save space—were prohibited by Cloquet fire bylaws (although, coincidentally, hanging pumps eventually became popular in Japan). The unorthodox station was also estimated by one trade publication to have cost two to three times as much as a standard design. Still, it remains to this day, open for business, the symbol of a vision of suburbia that never came to pass—or, in all likelihood, did, but just with a lot less futuristic style.
Image: rococohobo/flickr; Via Open Culture