David Rockwell Brings the Japanese Pod-Style Hotel to NYC
Meet one of the best designers of restaurants and hotels, who can make industrial design welcoming and comfortable
Meet one of America's best designers of restaurants and hotels, who can make industrial design welcoming and comfortable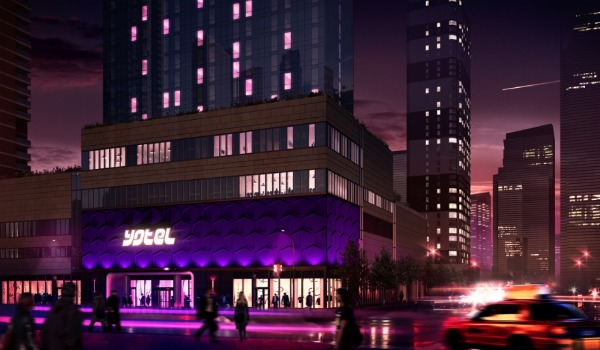 About a year ago, I got a very welcome call: About the best-known restaurant designer in the country was interested in contributing to the then Food channel. We batted around a few ideas, and then he got busy with the endless number of projects he's regularly commissioned to design--including, recently, the staging of the justly acclaimed Broadway production of Larry Kramer's
The Normal Heart
, which closed far earlier than it should have, because of TV and other commitments its lead actors had to fulfill.
Now we've got Rockwell--in his delightful opening piece on restaurant doors and what they say about the experience you're in for once you go through them.
Rockwell is also one of the country's foremost designer of hotels, and I got to see his latest, west of Times Square, just two nights ago, when he kindly asked me to an opening party he was giving. The Yotel is the first U.S. branch of an international chain that has built Japanese pod-hotel-styled hotels near airports in London and Amsterdam; this is the first outside an airport, and unusually large--669 rooms.
The heart of the hotel is a large public area on the fourth floor, with contiguous bars, restaurant (the food will be Asian), and a 7,000-square-foot terrace with views of the West Side and the Hudson. One bar area is raised, with Japanese-style tables and floor seating; the tables theatrically sink into the floor so the whole area becomes a dance floor. Already the bar and terrace were full of the kind of youngish disco-goers and trend-seekers Rockwell and the owners invited for the party and assume will crowd the place.
The rooms are, of course, small, with an average of 170 square feet. But I could very easily imagine staying in the one Rockwell brought us to see, which he swore was the smallest style in the place: the chain's preferred term is "cabin" and I certainly got the stateroom reference. But I've in fact stayed in smaller hotel rooms in New York (try the Hudson, like the Yotel a place with a throbbing main bar and restaurant and also very far west in Manhattan, or the Philippe Starck-designed Paramount, also in Times Square). And I'm sure I paid more than the current introductory rate of $149, which will rise to $200-250 after August, according to this story in The Wall Street Journal.
"It's industrial design," Rockwell said offhandedly. But it was clear that every element--the built-in desk; the bathrooms that merge with the room but can be separated by a hidden door; the modified futon that electronically extends to be flat; the lights, which for once looked like you could read by them, which you never can in a hotel this cool--had been carefully thought out by the Rockwell Group and the hotel owners. And the design, while unidentifiably sleek and modern--very white and light purple, with the vague air of, appropriately, an airport--didn't interfere with a certain welcoming comfort of the rooms. I'd stay there.
I'm hoping Rockwell will write more about it for us--but go right over to his first post. It's a perfect entree to the many designed dishes, big and small, we can look forward to.
Image: Courtesy of the Rockwell Group