Experts are calling this summer's drought a once-in-a-lifetime catastrophe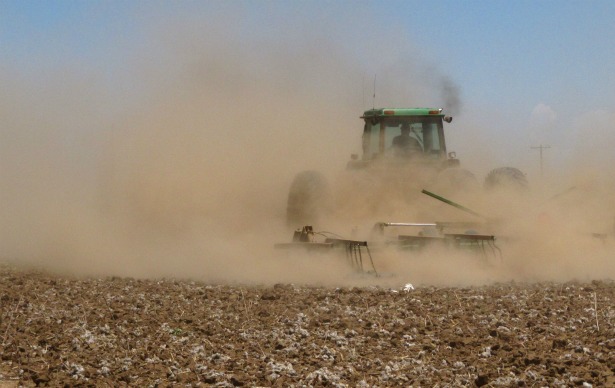 Betsy Blaney/AP
After a spring filled with reports of devastating floods and tornadoes, another climatological disaster is taking shape. Fourteen states across the south, particularly Texas, are facing a lethal combination of record heat and low precipitation.  The Office of the Texas State Climatologist reports that this past June was the hottest June in recorded history. Twenty-five Texan cities broke heat records. Meanwhile, water supplies are drying up and crops are dying. Meteorologist say a strong La Niña -- abnormal cooling of Pacific waters -- is to blame.
According to experts, this is no ordinary drought. It's a large-scale crisis that some are comparing to the Dust Bowl of the 1930s. Brian Fuchs, a climatologist at the National Drought Mitigation Center, told me that this is a once- or twice-in-a-lifetime event. "Most all the data is falling in the driest one or two years on the records," he said. And some of that data stretches back for 100 years.
The center where Fuchs works, which is based out of the University of Nebraska-Lincoln, uses a ranking system that begins at D0 (abnormal dryness) and moves through D1 (moderate drought), D2 (severe drought), and D3 (extreme drought). The current crisis surpasses all of these, earning a rating of D4 -- exceptional drought. That means crop losses are not just major but dire and widespread. (The New York Times reports that agricultural losses could exceed $3 billion.) And municipalities are not just experiencing water shortages but water emergencies.
Fuchs says that even when the rains do return to the region, it will take some time for the landscape to recover. "It's a dead landscape," he said. "You don't see much of anything green. When the rain returns it takes time, even with moisture, to give vegetation a chance to start re-growing again."
This animated map from the US Drought Monitor shows exceptional drought moving across the south like a spreading infection.