A Conversation With Suzanne Lee, Sustainable Fashion Innovator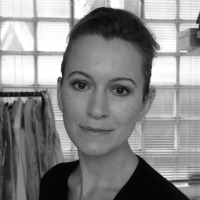 Imagine if you could grow your own clothes. With the help of green tea, sugar, and a few microbes, that's exactly what fashion designer Suzanne Lee does. Director of the
BioCouture
research project, she essentially uses a recipe for the trendy fermented tea known as kombucha to make fabric—adding bacteria, yeast, and other microorganisms that can spin the ingredients into eco-friendly cellulose fibers.
If Lee's low-energy process catches on, it could address some of the major environmental and sustainability problems associated with the fashion industry. Rather than shipping materials based on plants, animals, or petrochemicals to factories around the world, designers could make their own biomaterials right at home. Here, Lee discusses the quickening pace of the fashion world, why more designers should cater to older consumers, and the advantages of being thrown off track.
What do you say when people ask you, "What do you do?"
Usually I falter. I have a problem answering that question these days since "fashion designer" doesn't really cover it. Sometimes I say "I grow frocks" just to provoke.
What new idea or innovation is having the most significant impact on fashion design?
The short answer (in Europe at least) is probably the rapid rise of "fast fashion." "Time to market" has been reduced from months in the early 2000s to a matter of days now. Instead of delivering new collections twice yearly, some companies now deliver new designs twice weekly! You have to question design integrity when it moves so fast that the clothing becomes throwaway.
What's something that most people just don't understand about your field?
Well that's a tough one because I feel that I'm creating my own unique field. Most people don't understand anything about what I'm doing now. It sounds too bizarre saying that I'm growing clothing using bacteria, and it takes quite a bit of explaining to impart why I would want to do this.
What's an emerging trend that you think will shake up the fashion world?
I'm hoping that the consumer trend of asking about traceability with food will migrate to fashion and that all fashion brands will choose to sign up (and go beyond) global production standards like the Ethical Trading Initiative.
I also get frustrated that no one seems to be addressing stylish aging consumers. This is a growing, affluent, and powerful demographic that simply isn't catered to in the style press, advertising, or fashion brands. Whoever figures out how to see wisdom instead of wrinkles could really shake things up. For me, one of the most memorable fashion images ever was a 1995 Levi's campaign shot by Nick Knight that used an elderly woman with long grey hair wearing jeans. It challenged so many preconceptions and made being old seem cool. Where is that vision today?
What's a design trend that you wish would go away?
Not a trend, more an unethical business model: I despise cheap, poor-quality, disposable fashion that exploits workers in poor parts of the world so that Western consumers can toss once-worn items into landfill. It's obscene.
What's an idea you became fascinated with but that ended up taking you off track?
As a designer I played my part in the fashion industry until I met a biologist and was introduced to the idea of creating cloth and clothing in an entirely new way, using bacteria to "grow" garments. This caused such a seismic shift in thinking that I ended up questioning everything I knew. Sometimes being thrown off track is just what you need.
Who are three people who you'd put in the fashion design Hall of Fame?
Coco Chanel for introducing informality to women's wardrobes by adopting elements from sport and menswear. She represents a timeless, relaxed, pared-back style. Issey Miyake for technical innovation tied with respect for tradition and quality. Alexander McQueen for his narrative fashion fantasies that kept couture craftsmanship contemporary.
What other field or occupation did you consider going into?
I always loved food and cooking from an early age, so before I discovered a passion for fashion and textiles I wanted to be a chef. I still enjoy cooking but am glad I chose my path; the reality of commercial cooking is hot kitchens and really long hours for not much pay.
What website or app most helps you do your job on a daily basis?
There's no one location or app that I rely on, but I've become a total geek so I spend silly amounts of time trawling science papers in places like www.elsevier.com and www.sciencedirect.com. I also subscribe to daily newsletters from PSFK, DesignBoom, and Style.com.
What song's been stuck in your head lately?
Anything by Amy Winehouse. I've been playing her a lot since she died. Such a tragic loss.
Image: Courtesy of Suzanne Lee