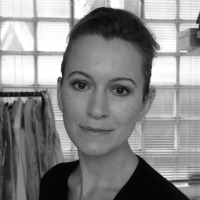 Imagine if you could grow your own clothes. With the help of green tea, sugar, and a few microbes, that's exactly what fashion designer Suzanne Lee does. Director of the BioCouture research project, she essentially uses a recipe for the trendy fermented tea known as kombucha to make fabric—adding bacteria, yeast, and other microorganisms that can spin the ingredients into eco-friendly cellulose fibers.
If Lee's low-energy process catches on, it could address some of the major environmental and sustainability problems associated with the fashion industry. Rather than shipping materials based on plants, animals, or petrochemicals to factories around the world, designers could make their own biomaterials right at home. Here, Lee discusses the quickening pace of the fashion world, why more designers should cater to older consumers, and the advantages of being thrown off track.
What do you say when people ask you, "What do you do?"
Usually I falter. I have a problem answering that question these days since "fashion designer" doesn't really cover it. Sometimes I say "I grow frocks" just to provoke.
What new idea or innovation is having the most significant impact on fashion design?
The short answer (in Europe at least) is probably the rapid rise of "fast fashion." "Time to market" has been reduced from months in the early 2000s to a matter of days now. Instead of delivering new collections twice yearly, some companies now deliver new designs twice weekly! You have to question design integrity when it moves so fast that the clothing becomes throwaway.