Bill Clinton made an appearance on the final Saturday evening session of the Aspen Ideas Festival, as he has done a number of times in the past. Ron Brownstein of National Journal was his interviewer this time. Others have included Walter Isaacson in 2005, me in 2006, Richard Stengel in 2007, and Jane Wales in 2008. All have shared the experience of sitting next to Clinton on stage while he talked about whatever was on his mind. This is the way he came across this evening on the Jumbotron, which if somewhat distorted from the real image is true to the temper of his comments.
The next picture shows how he "really" looked -- although the picture above shows how thoroughly he was into his argument, mainly about the need to control health-care costs, and the insanity of a world in which legislators asked Grover Norquist's "permission" before voting on bills: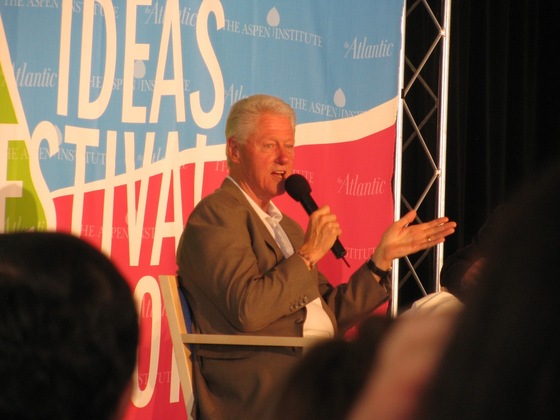 It is too late tonight, but tomorrow I'll try to convey the gist of his comments, which (predictably) was a stronger version of the case for Democratic initiatives, and against know-nothing anti-governmentism, than we're used to hearing from the current Administration. I'll mention now only the fact that, in a brief review of the Republican field, he said that he disagreed with just about everything Michele Bachmann stood for but respected her because she had "a lot of juice."
After the jump, an Atlantic in-house picture: part of the team of ninjas that has made the whole event happen, near the end of their round-the-clock work this past week
___
Over the years I have come really to respect the production teams that make events like this happen. This, near the very end of their labors, is part of the Atlantic's events crew -- minus Elizabeth Baker Keffer and China Ziegenbein, Lucy Byrd, Alisha Hathaway, Jessica Ni, Annie Hughes, Stacey Pavesi Debre, Steve Clemons, Natalie Raabe, and others; and with two ringers, the spouses of Atlantic writers. They all really are first-rate:

From left, Lindsey Bahr, Lyndsay Polloway, Deb Fallows, Ashley Bolding, Megan McGuinn, Kenyatta Matthews Coates. Thanks and admiration to them all.