2 Surprising Gay Pick-Ups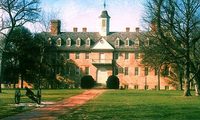 West Point now has its first "openly gay" member on its Board of Visitors thanks to the appointment of former Army captain
Sue Fulton
, a founding Board Member of
OutServe
, by President Obama.
That checks off a federal military academy box in the New York -- which as a state just made same sex marriage legal.
But a second recent appointment at a major American university in a much less gay-tolerant climate just occurred in Virginia.
Announced on July 1st, the well-known DC lobbyist and Democratic gay political poobah Jeffrey Trammell was 'unanimously' elected the new Rector of the College of William & Mary.  The Rector serves as chair of the College's Board of Visitors.  Trammell is the 79th Rector at William & Mary, which was founded in 1693 and is America's second oldest college.
There is a lot of resistance still throughout the country in crunching down the discriminatory laws that inhibit the normalization of gays into regular life -- but the appointments of Fulton and Trammell move this forward a couple of key notches.
Congrats to both and all of us.