What's Your One Big Idea?
In our "Question of the Day" feature for this year's Ideas Special Report, our readers tackle some of the emerging issues that are defining our time.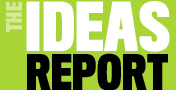 Today marks the beginning of our annual Aspen Ideas Festival, jointly sponsored by The Atlantic and The Aspen Institute on the Institute's expansive campus. Both institutions are focused intently on ideas in the worlds of politics, business, the arts, science, and culture. Atlantic writers and editors are out in Aspen, reporting and moderating panels on some of the most important ideas of the year. 
Senior editor Alexis Madrigal, who'll be reporting from Aspen,
wonders
 if the power of ideas is strong enough to reshape a world defined by global capitalism:
Last year, I looked back at the history of "the Aspen idea," which began when Walter and Elizabeth Paepcke, a Chicago businessman and his powerful wife, decided that this post-mining town should be the site of American humanism...Then, as now, it's an easy to see corporate social responsibility, sustainability initiatives, and fair trade branding as just fig leafs to draw attention away from the fact that corporate profits are up while wages are stagnant ... 




But on balance, I'll take leaders who at least feel the desire to create a better world and a more moral business practice, even if they won't always succeed in living up to their own principles.
Apart from blogging for TheAtlantic.com and moderating a panel or two, Alexis is wandering the Aspen Institute's campus collecting most interesting and creative ideas from festival-goers. In turn, we're asking you: What's your one big idea to reshape our world?