What America Looks Like: Westwood, New Jersey
The United States as seen by its residents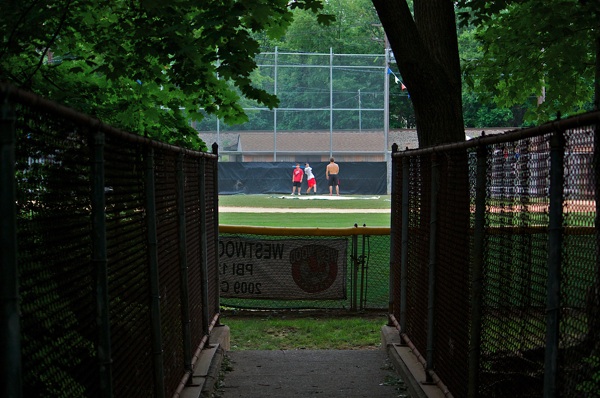 In
Westwood, New Jersey
, a baseball diamond.
"As much as Westwood bored me half to death when I was growing up there in the 80s, I find it oddly reassuring to see that things like this still go on," photographer Ryan Vaarsi writes. "No screaming coaches, no hysterical parents, just three kids hitting a few balls on a muggy Saturday afternoon."
He adds: "Between April and October all Saturday afternoons in New Jersey are muggy, it's a rule we have here. The conspicuous lack of the gadgetry also caught my attention. As famously attached as kids are to their phones, these guys seemed content to just swing for the fences and stay out of touch for a while."
See more of his work
here
.
Previously in this series:
Venice Beach
, California.
Western Georgia
.
Cincinnati
, Ohio. 
Birmingham
, Alabama.
Clarksdale
, Mississippi.
New York
, New York. The
border
between Arizona and Nevada.
Detroit
, Michigan.
Key West
, Florida.
Portland
, Oregon.
Boston
, Massachusetts.
Austin
, Texas.
Nashville
, Tennessee.
Santa Fe
, New Mexico.
Seattle
, Washington.
Portland
, Maine.
Yokena
, Mississippi.
Smyrna
, Georgia.
Vicksburg
, Mississippi.
Pittsburgh
, Pennsylvania.
Hoboken
, New Jersey.
Los Angeles
, California.
Kittery
, Maine.
Hamden
, Connecticut.
Submission guidelines:
We're seeking photographs that capture the look and feel of the United States as seen by those who live here, rather than the stock images of postcards and TV backdrops. Email photos to whatamericalookslike@gmail.com - doing so affirms that you hold all rights to the submission, and grants us permission to publish your photo at TheAtlantic.com and in any future collection of What America Looks Like photographs.
Include the city and state where the image is taken, and as detailed a description as you're willing to offer. Also let us know if you've got a photo Web site or a link where a print of your photo is available for purchase.