What America Looks Like: Variations on the Swimming Pool
The United States as seen by its residents.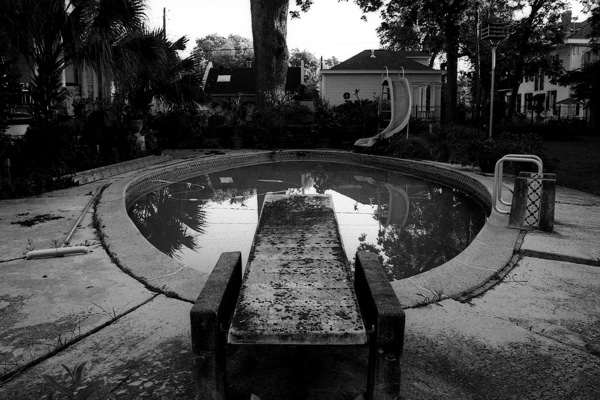 A backyard pool in Texas. (Flickr user Osborn B)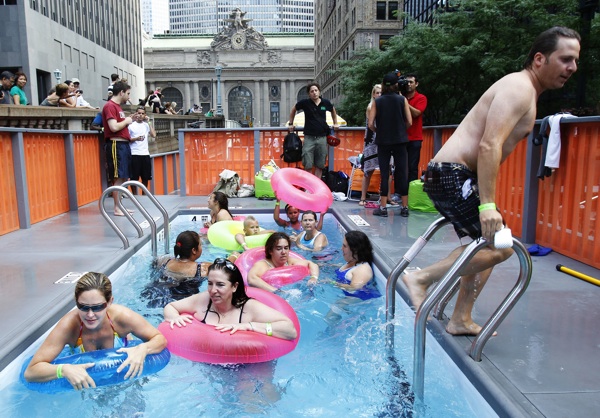 People swim in one of three converted dumpster pools on Park Avenue in New York. (Shannon Stapleton/Reuters)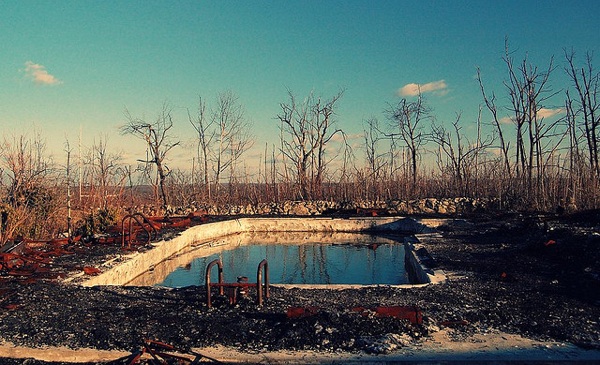 A pool in Leicester, Massachusetts. (Flickr user 18 55 Photography)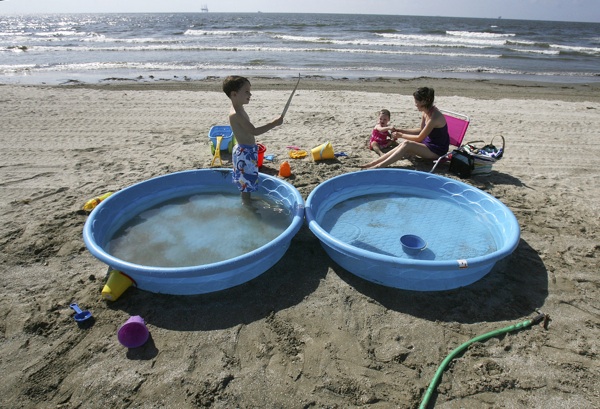 Bridget Hargrove of Baton Rouge, Louisiana, her four-year-old son Ayden, and one-year-old daughter, Emma, wade in a baby pool away from the oil contaminated Gulf of Mexico on Grand Isle beach in Grand Isle, Louisiana. (Sean Gardner/Reuters)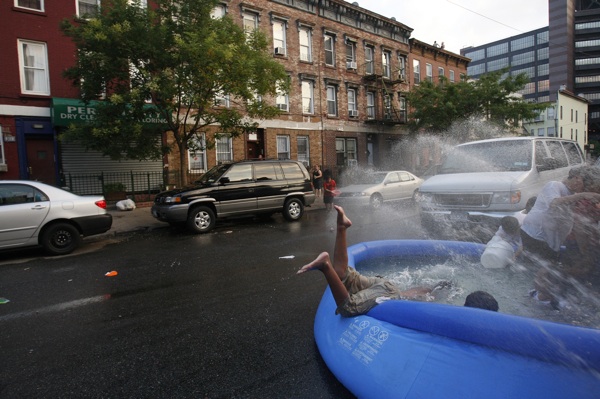 Children cool off in a inflatable pool in an effort to beat the heatwave in the Brooklyn section of New York. (Jessica Renaldi/Reuters)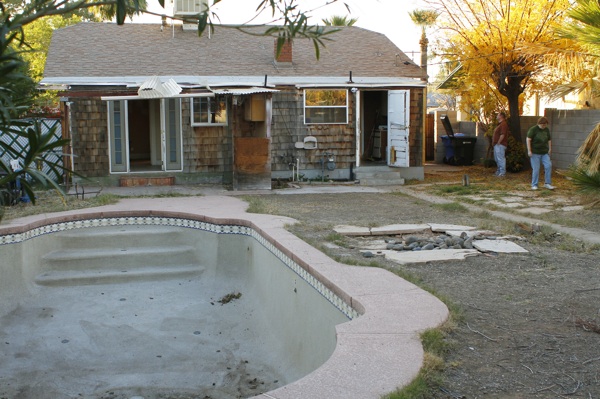 Paul Hennings and his wife Sheila Krueger stand in the backyard of their newly purchased home in Phoenix, Arizona. They lost their residential mortgage when their appraisal came in too low, and the couple took an investment loan to buy the home. (Joshua Lott/Reuters)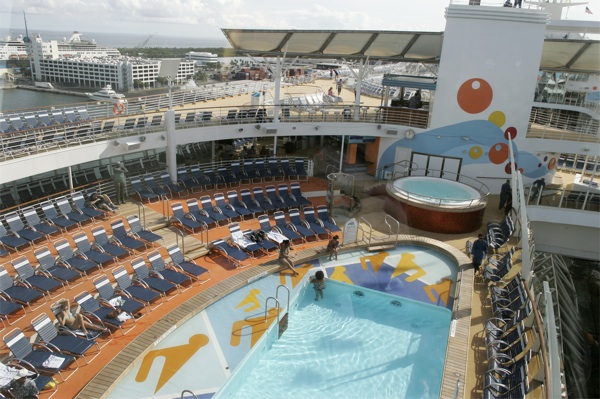 One of the large pools aboard the Oasis of the Seas is seen during a media tour in Fort Lauderdale, Florida November 20, 2009. Royal Caribbean's new Oasis of the Seas is the largest, widest, tallest, most expensive cruise ship afloat. (Reuters)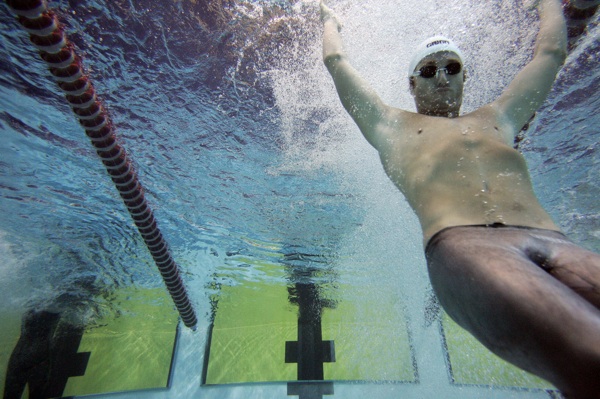 U.S. swimmer Aaron Peirsol jumps into the pool before the start of his men's 200m backstroke preliminary heat at the USA Swimming National Championships in Indianapolis, Indiana. (Christinne Muschi/Reuters)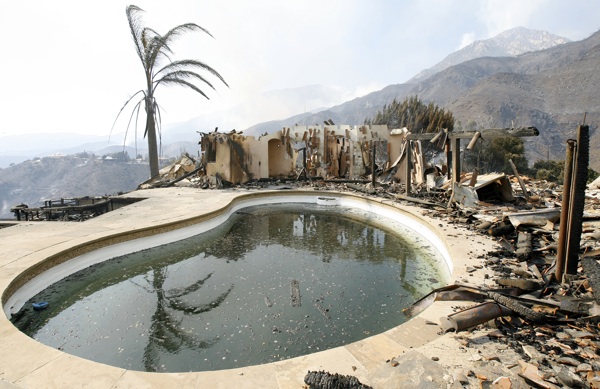 The pool of a house that was destroyed during the Jesusita fire in Santa Barbara, California. (Mario Anzuoni/Reuters)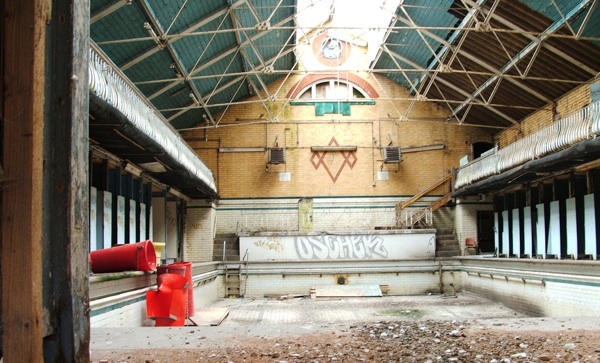 An abandoned community pool in Birmingham, Alabama. (Flickr user Big Richard C)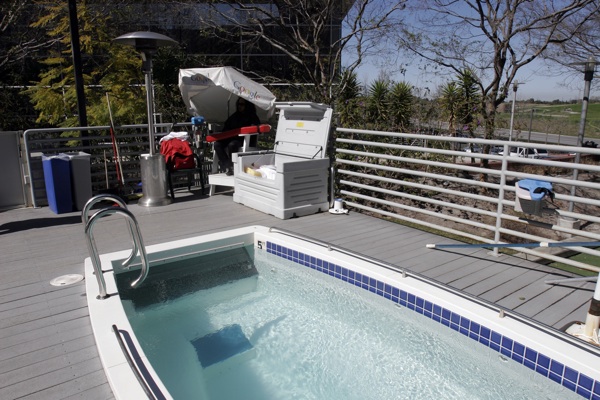 At the Google headquarters in Mountain View, California, a lap pool, complete with lifeguard, is available to any employee who might feel like taking a break for a swim. (Erin Siegal/Reuters)
Omari Corbin swims on his back in the Floating Pool Lady at the Brooklyn Bridge Park in New York. The seven lane, 25-meter-long floating pool will be anchored between Piers 4 and 5 of the East River. (Shannon Stapleton/Reuters)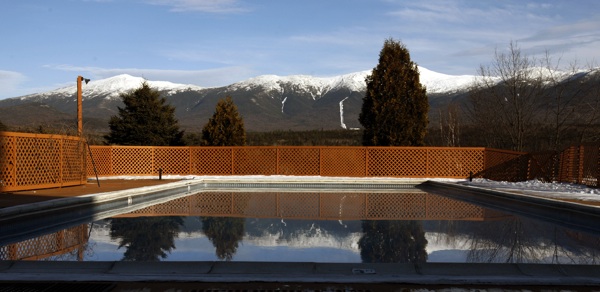 The Omni Mount Washington Hotel's outdoor swimming pool reflects the mountains in Bretton Woods, New Hampshire. The hotel is best known as the site where the International Monetary Fund and World Bank were created. (Brian Snyder/Reuters)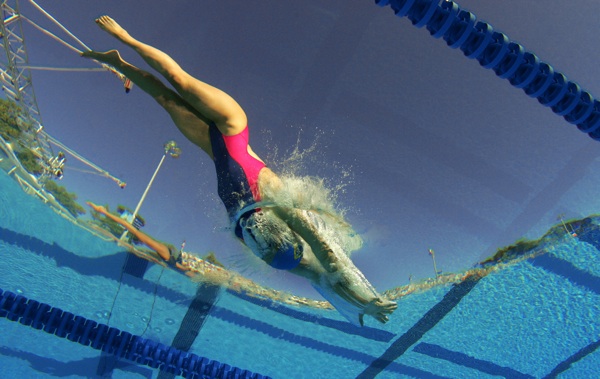 Kate Ziegler of the U.S. dives in for the start of the women's 800m freestyle final during the USA Swimming National Championships in Irvine, California. (Lucy Nicholson/Reuters)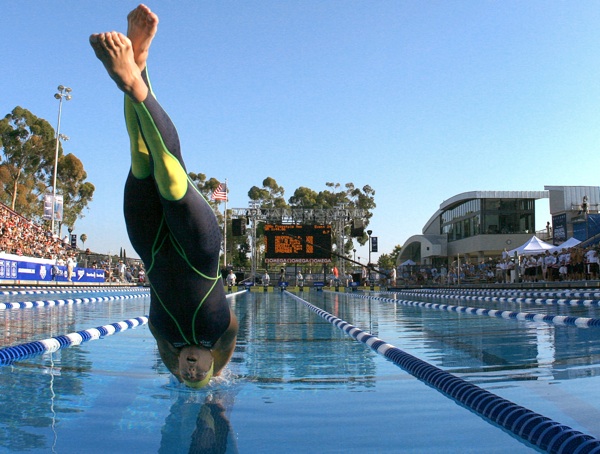 Grant Hackett of Australia's Telstra Dolphins dives into the pool during the 2005 Mutual of Omaha Duel in the Pool in Irvine, California. (Lucy Nicholson/Reuters)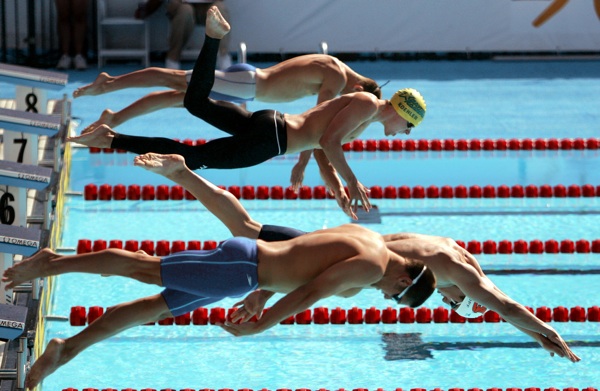 Swimmers display different styles as they dive into the pool for the 1500 meter freestyle semifinals at the U.S. Olympic Swimming Trials in Long Beach, California. (Lucy Nicholson/Reuters)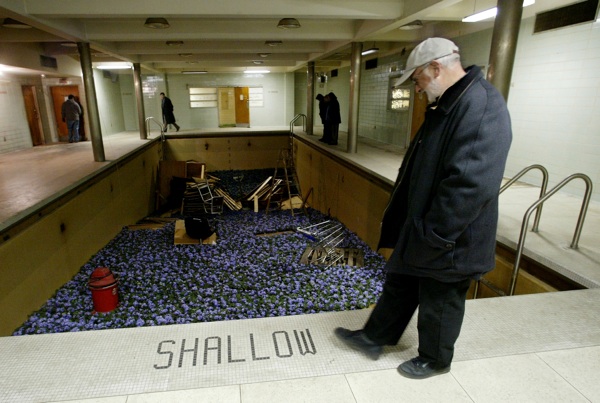 Visitors look at a hospital swimming pool filled with blooming violets that are among the 28,000 pots of flowers artist Anna Schuleit has installed as part of her "Bloom Project" in the recently closed Massachusetts Mental Health Center in Boston, November 14, 2003. (Jim Bourg/Reuters)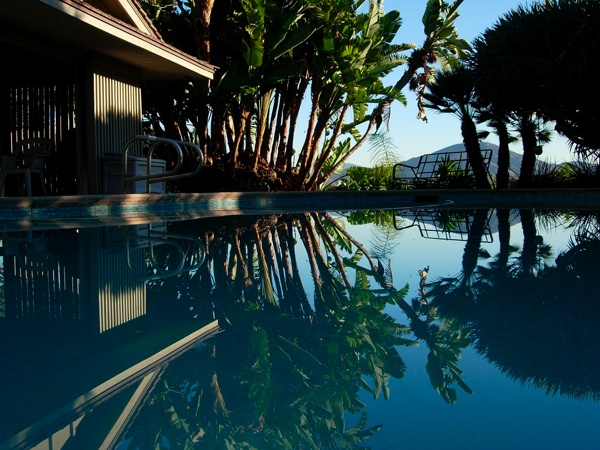 A pool in San Diego. (Flickr user Ryan Leighty)
Baseball fans at the Arizona Diamondbacks ballpark have the opportunity to watch the game and take a swim in the swimming pool that was built in the right field stands, during the inaugural game against the Colorado Rockies on March 31. The cost to rent the pool area for a game is $3,000 dollars. (Jeff Topping/Reuters)
Previously in this series:
Venice Beach
, California.
Western Georgia
.
Cincinnati
, Ohio. 
Birmingham
, Alabama.
Clarksdale
, Mississippi.
New York
, New York. The
border
between Arizona and Nevada.
Detroit
, Michigan.
Key West
, Florida.
Portland
, Oregon.
Boston
, Massachusetts.
Austin
, Texas.
Nashville
, Tennessee.
Santa Fe
, New Mexico.
Seattle
, Washington.
Portland
, Maine.
Yokena
, Mississippi.
Smyrna
, Georgia.
Vicksburg
, Mississippi.
Pittsburgh
, Pennsylvania.
Hoboken
, New Jersey.
Los Angeles
, California.
Kittery
, Maine.
Hamden
, Connecticut.
Westwood
, New Jersey.
Weehawken
, New Jersey.
Reno
, Nevada.
Luna
, New Mexico.
Athens County
, Ohio, living on a bus.
On the Ohio River
, addicted to pills.
At Ohio University
, Chinese exchange students.
Inner City Oakland
, California, on a bicycle.
Submission guidelines:
We're seeking photographs that capture the look and feel of the United States as seen by those who live here, rather than the stock images of postcards and TV backdrops. Email photos to whatamericalookslike@gmail.com - doing so affirms that you hold all rights to the submission, and grants us permission to publish your photo at TheAtlantic.com and in any future collection of What America Looks Like photographs.
Include the city and state where the image is taken, and as detailed a description as you're willing to offer. Also let us know if you've got a photo Web site or a link where a print of your photo is available for purchase.