What America Looks Like: Rural Ohio, Living on a Bus
The United States as seen by its residents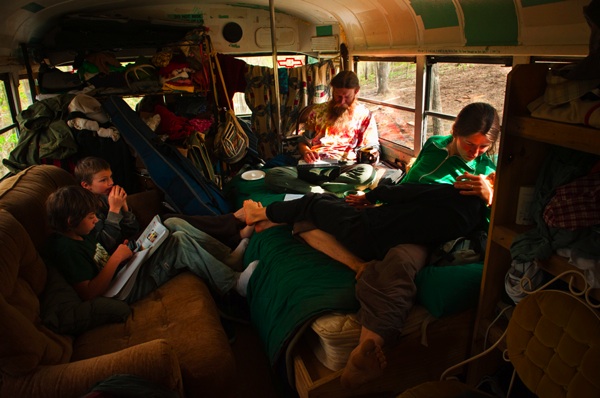 In Athens County, Ohio, a family sits in the bus where they live. They're the subjects of a multimedia story by Meg Roussos, a student at Ohio University. Upon discovering her work, courtesy of photographer Jonathan Adams, I was thrilled: it's exactly the sort of photography that What America Looks Like seeks to highlight. Today, we'll look at several more of her photos, and some of her reporting on this family.
And throughout this week, I'll highlight other exceptional work from the project Soul of Athens, where numerous visual communication students are trying to examine "the changing American dream." Now let's return to that bus in the woods, as captured by Meg Roussos, who created all the words and images that follow: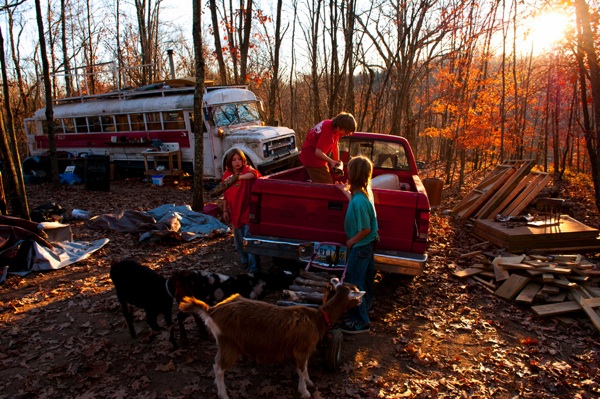 The school bus is small for five people. Shelves are stacked to the ceiling, filled with clothes and food. Headlamps hang from a bungee cord. There are touches of home, like a bookcase Smiles built. They improvise solutions to simple problems that do not exist in traditional houses.The kids warm bricks on the wood-burning stove and place them at their feet to keep warm during winter. Eli pulls out a roll-away bed every night, and Forest sleeps on the couch. There is no running water. They compost their waste. They have to start a generator in order to charge their cell phones.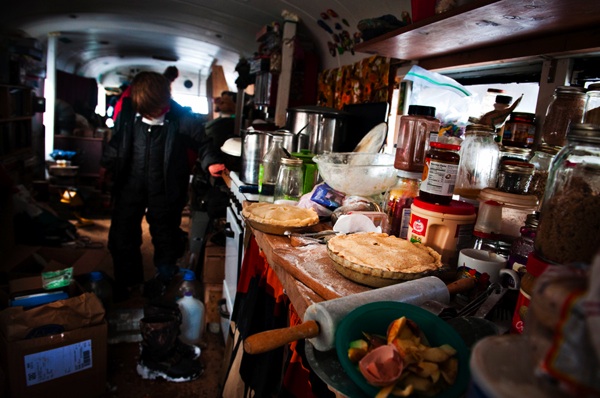 Simon steps through the kitchen, as Space's home made apple pies wait to be baked in the oven. "It is such a blessing to have this oven in here, I am able to bake a lot of homemade things," she says.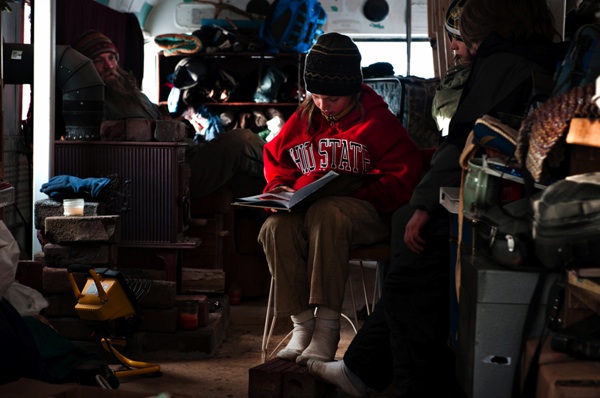 Eli reads comic books to Smiles sitting nearby as his brothers look over his shoulder at the pictures. The boys place their feet on a warmed brick from the stove.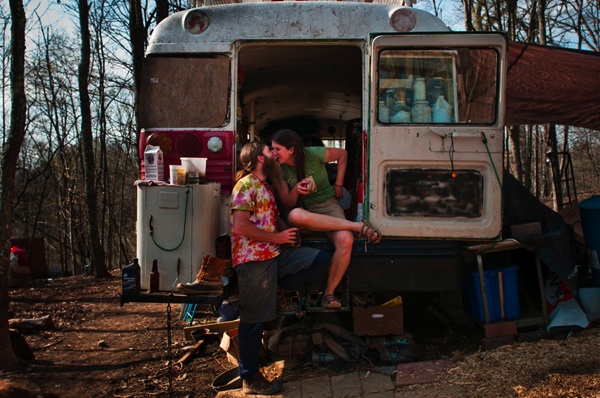 Smiles and Space talk about who will take the boys to baseball practice. The back door of the school bus is usually open for kids to run in and out on sunny days.
To see many more images, words, and a video about the family, or to learn about their Christian faith and how they came to live in a bus, go
here
. The photographer's personal Web site is
here
. And stay tuned for tomorrow's featured story about a man struggling to overcome addiction and raise his daughters in a trailer alongside the Ohio River.
Previously in this series:
Venice Beach
, California.
Western Georgia
.
Cincinnati
, Ohio. 
Birmingham
, Alabama.
Clarksdale
, Mississippi.
New York
, New York. The
border
between Arizona and Nevada.
Detroit
, Michigan.
Key West
, Florida.
Portland
, Oregon.
Boston
, Massachusetts.
Austin
, Texas.
Nashville
, Tennessee.
Santa Fe
, New Mexico.
Seattle
, Washington.
Portland
, Maine.
Yokena
, Mississippi.
Smyrna
, Georgia.
Vicksburg
, Mississippi.
Pittsburgh
, Pennsylvania.
Hoboken
, New Jersey.
Los Angeles
, California.
Kittery
, Maine.
Hamden
, Connecticut.
Westwood
, New Jersey.
Weehawken
, New Jersey.
Reno
, Nevada.
Luna
, New Mexico.
Dallas
, Texas.
Submission guidelines:
We're seeking photographs that capture the look and feel of the United States as seen by those who live here, rather than the stock images of postcards and TV backdrops. Email photos to whatamericalookslike@gmail.com - doing so affirms that you hold all rights to the submission, and grants us permission to publish your photo at TheAtlantic.com and in any future collection of What America Looks Like photographs.
Include the city and state where the image is taken, and as detailed a description as you're willing to offer. Also let us know if you've got a photo Web site or a link where a print of your photo is available for purchase.