What America Looks Like: On the Ohio River, Addicted to Pills
The United States as seen by its residents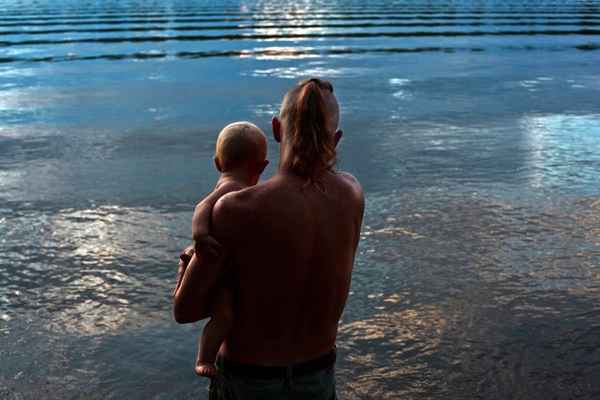 On the banks of the Ohio River, a man named Travis cradles his daughter. He is the subject of a multimedia essay by Brad Vest, an Ohio University student and contributor to the Soul of Athens project. The images and words that follow are his.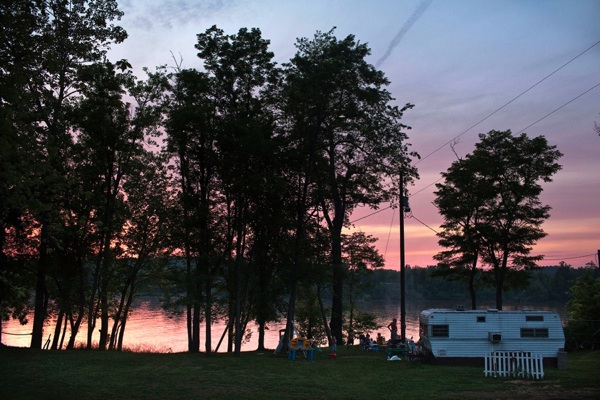 This is a story about drugs, family and absence along a bend in the river. Travis Simmons is attempting to move past his addiction, and despite prison, parole, parents, and his devotion to his daughters, he cannot stay out of trouble.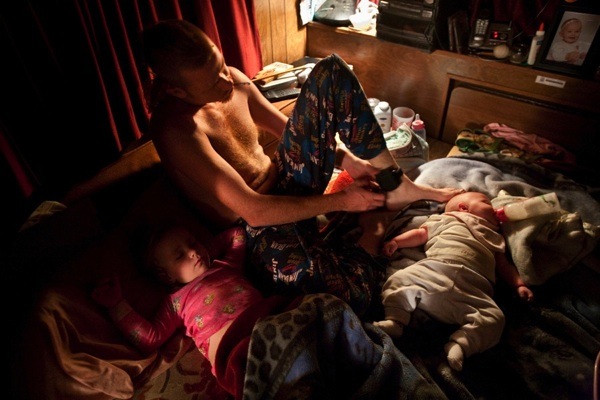 In October of 2009, Jackson County sentenced Travis to house arrest, after having just served four months for one count of conspiracy to commit grand larceny he broke his probation and was being released from another one-month sentence onto home confinement. A couple of his friends had convinced him to help rob an auto repair shop; he was out of work from an injury to his hand and needed the money. Shelia and Travis's father, Allen, hurried to prepare a camper they purchased to sit next to their own for Travis to come home to. Allen connected the campers' water and electrical lines. A phone line had to be installed in order to monitor Travis's ankle bracelet and report if he strayed more than 100 feet from the monitoring box.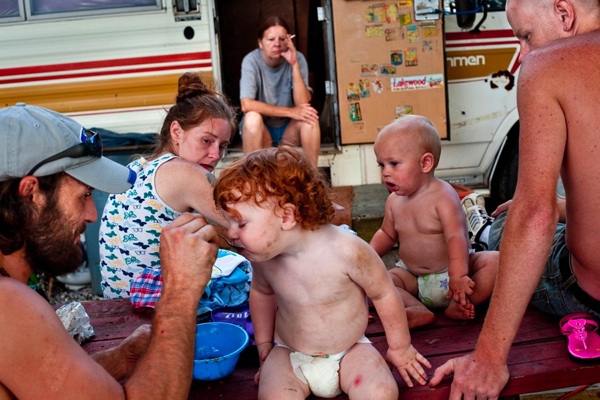 "Hell, up until I got hooked on pills, life was pretty good." Travis knows he and his family do not have much when it comes to material goods, but they have love. "My kids are my biggest reason for wanting to stay clean, because I don't want them around it, I don't want them to grow up to be an addict like I was." He paused to correct himself. "I am."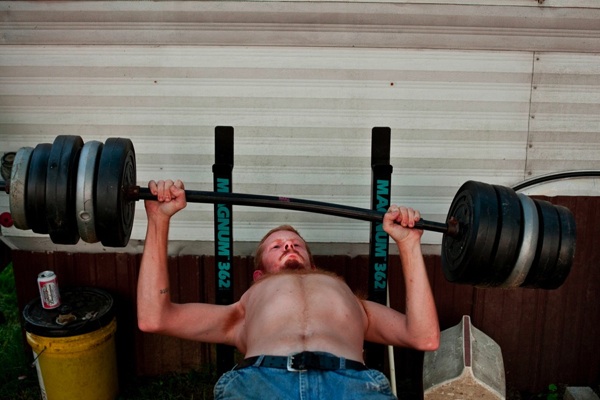 Frustrated by his circumstances, Travis tried to keep as busy as possible to keep in the 100-foot circle around his eight-by-twenty foot camper. "I can't take my kids anywhere, not even to the park," Travis said. He did his best, and built them a refuge in his own narrow orbit.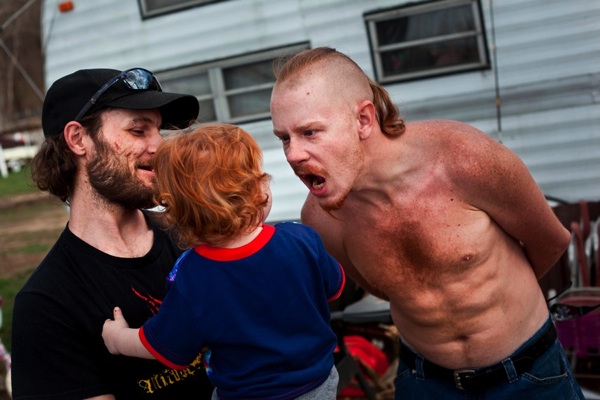 The violations started small. No one but family or approved guests were allowed to spend the night with Travis. Anyone with more than a speeding ticket on their record wasn't allowed to be there at all. Being alone got to him, and these small connections to his past started to grow.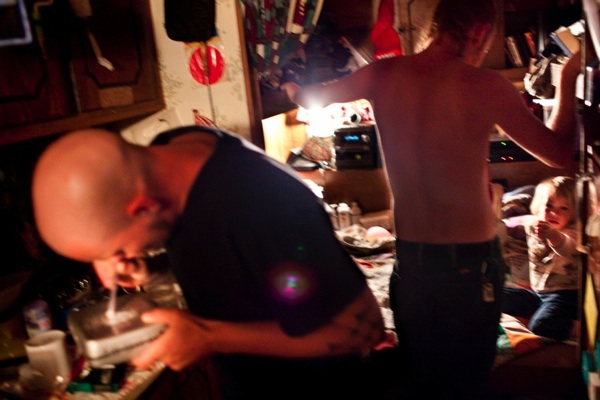 Travis' friend, Short, was over, expertly grinding a tall drinking glass back and fourth against an silver CD case. He ground the orange Suboxone into a chalky powder, catching it in the old cellophane wrapper off a pack of Marlboros. Short lifted the glass, removed the plastic and licked its underside, savoring each bit of crushed opiate.
On his bed, Travis sat next to Patience. The animated film "Cars" played on the TV.
Short cut two lines from the pile of powder, they parallel like the railroad tracks outside the camper. Short stood near the sink overflowing with dishes. He broke apart a clear Bic pen, keeping only the hollow tube. Travis leaned from the kitchen out over the bed in an attempt to block his daughter's view.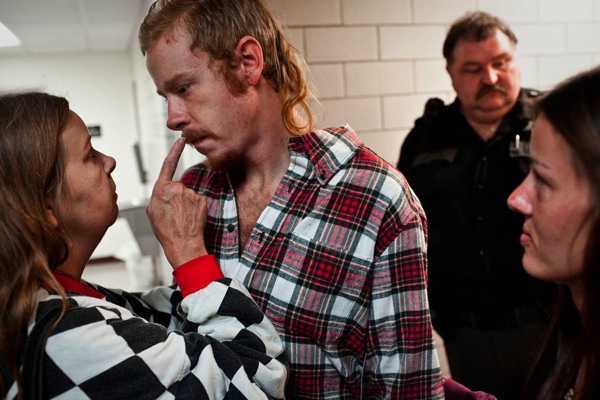 Shelia Simmons confronts her son, Travis, after he was released on bond. Travis's grandfather put his home's mortgage up for the bail money required to prevent Travis from returning to jail. "This is the last time," Shelia said. "I'm not coming back here if you get in trouble, no more."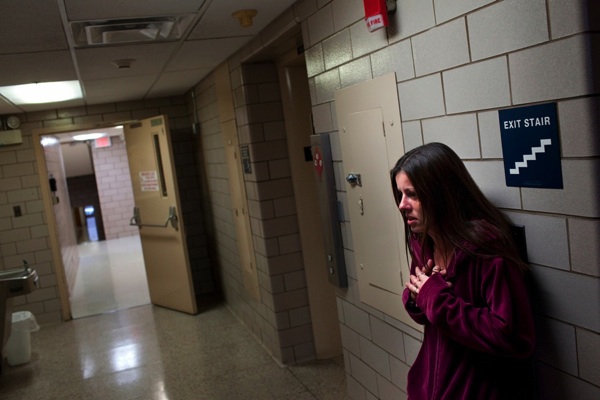 Tiffany breaks down in the Jackson County courthouse while waiting for Travis's grandfather to arrive in order to provide bond money so her fiancé could be temporarily released from jail.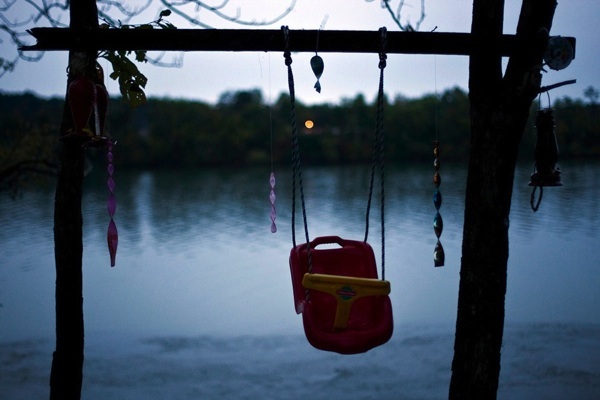 An infant's swing sits unused outside of Travis's parents' camper alongside the Ohio River.


There are many more compelling images and words that accompany this story, and a video too. See them
here
.  Come back tomorrow for another fascinating multimedia story from
Soul of Athens
.
Previously in this series:
Venice Beach
, California.
Western Georgia
.
Cincinnati
, Ohio. 
Birmingham
, Alabama.
Clarksdale
, Mississippi.
New York
, New York. The
border
between Arizona and Nevada.
Detroit
, Michigan.
Key West
, Florida.
Portland
, Oregon.
Boston
, Massachusetts.
Austin
, Texas.
Nashville
, Tennessee.
Santa Fe
, New Mexico.
Seattle
, Washington.
Portland
, Maine.
Yokena
, Mississippi.
Smyrna
, Georgia.
Vicksburg
, Mississippi.
Pittsburgh
, Pennsylvania.
Hoboken
, New Jersey.
Los Angeles
, California.
Kittery
, Maine.
Hamden
, Connecticut.
Westwood
, New Jersey.
Weehawken
, New Jersey.
Reno
, Nevada.
Luna
, New Mexico.
Dallas
, Texas.
Athens County
, Ohio, living on a bus.