What America Looks Like: Chinese Students at Ohio University
The United States as seen by its residents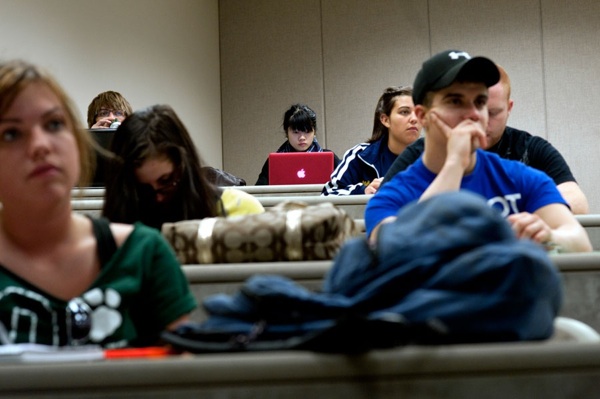 In
Athens, Ohio
, a Chinese exchange student at Ohio University sits in class. She is among the subjects of a multimedia essay by Darcy Holdorf, a participant in the
Soul of Athens
project. The words and images that follow are hers.
China's economic growth has created a burgeoning middle class with expendable income that, due to the one-child policy, places intense emphasis on children's higher education. China's strict university entrance requirements and a lack of higher educational institutions limit the opportunity for study, which compels more and more Chinese students to study abroad.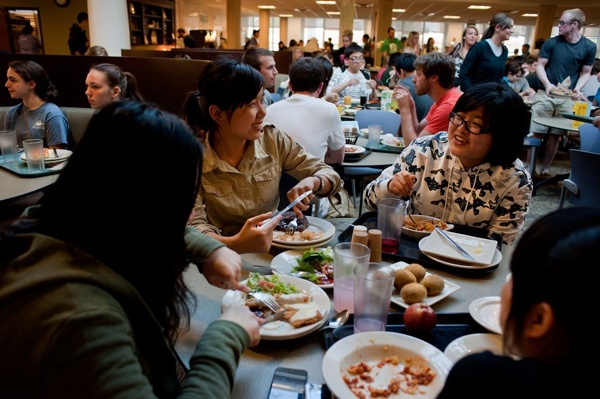 In 2010, 603 Chinese undergraduate students came to Ohio University compared to 17 in 2004. That same year, 81% of all international students at OU came from China. Dr. Gerry Krzic, director of the Ohio Program of Intensive English, says this is a global trend. "All ESL (English as a Second Language) programs follow a cycle. Right now we're in the Chinese, and the Saudi Arabian cycle.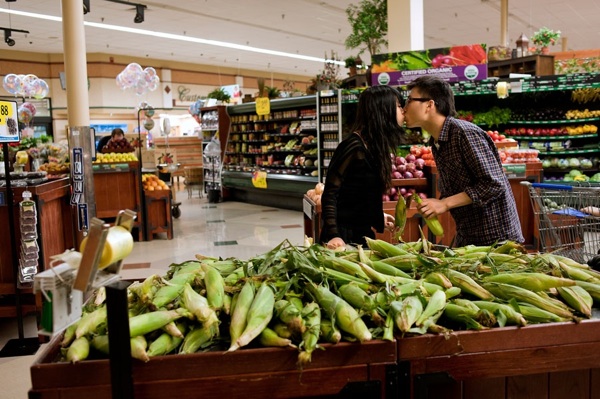 "Some Chinese students in Athens, they just study everyday, don't have some idea, don't have some dream. But we are different, we have a lot of plans for the future,"  says Andy Liu.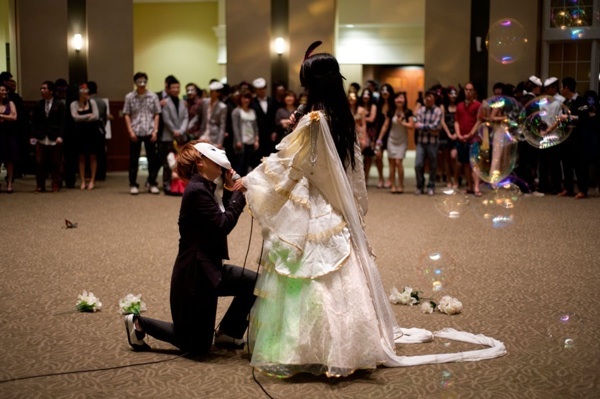 The Chinese Student and Scholars Association held a masquerade ball in the Walter Hall Rotunda, a dramatic, high-ceilinged ballroom encircled with 15-foot -tall windows. Black, white and gold balloons were taped to the walls to cover-up the sterile, institutional atmosphere. The women wore tight-fitting, strapless cocktail dresses and teetered in rhinestone encrusted silver stiletto heels on the dingy gray carpet. The men wore dress pants and suit jackets a size too big.

At the party, there was a rigid program of events scheduled precisely and painstakingly down to the minute. In a leggy, light blue mini-dress Yihan Fu, one of the entertainers, sang a sultry blues song in English. The M.C. lined men and women on separate sides of the room and the groups held a dance-off. Red and yellow disco lights illuminated masked, shy faces. Most of the guests stayed in the shadows around the edges of the circular ballroom. They stood in small groups and checked each other out, slightly bending their knees and shifting to the music. Sugary Asian-American pop songs repeated throughout the night.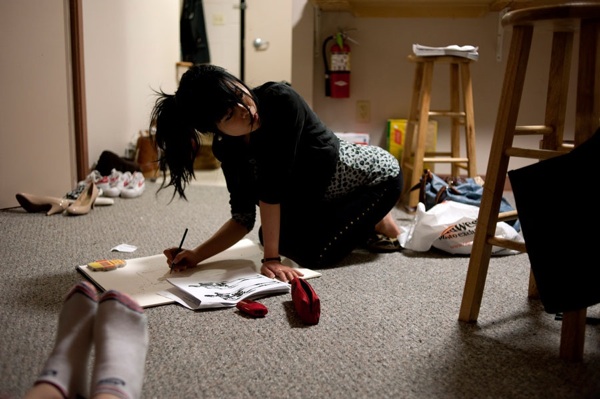 Popo prefers studying in the United States. "Chinese education focuses too much on exams and they're really bad about the creative and letting the students think," she says.

Initially, Popo's parents were not supportive of her decision to study art. They wanted her to study business or a more practical major like other Chinese students that study abroad. Popo eventually convinced them that studying graphic design could be a benefit to her family's printing business. She is now taking art history, printmaking and philosophy as part of her major.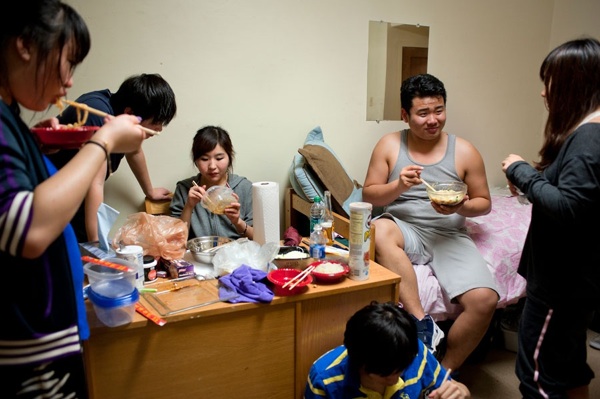 A group of friends make noodles in a rice cooker in their room. Cooking is forbidden in Scott, so a plastic bag covers the smoke detector to avoid getting caught.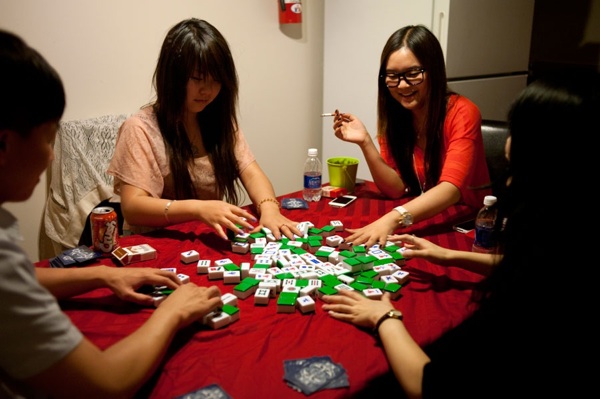 At 2 a.m. on the third floor lounge, four 18-year-old residents play Mahjong, a popular gambling game of skill and strategy. It is played with rectangular tiles bearing Chinese characters and symbols. The students banter back and forth as they select and discard tiles, much like in the Western game, gin rummy. "I got it!" Ma Wen Qi, a resident of Scott Quad says. She slaps her tiles down, face up, to show a perfectly paired row of 14. All four players extend their arms and a loud rustling marks the start of a new hand as they shuffle and then stack the tiles.
Don't miss the other images and words, or the video, that can be found
here
.
Previously in this series:
Venice Beach
, California.
Western Georgia
.
Cincinnati
, Ohio. 
Birmingham
, Alabama.
Clarksdale
, Mississippi.
New York
, New York. The
border
between Arizona and Nevada.
Detroit
, Michigan.
Key West
, Florida.
Portland
, Oregon.
Boston
, Massachusetts.
Austin
, Texas.
Nashville
, Tennessee.
Santa Fe
, New Mexico.
Seattle
, Washington.
Portland
, Maine.
Yokena
, Mississippi.
Smyrna
, Georgia.
Vicksburg
, Mississippi.
Pittsburgh
, Pennsylvania.
Hoboken
, New Jersey.
Los Angeles
, California.
Kittery
, Maine.
Hamden
, Connecticut.
Westwood
, New Jersey.
Weehawken
, New Jersey.
Reno
, Nevada.
Luna
, New Mexico.
Athens County
, Ohio, living on a bus.
On the Ohio River
, addicted to pills.
Submission guidelines:
We're seeking photographs that capture the look and feel of the United States as seen by those who live here, rather than the stock images of postcards and TV backdrops. Email photos to whatamericalookslike@gmail.com - doing so affirms that you hold all rights to the submission, and grants us permission to publish your photo at TheAtlantic.com and in any future collection of What America Looks Like photographs.
Include the city and state where the image is taken, and as detailed a description as you're willing to offer. Also let us know if you've got a photo Web site or a link where a print of your photo is available for purchase.