The Lethal-Drug Maker That's Helping End Lethal Injections
Denmark's Lundbeck is the sole remaining supplier of pentobarbital used on death row in the U.S.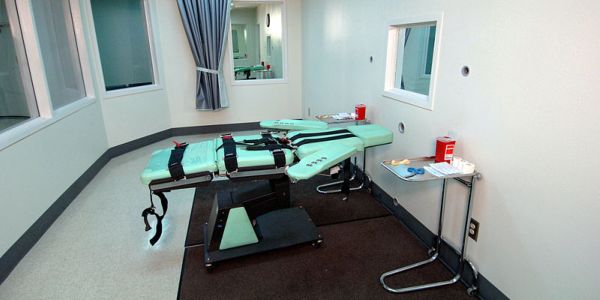 LONDON -- In a major victory for opponents of capital punishment, the only company still supplying a drug used in executions in the United States has said that it will take steps to stop states from using it for that purpose. And the Danish Government has issued a similar call in a letter to governors of death penalty states.
Reversing its previous position, the company, Lundbeck, based in Denmark, will send letters to American prison authorities stating that it is not safe to use the drug pentobarbital for lethal injections, according to a report in the Financial Times that I confirmed by email with the company. Lundbeck will also take measures to control the distribution of its drug in the future so that it will not be used in executions, a representative of the company told me by email. The drug, whose trade name is Nembutal, is also used as a treatment for epilepsy.
"This is an important step," Maya Foa, a researcher at Reprieve, the human rights organization that has led a campaign to block foreign companies from supplying lethal injection drugs to the United States, told me. She was quick to add, however, "This is not the end of the story." Lundbeck does not sell directly to end-users, but distributes through three American wholesalers. It remains to be seen what action Lundbeck will take to stop its wholesalers from selling the drug to death penalty states, says Foa, who told me that she met with the Lundbeck CEO last week. "That will be the measure of their commitment."
In a related development, the government of Denmark has called on American states not to use Lundbeck's pentobarbital in executions. The letter, which was sent to eight states in April but has not previously been made public, was made available to the Atlantic today by Reprieve. "The Government of Denmark -- and the European Union -- is working actively to restrict the use of capital punishment worldwide with a view to its universal abolition," the Danish Ambassador in Washington, Peter Taksoe-Jensen, wrote to Texas Gov. Rick Perry. "We consider this punishment cruel and inhuman, and this appeal is based strictly on humanitarian grounds."
Seven men are scheduled to be executed with pentobarbital made by Lundbeck in the next three weeks, according to Reprieve. Three are in Texas, and one each in Alabama, Arizona, Ohio, and Virginia. The company has also sold the drug to Florida, Georgia, Louisiana, Mississippi, and Oklahoma, a company spokesman, Anders Schroll, said in an email sent Wednesday. "Within a few days," Schroll notes, Lundbeck will send letters to prison authorities and governors in these eleven states advising that it is not safe to use the drug in lethal injections.
Lawyers are certain to use any letter from Lundbeck in legal efforts to block the executions. Medical questions about the use of pentobarbital in executions were recently raised in a report by law students at Northwestern University. As I noted at the time, the report found that state and federal agencies carefully regulated the drug when it was used in the euthanasia of animals, but that it was unregulated when applied for the execution of humans.
Lundbeck's actions are another victory for Reprieve, whose founder and director, Clive Stafford Smith, once worked as a death penalty lawyer in the United States. Last year, Reprieve persuaded the British Government to ban the export to the United States of another drug used in executions, sodium thiopental.
Sodium thiopental, an anesthetic, had long been the drug of choice by executioners. Last year, the American company, Hospira, stopped making it. When death penalty states began looking abroad for the drug, they ran into Reprieve and other anti-death penalty organizations, including Amnesty International. Without sodium thiopental, prison authorities turned to pentobarbital. The only foreign company licensed to sell the drug in the United States was Lundbeck.
Reprieve mounted an unrelenting campaign against the Danish company. Each time another person was executed with Lundbeck's pentobarbital, Reprieve issued a press release. While adamantly declaring that it was opposed to pentobarbital being used in executions, Lundbeck was equally unequivocal that there was nothing it could do to prevent it. The company now appears to have changed its policies. The looming question is what states will do without pentobarbital.
Image: Wikimedia Commons