Cities drive our economy, but they won't be returning to full employment anytime soon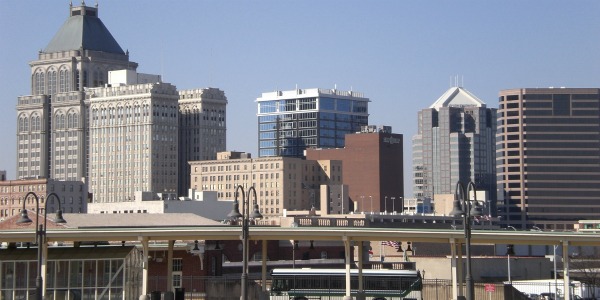 Cities and metros power the US economy and are key to economic recovery. But while some metros have bounced back--including resource-based economies like Houston and Oklahoma City, and those with high levels of human capital and public spending like Austin, TX and Washington, DC--recovery is a long way off in many others.
According to this this newly released report from the United States Conference of Mayors, US metro economies accounted for "89.8% of the nation's gross domestic product and wage income and 85.7% of all jobs."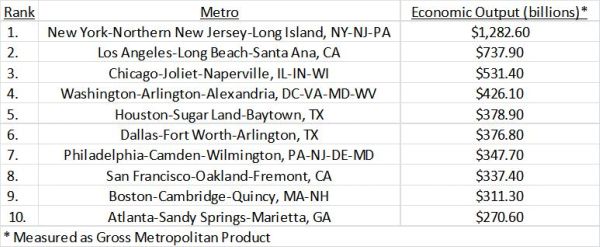 New York's, Los Angeles', and Chicago's output each ranked higher than that of 44 individual states; the combined production of the 10 highest-grossing metros (see chart above) is larger than the output of the 36 smallest states combined. Some more jaw-dropping factoids:
The greater New York metro's economy is the 13th largest in the world (ahead of India and Mexico). Los Angeles' ranks 18th and Chicago's 21st.
37 of the 100 largest economies in the world belong to US metropolitan areas.
The 20 largest US metros each grosses more than the separate economies of Australia, Mexico, Turkey, South Korea, or the Netherlands.
All that said, the report's key take-away is sobering. It predicts that job growth in 2011 will reach just 1.2%, with unemployment at 8.6% by year's end. Unemployment will remain above 8% through most of 2013.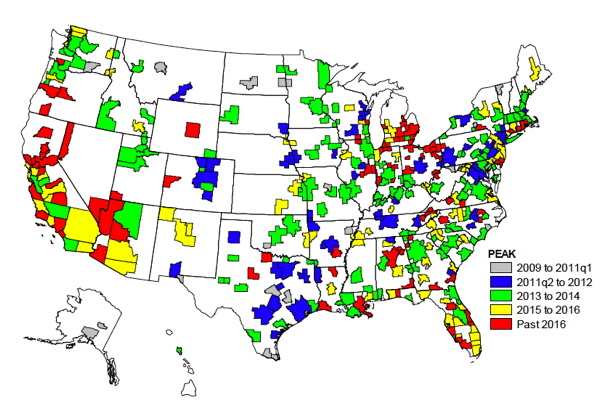 The above map from the report projects the US's various metro's returns to the peak levels of employment. It's not a pretty picture. The report notes that "only in the first half of 2014 will employment in the US match its previous peak level from early 2008." Job recovery for many metros will take longer than that with some taking until 2021 to regain their lost jobs.
Photo Credit: Wikimedia Commons