Sex-Trafficking, Porn, and the Perils of Legislation
Conflating pornography with sex-trafficking detracts from efforts to help women in need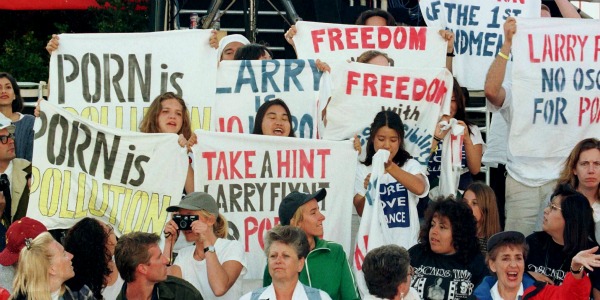 Ever since equal rights opponent Phyllis Schafly described pornography as the "degradation of women," decades ago, anti-feminists on the right and anti-libertarian feminists on the left have found common cause in crusades against sexually explicit speech, which they insist is a direct cause or even a form of actual sexual violence. Their de facto coalition has not exactly purged popular culture of sexual explicitness, exhibitionism, or sheer stupidity (as Anthony Weiner confirmed), but it has contributed to the enactment and enforcement of draconian laws against possessing or pretending to possess child pornography. In some cases, laws prescribe longer prison sentences for viewing pictures of abused children than engaging in their actual abuse.
So the predictable involvement of anti-porn activists, right and left, in a popular campaign against sexual trafficking is not entirely lamentable: at least they're focusing, in part, on cruel and abusive conduct that inflicts real harm on real people. The trouble is that they're also exploiting the horrors of trafficking to advance a specious campaign against pornography. "The johns watch porn, seeing violent and aberrant behaviors on film, then they crave the realization of what they have seen," according to the right wing Concerned Women for America. "Those obsessions drive them to the prostituted women and girls to get what they have seen depicted so graphically." Or, as left wing anti-porn activist Gail Dines declares, pornography "legitimizes the buying and selling of women's bodies." It is, in fact, the equivalent of trafficking, Dines and co-author Robert Jensen suggest: pornography is "a market transaction in which women's bodies and sexuality are offered to male consumers in the interests of maximizing profits."
This confusion of metaphor with reality drives the feminist anti-porn movement, as well as related efforts to censor presumptively hateful speech by labeling it assault. That pornography is action, not speech, has long been an article of faith, articulated most dramatically by the late Andrea Dworkin and most cleverly by Catherine Mackinnon, who, in typically convoluted style in Only Words, endorsed the view that "pornography is no less an act than the rape and torture it represents." Pornography is "without question, a form of violence against women," Dines repeats, carrying the torch.
No good will come from infecting the anti-trafficking movement with this rigid, ideological rejection of reality. Either trafficking will be trivialized--if it is the same as a pornographic image, then it's no worse than a pornographic image. Or, the campaign to end trafficking will be discredited by its association with unsubstantiated assertions about the nature and effect of pornography, as it's defined by factions of feminists and social conservatives. Or, more likely, civil liberties will be gratuitously sacrificed to the blind faith that ending trafficking requires censoring pornography. "[T]here is no way to prohibit rape if pornography is protected," MacKinnon has suggested.
An anti-trafficking movement operating under the influence of anti-pornography activists is also apt to demonize men who solicit sex, however innocent they may be of knowing or intentional complicity in trafficking. The anti-porn movement, after all, demonizes male sexuality. Exposing a man to pornography is like saying "kill" to a trained guard dog, MacKinnon has argued; in other words, pornography is action because men are dogs on short leashes. This legitimizes singling out for prosecution men who solicit sex, and the anti-trafficking movement in the U.S. is eying the Swedish model: arrest the johns and aid the prostitutes. This may seem like rough justice, considering the lamentable tradition of arresting the prostitutes and ignoring the johns. But I'd arrest neither, while targeting people who knowingly collaborate directly or indirectly in trafficking.
Whether commercial sex ought to be decriminalized is both an ideological and empirical question. I favor decriminalization in the interests of civil liberty, but I recognize the likelihood of unintended and unwanted consequences. Whether some women freely engage in prostitution or all are forced into it is an empirical question, too often presented as an ideological one. Anti-trafficking activists tend to regard prostitution as at least effectively or virtually coercive for most if not all women--a reflection of sexual inequality and gender roles if not actual extortion or abuse. If you adopt this expansive view of coercion, you can justify the unequal punitive treatment of johns pragmatically, as a necessary means of reducing demand for a presumptively abusive sex trade. Anti-trafficking activists claim that prostitution in Sweden has dropped as a result of criminalizing buying and decriminalizing selling sex.
I don't intend to try to resolve empirical questions about the nature or prevalence of sex trafficking. Further, given the beliefs about both held by anti-trafficking activists, I am not suggesting that many of them are motivated by something than outrage at the sex trade or that they share the disdain for male sexuality and hostility to civil liberty of anti-porn dogmatists. But I am asking that they consider the costs of uncritically allying with the anti-porn movement (and not just because for some activists on the right, opposition to trafficking is another weapon against reproductive choice; Planned Parenthood has been accused of sex trafficking.)
Because trafficking in human beings is such a repellent crime and such an obvious evil, the movement to abolish it is generally considered an obvious good. Trafficking opponents aren't entirely immune from criticism. The occasional contrarian will question their statistics and ideologies, and the actual incidence of trafficking is indeed subject or should be subject to debate. "[T]here is no sound methodology to measure the problem," the Massachusetts Attorney General's office acknowledges, while promoting new anti-trafficking legislation. But the movement is generally exalted, increasingly fashionable, and, therefore, insufficiently interrogated, especially by politicians. Few, if any, will criticize anti-trafficking measures at the risk of being labeled soft on sexual slavery.
The movement's aura is not conducive to rational, fair, and effective legislating. Consider the Massachusetts experience. By a unanimous vote, the House recently passed a deeply flawed anti-trafficking bill, with virtually no debate. It criminalizes commercially exploiting people for sex or other services, like housekeeping, and, on its face, is hard to oppose. But, good intentions aside, with a few exceptions (mainly a provision softening the treatment of juvenile offenders) the Massachusetts bill offers the usual reflexive response to a sensational crime. It creates redundant criminal offenses; trafficking is already barred by state and federal law. As House Judiciary Chair Eugene O'Flaherty admitted, "We outlawed this a long time ago;" but, he claimed, the House bill would "give prosecutorial teeth."
District attorneys are not exactly toothless now, but redundancy sharpens their fangs. It enable prosecutors to charge and overcharge someone with multiple crimes for one alleged offense, increasing their leverage in obtaining pleas. These new, easily abused prosecutorial powers are supposedly necessitated by a trafficking problem that can't be quantified, and may or may not be common in Massachusetts.
But the more broadly you define trafficking, the more common you can make it appear, and the House bill defines it very broadly to include, for example, "attempts to recruit, entice, or harbor" someone "to engage in" an "unlawful live or public act," intended to appeal to prurient interest. Don't ask me what this means or precisely what conduct an "attempted enticement" might cover. Nor can I tell you how to decide whether a planned live performance is unlawful before it is adjudicated as such. But I can say that, pursuant to this bill, you'd risk serving a 15-year prison sentence if you guessed wrong about its definition of sexual trafficking. If you guessed wrong in a case in involving "attempted enticement" of a minor, you could serve life.
The injustices that seem likely to result from this overly broad, vague definition of trafficking are exacerbated by lengthy prison sentences, which are mandatory in some cases. The bill also increases sentences for soliciting sex, absent any complicity or "attempted" complicity in trafficking, and imposes shorter sentences on people who sell or offer to sell sex. Its one welcome and overdue provision diverts sexually exploited juveniles, notably juvenile prostitutes, to social service programs.
The Massachusetts Senate is expected to consider this bill soon, if "consider" means following the example of the House and passing a complicated, consequential penal law without debate or scrutiny. If or when it's enacted, will this legislation provide fair and effective weapons against trafficking? Evaluation of anti-trafficking measures will be left to a task force dominated by law enforcement personnel and including anti-trafficking activists and academics, but without civil libertarians or criminal defense advocates. In the interests of justice, many will speak for the victims of trafficking. In the interests of justice, someone should speak for the victims of trafficking laws, so ill conceived.
Image Source: Reuters