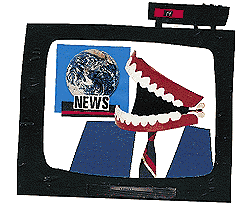 I've gotten a lot of mail about the recent exchanges between Jon Stewart and Chris Wallace, which I'll get to in the next few days. For the moment, it might be worth posting a link to an Atlantic cover story from 15 years ago, which ran as "Why Americans Hate the Media," with the illustration at right. That article was adapted from my 1996 book, Breaking the News.
It has short-term relevance, in that the opening anecdote recalls a kind of TV program hard to imagine in today's environment (the "Ethics in America" series) and and also explains some background on Stewart-v-Wallace.
I think the article as a whole is surprising, in a 15-year perspective, for what it suggests about the things that are the same in today's media environment, the things that have gotten irretrievably worse, and the things (there are a few) that have gotten better. On the "getting better" front, I have this recent cover-story update. All this offered in "for the record" spirit. If I had the heart, I'd re-do Breaking the News, but I've got enough other things to juggle.
____
UPDATE: If someone were starting on a mid-2011 update, an item from today's news could be a case study. Al Gore's new essay in Rolling Stone, about impending climate disasters, is mainly about the failure of the media to direct adequate attention to the issue, and to call out paid propagandists and discredited phony scientists. That's where the essay starts, and what it covers in its first 5,000 words. The second part, less than half as long, and much more hedged in its judgment, is about the Obama Administration's faltering approach on climate change. But of course the immediate press presentation on the essay has been all "OMG Gore attacks Obama!" For instance at Slate,* TPM, NY Mag, Huffington Post, the AP, and the Atlantic's own Wire site.