A Father By Any Other Name
The author's struggle to understand how she threatened her father's identity as a single gay man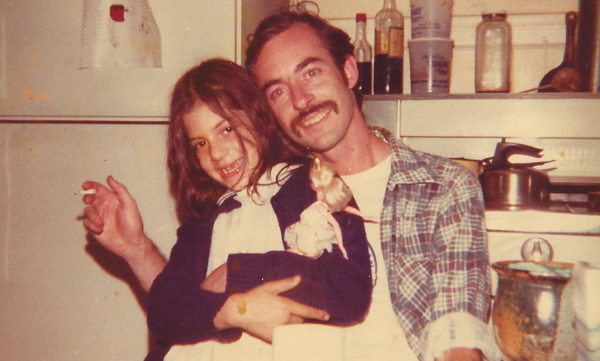 "Peter, what is it?"

"I was just thinking," he said, a little scared, "It is only make-believe isn't it, that I am their father?"

"Oh yes," Wendy said primly.

"You see," he continued apologetically, "it would make me seem so old to be their real father."

"Not if you don't wish it," she replied.

--J.M. Barrie, Peter Pan
I first called him Da-da. Sometimes my poor little Da-da. By the time I was 4 or 5 he became Daddy and this is what he remained, until I was 13 and then he was plain old Dad.
But when we were out together at night and especially if we were out in the Castro, meeting at the Café Flor, or standing outside the Sausage Factory, he didn't want to be called any of these things. He wanted me to call him Steve. Unless you want to call me Sugar Daddy, he'd add laughing. And then that afternoon in the store on 18th Street, the one that sold brightly patterned European silk shirts, I called out, "Dad!" and his eyes shot me darts. Steve, he insisted under his breath.
But I would never do this. Steve is what everyone called him, from that friend at the café to the writers who invaded our living room every week to the man who sold him his afternoon paper and coffee. Only I, and I alone, could call him Dad. The singularity of our relationship, for me, was rooted in this appellation. That unique position I held in his life, my ability to call him Dad and Daddy, was my oxygen. To suddenly call him Steve was to transform our relationship into something common and vulgar. I couldn't be a party to such a perverse charade.
"Sorry, Dad."
I couldn't understand. Was our father-daughter relationship so expendable? Was his role as a father perhaps not as sacred to him as it was to me? I couldn't imagine myself without Dad. Yet he wanted to be, in the Castro on that sunny afternoon, anyone but my dad. "Dad isn't sexy," he told me, glancing at a cute young guy who was just leaving the shop. I couldn't understand until years later how that central part of his identity realized through the act of fathering me in fact threatened his other identity, that of single gay man. I didn't see how I hurt his romantic life, how I may have been the source of his recurring loneliness. Wasn't I enough for him?
Much as I loved him, I could never indulge his request to call him Steve. With me he was Dad. If he wanted to be sexy and desirable, he could do it on his own time. So I left him the neighborhood, as though we were two countries dividing up the world map after calling a truce. The Castro would become his teenage basement bedroom, his man-cave. But walking hand-in-hand with me into Golden Gate Park, shopping at Cala or taking me to movies at the Lumiere or out to sushi in Japantown, he would still be Dad and sometimes, if he was being especially sweet, Daddy.