Why Are So Many Casinos in the Mississippi Floodwaters?
An article from The Atlantic's archives explains how the down-and-out Mississippi Delta became a gambling hot spot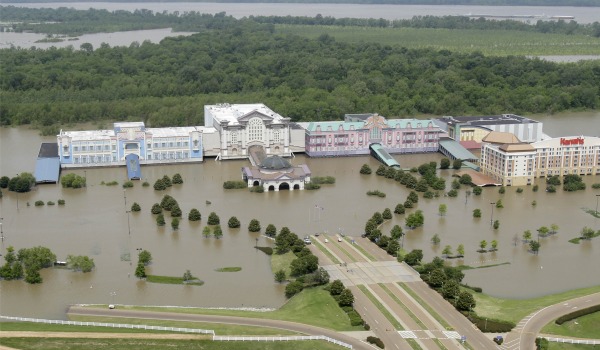 In most photos of the recent Mississippi floods, what you notice first is the water, the dramatic thick brown sheet. The buildings and other human structures can seem like afterthoughts, in part because they mostly look like what many people expect: small Southern houses, historic brick buildings, and the like. (To see some of these striking images, visit
Alan Taylor's In Focus gallery
.) But a few photos seem strange: the ones containing Hilton-like suburban palaces or King Arthur-style turrets. These are Mississippi's flooded casinos.
Clustered in and around the town of Tunica, a short drive south of Memphis or north of Greenville, they're impossible to miss: glittering, often tacky buildings that materialized in cotton country, an area that is often referred to as the poorest place in the U.S. Which raises the question of why the casinos are there in the first place. Benjamin and Christina Schwarz provide an answer in "Mississippi Monte Carlo," a piece from The Atlantic's January 1996 issue:
Today there is light in Tunica's future. The highway along which Tunicans once migrated north in search of jobs now glows with billboards and searchlights luring 1.2 million visitors a month into the Delta. At the hamlet of Robinsonville a brand-new four-lane access road under a canopy of sodium lights draws drivers west toward the banks of the Mississippi River, where an Irish castle, a Wild West town, a Tudor mansion, a circus tent, a plantation house, a Hollywood studio, and an enormous western saloon—casinos all—float in a sea of parked cars. Their marquees promise shows by Ray Charles, Johnny Cash, and Tanya Tucker. A few feet from these spangled façades dark acres of cotton and soybeans spread under the Delta night, silent except for the bullfrogs and the mosquitoes. Entering the casino lots feels like stepping out of real life.

"Can you believe this?" one woman asks another, as they shuffle forward, waiting at midnight for a table in a casino restaurant. "Right in the middle of the cotton fields," she marvels.

No one dreamed that casino gambling would take off the way it has in Tunica, says Ken Murphree, Tunica County's administrator. But the county that for decades could attract no industry has turned out to be an ideal location for the casino trade.

In part this is because Mississippi is eager to accommodate gaming. The state collects only eight percent of its casinos' revenue—among the lowest tax rates on casino gambling in the country and less than half the rate that neighboring Louisiana assesses. Moreover, Mississippi charges a casino only $5,000 every two years to renew its license, whereas Louisiana charges $100,000 every year. While most other states restrict the number of casinos and their concentration, Mississippi models itself on Nevada, the king of the gambling states, granting an unlimited number of licenses and letting the market alone decide which and how many of the fledgling casinos will survive.

They are allowed plenty of leeway to compete. Mississippi's casinos, unlike those in many other states, may devote as much floor space as they please to gambling and may install as many gaming tables and slot machines as they want to fill. While some states try to legislate against gamblers' tendency toward excess by forbidding bets over $5.00, Mississippi, like New Jersey and Nevada, lets its gamblers play for high stakes.

Ironically, Tunica's poverty helped to determine the county's success as a casino mecca, because it made Tunicans receptive to the notion of legalized gambling. Throughout the nation casinos have mushroomed in areas phat have despaired of other sources of income. Tunica fits the pattern. When, in 1990, the state authorized casinos along the Mississippi River and the Gulf of Mexico, Tunica was the first county on the river to welcome the industry. "We weren't smarter than other areas," Murphree is fond of saying. "We were more desperate."
Read the full version of "Mississippi Monte Carlo."
Image: Danny Johnston/AP