When San Diego Spied on Its Police
A rash of misconduct among cops has some calling for the return of a disbanded anti-corruption unit that tested officer honesty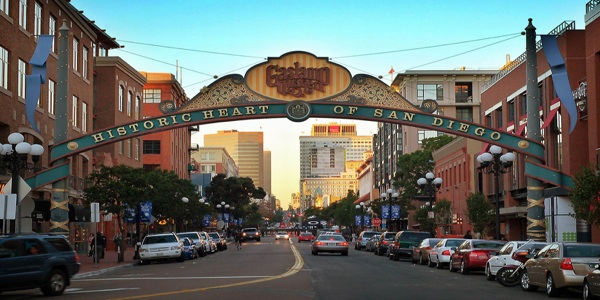 In San Diego, ten police officers are currently accused of serious misconduct in unrelated cases that include allegations of rape, stalking, drunk driving, domestic abuse, and sexual assault. One of the officers has been charged with sexually assaulting five women while he was on duty. Another is alleged to have told a woman that she'd be arrested unless she agreed to have sex with him.
The most interesting take on the rash of misconduct comes from the Voice of San Diego, where a sharp enterprise story chronicles the rise and fall of a departmental anti-corruption unit. It was launched in the early 1990s:
The unit had more funding and time to investigate internal misconduct than other units, and the officers often used undercover or surveillance operations to proactively monitor their colleagues for wrongdoing. Undercover operations involved planting money in squad cars or the pockets of suspects to check that police would properly impound it, for example. If a prostitute ever offered sexual favors to avoid arrest, officers used to consider that she might have be placed there as part of a sting by the anti-corruption unit.



To maintain a level of investigative secrecy from the rest of the department, the anti-corruption unit even rented its own office in Old Town for about $2,000 a month, according to City Council meeting minutes. Most special units operate out of the department's headquarters in the East Village.
Investigative secrecy is important, but most significant in that description is the notion of proactively testing the honesty of police officers, rather than merely reacting to specific complaints against them.
That approach is rare, and it isn't surprising that the current chief disbanded the unit when he began his tenure. What is surprising is that anonymous sources in the department are telling local reporters that they wish it would've stayed around. As one source put it: "It's really almost unthinkable in most police departments that officers would want and would value that kind of a unit."
Unfortunately, the police chief doesn't have any plans to bring it back:
In response to the series, Lansdowne said that the department would add three or four officers to the Internal Affairs Unit, review internal policies, create a confidential hotline and boost ethics training for lower-ranking supervisors.
All reactive measures.

Elsewhere in the story, I noticed this: "Mayor Jerry Sanders endorsed the plan and said he continues to fully support Lansdowne as the city's police chief. He described the rash of incidents as an embarrassment and echoed Lansdowne's assertion that it was correlated to stress among officers."
Rape, stalking and sexual assault caused by stress?
It's hard to have faith in city leaders after that explanation, but here's hoping that they reconsider and bring back proactive anti-corruption measures - and that other police departments follow suit.

Image credit: Flickr user nihao458