What America Looks Like: Santa Fe, New Mexico
The United States as seen by its residents
In Santa Fe, New Mexico, the St. Francis Cathedral looms large on a downtown street. Built between 1869 and 1886, its style is Romanesque Revival, and it serves as the seat of the Santa Fe Archdiocese.
Let's take a closer look: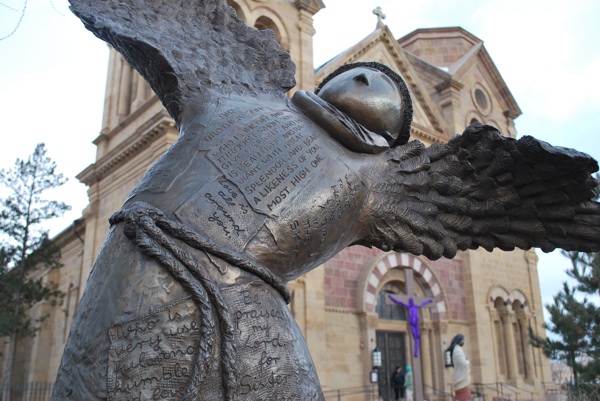 That is meant to be a statue of St. Francis with wings in place of his arms.
Previously in this series: Venice Beach, California. Western Georgia. Cincinnati, Ohio.  Birmingham, Alabama. Clarksdale, Mississippi. New York, New York. The border between Arizona and Nevada. Detroit, Michigan. Key West, Florida. Portland, Oregon. Boston, Massachusetts. Austin, Texas. Nashville, Tennessee.
Submission guidelines: We're seeking photographs that capture the look and feel of the United States as seen by those who live here, rather than the stock images of postcards and TV backdrops. Email photos to whatamericalookslike@gmail.com - doing so affirms that you hold all rights to the submission, and grants us permission to publish your photo at TheAtlantic.com and in any future collection of What America Looks Like photographs.
 
Image credit: Conor Friedersdorf
Include the city and state where the image is taken, and as detailed a description as you're willing to offer. Also let us know if you've got a photo Web site or a link where a print of your photo is available for purchase.