Sustainable New Orleans: How Katrina Made a City Greener
A look at how the rebuilding efforts in New Orleans are using techniques that preserve both local history and the environment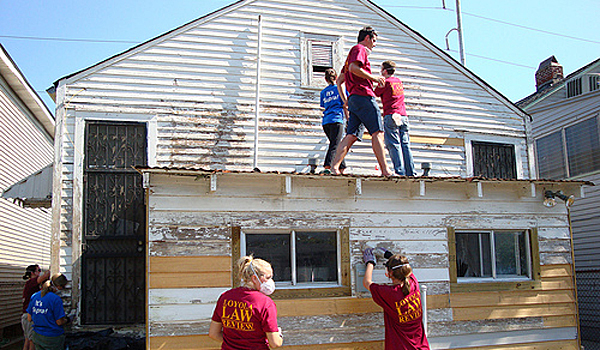 New Orleans lost about half its population in 2005 as a result of the devastation wrought by Hurricanes Katrina and Rita, and the failure of the levees built to protect the city from flooding. As of the 2010 census, the population had recovered to 75 percent of its pre-Katrina level.
Most of us know of the tragic failure of multiple levels of government to respond adequately to the disaster, compounding the losses caused by nature and the failure of engineering. But, as David Simon noted in an interview reported in Part One of this three-part blog series, the city's resilient population has been slowly but surely coming back anyway, in no small part because of the strong sense of belonging that New Orleanians feel for their community.
One of the ways in which this has been manifested is in the rebuilding and re-inhabiting of severely damaged homes. To say the least, this has not been a large-scale and highly coordinated effort, and certainly not a quick one. But it is perhaps even more impressive that it has been happening in small increments, a house at a time, occasionally an enclave at a time, because of determined residents, often with the assistance of grassroots charities and volunteers. I want to stress the "grassroots" part of this: the more locally based the effort, the more likely the product will be true to the character of the city and the people who make it special.
One of the local organizations that has stepped up big-time is the Preservation Resource Center, a longstanding group whose mission is to promote the preservation, restoration, and revitalization of New Orleans's historic architecture and neighborhoods. The PRC's web site asserts that, "in post-Katrina New Orleans, it is particularly crucial that we rebuild in a way that is sensitive to our past, or we risk losing everything that makes our city unique." That rings true for me. The PRC says that, since Katrina, it has assisted over 5,000 families in saving their homes and brought over 100 low-income families back to their homes.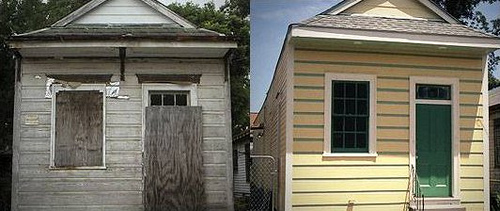 One of PRC's programs,
Operation Comeback
, provides homes for first-time and repeat homebuyers, to serve as a catalyst for the larger-scale rebirth of New Orleans's historic neighborhoods. It was created well before Katrina but has been well-positioned to respond to the needs wrought by the flood damage. In 2008, the program launched an "Adopt a House" program to give prospective volunteers and donors a more structured opportunity to assist the efforts in targeted historic neighborhoods.
Operation Comeback has been active in the neighborhoods hit hard by flood damage. For example, one of the program's newer efforts, Preserving Green, is structured to acquire and restore blighted properties utilizing the highest preservation standards while integrating both passive and active sustainable design elements. I would argue that in most cases preserving and restoring historic neighborhoods is inherently green, given the ability to recycle land, infrastructure, and materials, usually in the heart of a region. But Preserving Green goes further. From the web site:
Preserving Green projects are designed to maintain a building's historic integrity and sense of place while achieving the highest possible comfort levels and energy performance.

Within the still-recovering Lower Ninth Ward, a reconstructed "camelback"-style storefront at 5200 Dauphine Street will serve as the new home of the Holy Cross Neighborhood Association and the Lower 9 Center for Sustainable Engagement and Development. The deteriorated condition of the building called for crews to completely dismantle all structural and interior components including doors and windows. Those salvaged materials are being reused, along with new thermal insulation, photovoltaics, solar water heating, onsite water collection and other environmentally-responsible systems to recreate this historic property as a LEED Platinum building.

Impressive.
Another particularly impressive PRC program, Rebuilding Together New Orleans, is providing assistance at scale, helping low-income residents close the gap between usually inadequate government disaster assistance and the amount necessary to rebuild. The program has been rehabbing over a hundred homes each year, including 29 in the first three months of this year (plus three playgrounds). It just recruited over 400 student volunteers to spend their spring breaks working on the houses, which I bet was great fun as well as satisfying for the students. (RTNO is affiliated with, in addition to PRC, the national Rebuilding Together organization, which assists rehabilitation and critical repairs to the homes of low-income Americans.)
Here's a nice description from the local organization's web site:
After Hurricane Katrina, RTNO modified its mission to aid those displaced by the storm. Instead of only smaller projects, RTNO began to focus on the total renovation and rebuilding of storm-damaged homes. By reinvesting in and restoring the existing housing stock of the city, RTNO was able to bring homeowners back to their homes, as well as provide a model for restoring and preserving New Orleans' historic neighborhoods. RTNO's home rehabilitation program targets the urban poor, who are the population in New Orleans most affected by Hurricane Katrina. Families that return to their homes in New Orleans—rather than live in exile or in a trailer—sustain a constant, stable, healthy living environment while building their equity and regaining financial independence.

Four years after the storm, RTNO has quickly grown into the largest home rehabilitation non-profit organization in New Orleans. By focusing our program in seven target neighborhoods , RTNO meets the needs of the communities we serve quickly and efficiently by leveraging corporate, private and public dollars, volunteer labor and help from the AmeriCorps program . Our staff has grown quickly from only 2 full-time employees in 2005 to 27 full-time employees and 41 AmeriCorps members.

RTNO is also committed to sustainability. The program's rehab standards include measures for energy efficiency, improving indoor air quality, and the use of reclaimed and sustainable building products. Where demolition is involved, the organization salvages the debris, processes it as necessary, and either uses it or makes it available for others to use in future construction projects.
As if all this weren't enough, the organization has also just published a book, How to Rebuild a City: Field Guide from a Work in Progress, which takes the most somber of subjects and attempts to help survivors meet big challenges with creativity and energy:
Passionate and funny New Orleans writers and artists share—in essays, short stories, and advice columns—informed but cheeky thoughts on how to restore normalcy in order to rebuild after a disaster.

The book, released in December of 2010, is the brainchild of New Orleans City Councilmember Kristin Gisleson Palmer (who directed Rebuilding Together New Orleans before the election) and her husband Bobby. Field Guide is a collection from and for those who, after devastating chaos, chose creative ways to rebuild their families and communities. At times playful, at others sardonic, it is ultimately a book of hard work, perseverance and celebration on the road to New Orleans' recovery. And while the storm is clearly Field Guide's framework, the book is applicable to any community or city in need of redemption . . . It offers simple solutions to complex problems—from how to build bus stop benches to how to educate the city's youth if the schools have closed.

I haven't seen the book, but I like the idea. It was supported by the Arts Council of New Orleans and the Zeitoun Foundation, which was organized by author Dave Eggers, using proceeds from a book about Hurricane Katrina survivors.
Just looking at the photos begins to tell us what all this has done and is doing for the city and its residents. (For a personal story of a family assisted by RTNO, go here.) For me, it is testament not just to the power of the human spirit but also to the power of place. In the first part of this series, David Simon characterized the strong identification of New Orleanians to their city, even through the suffering, as a form of patriotism. I like that description.
I'll be heading back to DC early tomorrow morning. So it's time to close this series, which I'll do with more great New Orleans music from Simon's program, Treme. This spirited clip features John Boutte on vocals, backed by the Rebirth Brass band, Glen David Andrews, and Paul Sanchez:
---
This post also appears on NRDC's Switchboard
Images (top to bottom): Rebuilding Together New Orleans, Preservation Resource Center