Scheduling Notes, Plus 'Net Needs News'
I have material stored up on a whole range of topics, which I hope to get to ... when I can. In recent days I have, quaintly, been distracted by "writing"; and more traveling-and-writing lie ahead. I'll be off line for the next few days but then in theory I will get to:
- More on "demographic realities" and the aftermath of last week's Obama-Netanyahu exchanges;
 - More and more, from engineers and airline pilots, on Air France 447; 
 - More on tax-and-deficit, and ability to argue about big public issues;
 - More on communication among non-native speakers;
 - Three notable take-down jobs, and what they signify. (Pre-reading hints: I'm talking about pieces by Eric Alterman, Michael Lind, and Gary Greenberg, with bonus background reading from Benjamin Walllace-Wells);
 - More on password construction and online security;
 - More on Obama's London and Middle East speeches and the linguistic intrigues thereof;
 - More on China's current woes, and strengths;
 - More on the semiotics of Chinese street signs;
 - More on positive-themed aviation news, good and bad;
 - Even more on TSA, including my third encounter with the Full Body Scanning machines (read: my third "enchanced pat down");
 - More on Achilles tendon miracles and the rediscovery of running;
 - Beer;
 - And other stuff. This is my intended to-do list, at a rate of maybe one or so per day starting in a few days.
FOR THE MOMENT,  two mentions timed to observances today (it's still Sunday in Calif, where I am for the moment) and tomorrow.
Today
is "
Net Needs News
" Day, meant as a reminder that the net-based news ecology is great, as long as a "regular" reporting-based news-gathering structure survives to supply info. I've examined this problem
last year
and
this year
in the magazine. The campaign this weekend, explained on
this Facebook page
, is to get editorial cartoonists to illustrate the point. As, for instance, Steve Breen of the San Diego Union-Tribune has done: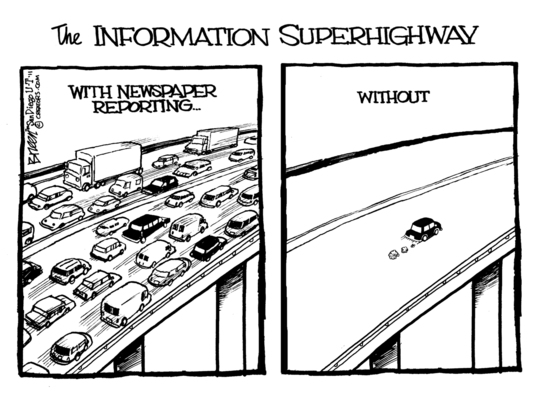 Tomorrow
is of course Memorial Day. For holiday-themed reading I recommend Adm. Mike Mullen's graduation address at West Point last week, which reflected on the realities and responsibilities of a military that was more or less permanently at war, serving a country that was not "at war" in any real sense.  I can't find the text right now, and I've got to sign off and get on a plane. I leave that to your creativity and initiative. It's a way to honor those who deserve recognition for their service on this day.
Update
: Mullen's speech, which again is very much worth reading, is at the
Joint Chiefs of Staff site
. You'll find the part I'm talking about if you skip ahead to the paragraph that starts, "
But today I'm going to give you another assignment. ..."