On Memorial Day
From Somalia 18 years ago to Afghanistan today, remembering the sacrifices of veterans, and of their families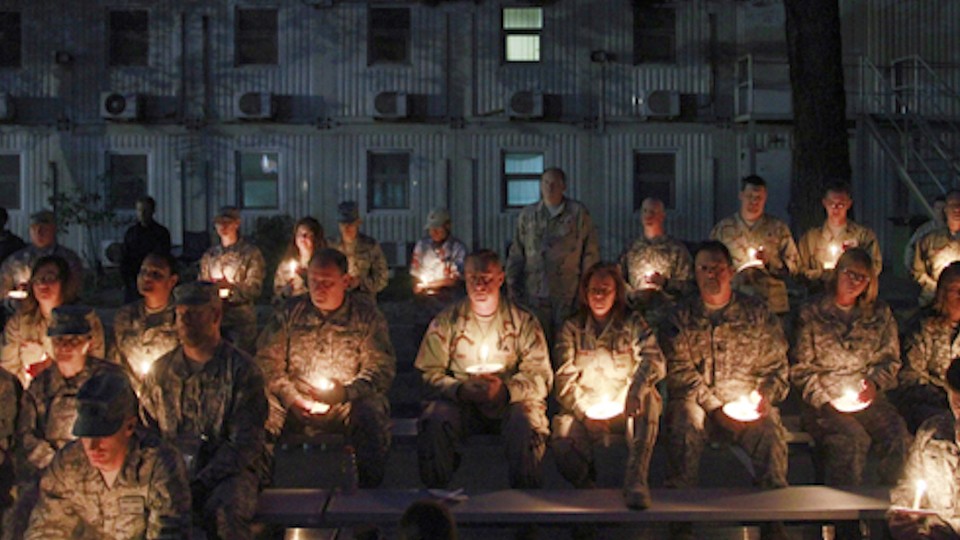 The final days before a deployment run together, and very little stays with you. You're poked and prodded, vaccinated and issued gear. They push you out of an airplane a time or two, and send you to the range to zero your rifle. Mental health is a serious issue for today's Army, and you sit through countless hours of "Don't beat your wife, don't kill yourself" briefings. (I'm sure they have a more official name.)
Only one thing really stands out in memory from the days before my deployment to Afghanistan, in 2006. It was an aside by a prior-service civilian instructor. You can't stay in the Army forever, he said. Whether you come home in a box or reach retirement age, one way or another, you're getting out. He advised us to look around the room. This feels like your family, he said. Band of brothers. You're going to do great things, and if you're lucky, lie about them over beers for another fifty years. But the Army doesn't want you forever, and one way or another, you will be forced out. His message: While you're in the combat zone, call home as often as possible. Tell your wife or mother that everything is fine. Because when the war and the Army are through with you, your family will still be there.
On Memorial Day, we pay our respects to fallen comrades. Three men immediately come to mind. Two are very well known -- they're patron saints in the special operations community, and even some 18 years after they perished on the battlefield, their heroism is recounted by soldiers with comic book admiration. Randy Shughart and Gary Gordon were Delta snipers and fought and died in the Battle of Mogadishu. A lot of men died on October 3, 1993, but Shughart and Gordon are the perfect distillation of what every soldier wants to be -- or rather, wants to believe he is capable of being if the moment came.
They were sent on a one-way mission. They knew it. Their commanders knew it. What separates these two men from every other warrior in the world was captured by Mark Bowden in his book-length report on the battle, Black Hawk Down. When it was time to jump, when it was time to engage an overwhelming enemy with no hope of survival, "Gordon grinned and gave an excited thumbs-up." The snipers each earned posthumous Congressional Medals of Honor.
Today another man comes to mind, though few know his name. Severin W. Summers, III was a Green Beret with 20th Special Forces Group (Airborne). We first met in 2008 on a drop zone at Camp Shelby, Mississippi. We talked for a couple of hours that day. He was recruiting for 20th Group. Pinned to his chest were badges for Airborne, Air Assault, Pathfinder, Halo, and Scuba. He wore the "triple canopy" on his shoulder: Airborne, Ranger, and Special Forces. This was a serious, fearless warrior, trained to fight anywhere at any time. Though I'd already decided against re-enlisting, I was struck by his honesty and energy. The deployments were long and difficult, he said. The training was intense. A lot would be expected. He had a certain intense easiness about him, though, as if to say, "But it's not impossible. Hey, let's do this thing."
He and two others were killed by an improvised explosive device in Afghanistan on August 2, 2009. I remember reading the news with stunned disbelief. Not that he was dead, but that he was capable of dying.
And then I saw the picture of his widow and children at Arlington. And I thought back to that briefing before my tour. When the war and the Army are through with you, your family will still be there.
Today I pay my respects to Sev, and to his family. Thank you for your service, and for your sacrifice.